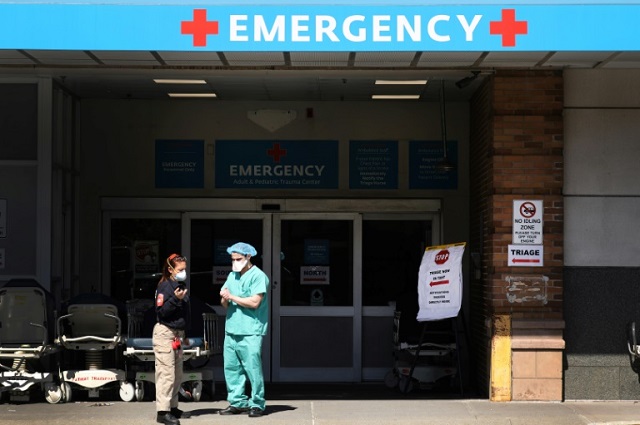 ---
Coronavirus, its huge destructive capacity notwithstanding, has been a great equaliser of mankind. It does not discriminate between the poor and affluent, rulers and the ruled, black or white, countries and continents or nationalities. They all could be its victims.

It has turned many basic assumptions on their head. The way we think as individuals and countries relate to each other, including certain concepts and strategies one would have assumed to be fundamental. Only those leaders and countries that would draw the right lessons from this mega transformation and recalibrate their policies and plans would do well. And Pakistan is no exception.

The entire concept of security is one major area that nations will have to rethink and reorient in the post-coronavirus era. The United States, Russia and China with the largest and most potent nuclear and conventional arsenals and huge armies were as helpless before this global scourge as Rwanda or Niger. President Trump has been frequently boasting of US superiority in military technology and armament, and rightly so. But now before this tiny microbe — which is so small that you need a highly powerful microscope to see — it stands helpless, with more than 10,000 deaths.

Similarly, between developing and poor countries, India and Pakistan that have strong nuclear and conventional capability and spend billions and a very high proportion of national resources on it, while ignoring the welfare of the masses, felt helpless in the face of this emerging threat. In fact, the sight of millions of poor and desperate Indians that were heading home as they lost their jobs and livelihood was truly tragic and a living proof of misplaced priorities.

Pakistan too is facing an acute challenge of massive layoffs, and poor segments are unable to survive without state support. Within two weeks of the lockdown, the poorest segments of society were desperate as they were unable to feed themselves. This should be a heartbreaking eye opener for us.

The government in close collaboration with the business community and industrialists is trying to help companies and business ventures remain afloat. And through distribution of subsidies to laid workers and deserving individuals, it plans to reduce their woes. These are not easy solutions considering that in Pakistani companies, significant labour is hired as casual or daily workers. And what is most distressing is that quite a few amongst them even do not have their national identity cards.

The government in close collaboration with the business community has to find answers to these emerging problems. Once the workers are laid off, resuming work and activating production lines becomes difficult. And industrialists realise this predicament.

Moreover, as we remain confined we should take full advantage of virtual communications with the greater involvement of Facebook and WhatsApp.

To effectively combat the pandemic, countries ought to promote solidarity among different religions and cooperate across borders. India is pursuing diametrically opposite policies. Taking advantage of the prevailing exceptional circumstances when the world is focused on the coronavirus, the Modi government expedited the implementation of legislation that has changed the demographic character of Kashmir and facilitated in tightening its grip on the state. The national citizenship law terminating the citizenship of 20 million Muslims in Assam has also been pushed through. In all probability it would be implemented during this chaotic global environment.

Another disgusting manifestation of BJP's thinking was the bluster by the Indian Member of Parliament, who, without any qualms of conscience in an interview with a foreign correspondent maintained that Muslims be treated as second-class citizens. Clearly, India's secular character is a thing of the past. It is now an unapologetic Hindu state pursuing policies bordering on genocide. The more it turns towards Hindu nationalism the greater would be its anti-Pakistan policy. Sadly, Muslim countries — with the exception of Turkey, Malaysia and Iran — have not uttered a word against these brazen human rights violations. The immediate fallout of these highly-biased policies would be that Indian Muslims would be the worst victims of the coronavirus.

There is no possibility of Pakistan cooperating with India on combating the coronavirus but with Afghanistan, we need to develop bridges. Afghan refugee camps are potential breeding grounds of the pandemic if protective measures are not taken on an emergency level.

The world would sooner or later find an antidote to this virus but the danger of other unknown viruses, or the novel coronavirus mutating in another form, would always be there. The new reality is that in addition to the conventional and nuclear threats,, the coronavirus and similar threats are going to stay. In light of the transformed threat situation, mere reliance on nuclear and conventional capability has to be revisited. And combating man-made or natural threats in the realm of biological and chemical fields has to be taken seriously. But this would require a major shift in the political and security orientation of nations requiring several measures to be taken collectively and individually. Cooperation in the field of science and technology and at the political level would be the key for successfully facing the challenge. Reallocation of financial and administrative resources would be necessary at the national level. According the highest priority to the health sector followed by education should be the first step for Pakistan's government. Obviously, for a financially-indebted country like ours it would demand trimming defence and administrative expenditures and diverting it to these sectors. A serious reappraisal and rethink of the security paradigm is necessary.

The intense hostility between the government and the opposition has to give way to cooperation in these unpredictable times. It is very disappointing to see the stereotypical accusations and counter-accusations still continuing on TV. The government has to take the lead but this may be expecting too much from it when the Prime Minister considers any conciliatory move a compromise on principles. He is now under additional pressure with the wheat and cotton scandal. With so many changes in the cabinet and more to follow, the question arises: how will the government maintain its focus on the top priority of neutralising the threat of the coronavirus?

Published in The Express Tribune, April 8th, 2020.

Like Opinion & Editorial on Facebook, follow @ETOpEd on Twitter to receive all updates on all our daily pieces.