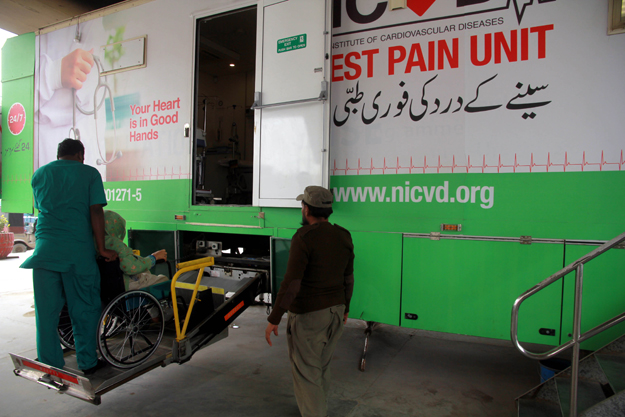 ---
KARACHI: The National Institute of Cardiovascular Diseases (NICVD) has suggested setting up diagnostic laboratories in containers similar to the ones currently being used by the institute to contain the spread of coronavirus in Sindh.

The advice by NICVD Executive Director Professor Nadeem Qamar was given to the provincial government as the number of COVID-19 cases jumped to 932 in the province on Monday.

He opined that the exact number of infected cases could only be known by increasing testing capacity, NICVD Executive Administrator Hameed Ullah Malik told The Express Tribune.

Sindh to release SOPs for daily life after lockdown

The hospital assured the government that it could provide necessary technical support in setting up the mobile laboratories across 29 districts of the province, similar to the mobile chest pain units, and begin the testing process immediately.

The novel coronavirus emerged in the central China city of Wuhan towards the end of last year and proliferated to almost the whole world within a couple of months.

The COVID-19 respiratory illness caused by this mysterious contagion has so far infected more than 1.3 million people in 202 countries and territories of the world – more than 73,000 of them have died and counting.

500 more ventilators to arrive from China on April 9

More than 3,700 have been diagnosed with the disease thus far in Pakistan with 1,918 cases in Punjab, 932 in Sindh, 405 in Khyber-Pakhtunkhwa, 202 in Balochistan, 210 in Gilgit-Baltistan, 82 in Islamabad, and 15 in Azad Jammu and Kashmir.

The virus has claimed over 50 lives while at least 257 coronavirus patients have recovered across the country.

The number of cases has continued to soar despite the country being under lockdown for the third consecutive week.