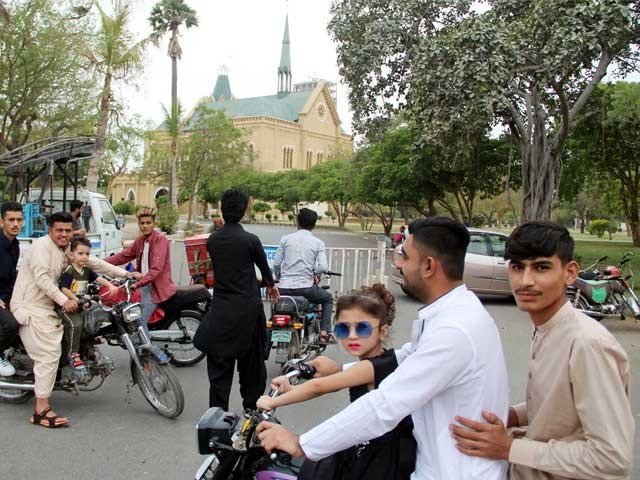 ---
KARACHI: Though the Sindh and federal governments announced an extension of the ongoing lockdown till April 14, citizens have gradually begun leaving their homes to go to work and interact with each other.

On Monday, the traffic flow on different arteries of the city, including Sharae Faisal, II Chundrigar Road, MA Jinnah Road, Tariq Road, Rashid Minhas Road and University Road, swelled more than what had been observed in the last two weeks, despite the government's pleas to stay at home in order to curb the spread of the coronavirus.

Speaking to The Express Tribune, an employee at a private office located in Sindhi Muslim Cooperative Housing Society said that their work timings had been extended. He explained that in the first week of the lockdown, they had been told to come to the office just for four hours. "Then it was extended to five hours and now we were told to remain at the office till 4pm," he claimed.

Sindh CM urges people to keep social distancing till April 14 to curb coronavirus

Another employee at a private factory in the same locality said that though the police were visible everywhere, they did not ask anyone why they were out and about. "I even went to a few other offices and it felt as if the lockdown was over," he added. "The shops are still closed, but merely closing shops is not a meaningful lockdown."

While police pickets were set up across the city, they did not appear to hinder the movement of citizens. "I went from Saddar to Safoora Chowrangi, but wasn't asked why I was outside even once," said Muhammad Khan, who works at a private company. "The traffic flow is unusual. It seemed like a normal day," he mused.

Seema Akhtar, who had brought her mother to the Sindh Institute of Urology and Transplantation, concurred. "I think the law enforcement agencies are exhausted. Or maybe people just cannot stay at home for such long periods of time," she smiled.

Revealing that most of her friends were going to work at office, she added that even the rush at grocery stories was higher on Monday. "We can barely see the administration enforcing the government's orders."

Pakistan to launch diplomatic move for debt rescheduling amid corona crisis

Abdul Karim, who owns a factory in Ibrahim Hyderi, told The Express Tribune that he and his friends had shut down their factories. "But some factories were still open with the support of the police," he claimed, adding that many small industries had opened on Monday. "The law should be equal for everyone."

Meanwhile, Sindh government spokesperson Murtaza Wahab said that he himself had witnessed unusually high traffic flows in the metropolis on Monday, even though the lockdown was still in place. "Even the federal government extended the lockdown till April 14," he pointed out to The Express Tribune. "There is no relaxation for anyone."

He stated that Sindh Chief Minister Syed Murad Ali Shah had issued directives to provincial police chief Mushtaq Ahmed Mahar, telling him to strictly implement the lockdown orders.

Interestingly, while matters appeared to have eased in many parts of the city, others saw stricter enforcement of the closure on Monday.

In Lyari, some of the major roads were blocked for movement, with law enforcement personnel limiting traffic with the use of dustbins on Shah Abdul Latif Road.

Area residents complained that the law enforcers had even forced shopkeepers to close grocery and milk shops before the official time of 5pm.

"Their attitude changed on Monday," insisted Ayaz Ghani, a resident of Bihar Colony. "Before Sunday, we were freely moving from place to place."