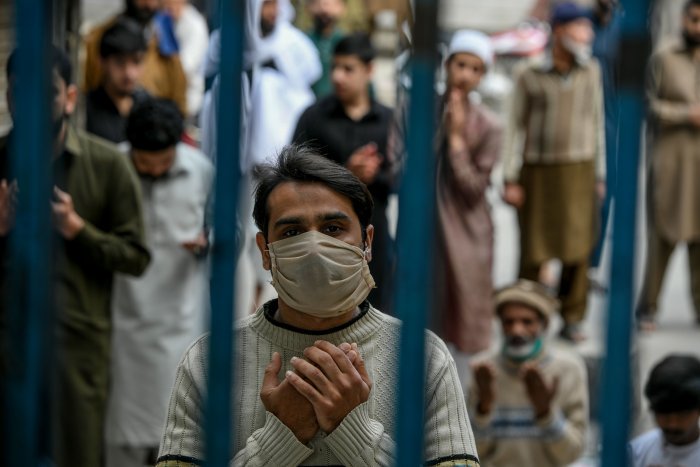 ---
LIVE: Punjab, Balochistan extend lockdown as nationwide COVID-19 tally crosses 3,700
Punjab records 538 new coronavirus cases on Monday – the highest single-day spike so far across Pakistan
---
KARACHI / ISLAMABAD / QUETTA / PESHAWAR / LAHORE / GILGIT / MUZAFFARABAD: The novel coronavirus emerged in the central China city of Wuhan towards the end of last year and proliferated to almost the whole world within a couple of months. It's not the virulence or fatality, but the infectivity of the new virus – also known as SARS-CoV-2 – that has set off a global frenzy.

The COVID-19 respiratory illness caused by this mysterious contagion has so far infected more than a million people in 202 countries and territories of the world – more than 65,000 of them have died and counting.

Pakistan, despite its close proximity with China, remained coronavirus-free until February 26 when a young man from Karachi tested positive after returning from Iran – one of the worst-hit countries. After a brief hiatus following the first case, COVID-19 cases spiked as more pilgrims returning from Iran tested positive for the virus.

The nationwide tally of COVID-19 patients soared past 3,700 with 1,918 cases in Punjab, 932 in Sindh, 405 in Khyber-Pakhtunkhwa, 202 in Balochistan, 210 in Gilgit-Baltistan, 82 in Islamabad, and 15 in Azad Jammu and Kashmir.

The virus has claimed 51 lives while at least 259 coronavirus patients have recovered.

The number of cases has continued to soar despite the country being under lockdown for the third consecutive week.

The situation remains fluid and we're updating stats as soon as new figures are officially released.

Follow The Express Tribune's live coverage of the pandemic here.


1:00am: NICVD offers Sindh govt assistance to set up mobile labs for COVID-19 testing

The National Institute of Cardiovascular Diseases (NICVD) has suggested setting up diagnostic laboratories in containers similar to the ones currently being used by the institute to contain the spread of coronavirus in Sindh.

The advice by NICVD Executive Director Professor Nadeem Qamar was given to the provincial government as the number of COVID-19 cases jumped to 932 in the province on Monday.

He opined that the exact number of infected cases could only be known by increasing testing capacity, NICVD Executive Administrator Hameed Ullah Malik told The Express Tribune.

Read more here.




11:00pm: 102 more cases bring COVID-19 tally 10 1,918 in Punjab

The primary and secondary healthcare department of Punjab government has confirmed 102 new cases of COVID-19, bringing tally to 1,918 in the province.




10:38pm: Balochistan extends lockdown till April 21

The Balochistan government has extended the lockdown till April 21 amid fear of spread of coroavirus which could lead to "devastating consequences", said the official notification on Monday.

The home department cautioned in the communiqué that the spike in the number of COVID-19 cases could lead to more "deaths and illness".

So far, the province has reported over 200 cases with the number of locally transmitted cases crossing the 50 mark.




8:30pm: 11 new COVID-19 cases bring Balochistan's tally to 202

The Balochistan government has confirmed 11 new cases of coronavirus to bring the provincial tally to 202 on Monday.

63 COVID-19 patients have recovered in the province so far.




7:30pm: Karachi doctor loses battle against coronavirus but wins hearts

Dr Abdul Qadir Soomro, a doctor infected with coronavirus, passed away in Karachi on Monday. The renowned skin specialist was working as medical superintendent (MS) at Al-Khidmat Hospital in the city's Gulshan-e-Hadeed neighbourhood.

Dr Soomro helped building a COVID-19 treatment centre with three operational ventilators at the health facility.

He had also worked as chief medical officer at Pakistan Steel Mills and medical superintendent of Fareeda Yaqoob Al-Khidmat Hospital in the past.




Read full story here.




7:00pm: Punjab reports highest number of COVID-19 cases in a day as tally hits 1,816

With the addition of 436 coronavirus positive cases on Monday – the highest number in a day across Pakistan – Punjab's tally of COVID-19 cases has reached 1,816, the primary and secondary healthcare department of the provincial government confirmed.

Out of these, 577 cases have been reported from quarantine centres built for pilgrims returning from Iran, 527 from Tablighi Jamaat members who have returned from Raiwind congregation, 49 prisoners and 663 common people.




4:50pm: Punjab reports 191 new cases

Provincial health authorities in Punjab reported 191 new cases in the province, taking the tally to 1,684 confirmed coronavirus cases.




4:25pm: Punjab extends partial lockdown till April 14

The Punjab government extended the partial lockdown in the province till April 14, reported Radio Pakistan.

According to a notification, the provincial government has asked citizens to cooperate with law enforcers in order to curb the spread of coronavirus.




4:15pm: Punjab CM inaugurates COVID-19 testing facility 

Punjab Chief Minister Usman Buzdar inaugurated a BSL-3 lab in Lahore with a daily COVID-19 testing capacity of 2,00.


CM Punjab inaugurated BSL-3 lab in Lahore with daily #COVID19 testing capacity of 2,000 tests

CM @UsmanAKBuzdar also visited the lab in protective suit to appreciate the Healthcare Professionals working on frontline. #PunjabCoronavirusUpdate pic.twitter.com/QiSdRPMquJ

— Azhar Mashwani (@MashwaniAzhar) April 6, 2020


3:50pm: Cooperate with government, says CM Murad

Chief Minister Sindh Murad Ali Shah has said the province has conducted 8,931 coronavirus tests till Sunday and 660 more were conducted over the last 24 hours.

"Today, 51 new cases of coronavirus have emerged."

The chief minister also appealed to people to maintain social distancing when distributing ration bags to the needy and in general.

"Suspected and positive coronavirus patients will receive a call from a government number and people are requested to appropriately answer the questions," he said, adding that the people must cooperate fully with the government.






3:10pm: Police detain doctors protesting lack of PPE in Quetta

Police arrested at least 100 young doctors in Quetta after they protested and tried to march towards the CM House.

The doctors were protesting lack of personal protection equipment (PPE) amid the coronavirus outbreak in the country.


WATCH: Police in #Quetta detain over 100 young doctors doctors and paramdedical staff who were protesting against the lack of provision of #PPE for dealing with #covid19 patients.
#coronavirusinpakistan

Follow our live blog at: https://t.co/TxyXf2ohXp #etribune #news pic.twitter.com/Oqt5zPFvUQ

— The Express Tribune (@etribune) April 6, 2020


2:45pm: New cases emerge in Sindh

Provincial health authorities reported 53 new cases today. The provincial tally now stands at 932.




2:25pm: CM Murad orders establishment of ICUs

Chief Minister Sindh Murad Ali Shah held a meeting to discuss the current coronavirus situation in the province.

During the meeting, the chief minister ordered for the establishment of ICU units in six different hospitals with a capacity of 104 patients. On Murad's instruction, isolation wards with a capacity of 193 beds have also been established in three hospitals.




1:45pm: PAF aircraft with medical equipment, relief goods lands in Quetta

A Pakistan Air Force C-130 cargo aircraft landed at Quetta carrying medical equipment and relief goods, said a statement released by the PAF.

"The aircraft airlifted approximately 11,000 pounds of medical equipment including  N95 masks, protective gear, gloves, face masks, testing kits and medicines," said the PAF statement.




1:15pm: K-P MPA recovers from coronavirus

Member Provincial Assembly Khyber-Pakhtunkhwa Abdul Salam Afridi has recovered after testing positive for coronavirus.

The PTI lawmaker's most recent test came back as negative and he thanked God for his recovery.

"Very soon I shall go to my constituency and join my people in Mardan."


مردان :رکن صوبائی اسمبلی عبدالسلام آفریدی کورونا وائرس سے صحتیاب

عبدالسلام آفریدی کا ٹسٹ نیگٹیو اگیا۔

صحتیابی پر اللہ کا شکر ادا کر تا ہوں

بہت جلد اپنے حلقے اور مردان کے عوام کی خدمت کے لئے ان کے ساتھ ہوں گا۔

#PakistanFightsCorona#KPKUpdates pic.twitter.com/mARItZkQ9X

— PTI Peshawar (@PTIPeshawar) April 6, 2020


12:20pm: 'Coronavirus cases in cities proportionate to population, travel risks' 

Khyber-Pakhtunkhwa Health Minister Taimur Khan Jhagra has said that the number of coronavirus cases in cities are proportionate to populations and travels risks, and has nothing to do with healthcare.

"Data shows more people returning from abroad to KP than to any other province over last 2-3 months, it's the nature of our labour market," he explained in a series of tweets.


5. The first key trend on the data is to look at this chart from PIDE. Exclude Sukkur & DG Khan (because data is skewed by quarantine centres there); you'll see that cases in cities are proportionate to populations / travel risk. Nothing to do with the quality of healthcare. pic.twitter.com/vMDxkxCKmz

— Taimur Khan Jhagra (@Jhagra) April 6, 2020


11:50am: Payment process for deserving families to start from Wednesday

Special Assistant to the Prime Minister on Social Protection and Poverty Alleviation Dr Sania Nishtar said that the payment process under the Ehsaas Emergency Cash Programme will commence from Wednesday.

The federal government is providing cash assistance of Rs12,000 to over twelve million deserving families under the Ehsaas Emergency Cash Program in the wake of coronavirus, said Nishtar while speaking to the media.


11:25am: Pakistan's first drive-through testing facility in Karachi
VIDEO: Pakistan opens the first drive-through virus testing facility in Karachi, as part of the attempts to stem the spread of the pandemic in the country, where infections are rising pic.twitter.com/9xNm32CjUl

— AFP News Agency (@AFP) April 6, 2020


10:40am: Torkham, Chaman border crossings opened for four days

Pakistan opened the Torkham and Chaman border crossings for four days from today to facilitate the exit of Afghan nationals in Pakistan.

The Foreign Office said in a statement that the step has been taken on a special request from the Afghan government based on humanitarian considerations and to facilitate Afghan nationals.

The statement further said, as a neighbour and in view of fraternal bilateral relations, Pakistan remains in solidarity with the people of Afghanistan, particularly at this time of the global pandemic.




10:00am: Zafar Mirza vows Pakistan will emerge stronger out of COVID-19 epidemic

Prime Minister's Special Assistant for Health Dr Zafar Mirza stated that he felt blessed to be able to make a small contribution to a grand national effort in fighting coronavirus pandemic as part of the team led by Prime Minister Imran Khan.

He further said that he had received countless prayers during the past few weeks and vowed that the country will emerge stronger out the pandemic.


I feel blessed to be able to make a small contribution to a grand national effort in fighting corona virus led by #ImranKhanPTI. I am humbled & draw strength from many duas that I receive daily. Thank you all 🙏. Inshallah Pakistan will emerge stronger out of #COVIDー19 epidemic.

— Zafar Mirza (@zfrmrza) April 6, 2020
9:44am: Balochistan reports 31 recoveries 

A new batch of 31 patients was discharged from the Sheikh Khalifa bin Zayed Hospital in Balochistan.

The total number of recovered patients in the province now stands at 60.


Alhamdulilah 31 more +positive persons now tested show negative discharge from SKBZ today at 10:30 Pm.

Making it 60 altogether.

— Jam Kamal Khan (@jam_kamal) April 5, 2020
9:40am: Total tests conducted across the country stand at 35,875

As many as 35,875 tests have been conducted across the country with over 1,900 being conducted in the past 24 hours.

According to the national data, over 17,879 suspected cases have been housed in 323 quarantine facilities across the country.




9:35am: At least 39pc cases are of local transmission

The percentage of local transmission cases are gradually increasing with 39pc of the cases being reported of secondary contact.

According to the National Command and Operation Centre, 61pc of the cases are imported from other countries.




9:30am: Death toll reaches 50

The National Command and Operation Centre on Monday put the death toll caused by the novel coronavirus in the country to 50.

Out of the total, 16 people have died because of the virus in K-P, 15 each in Sindh and Punjab while three deaths were reported from Gilgit-Baltistan and one from Balochistan.

At least 17 patients are reported to be in critical condition.