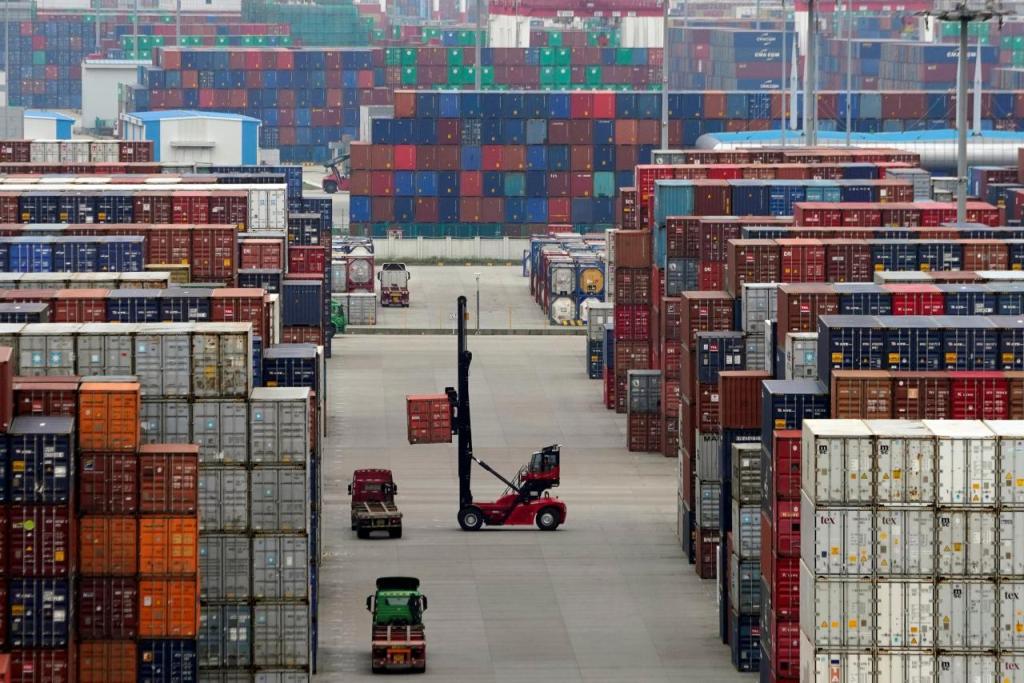 ---
KARACHI: Because of lockdown in many countries caused by the Covid-19 pandemic, the world is heading towards recession this year. The International Monetary Fund (IMF) has already warned about it.

Global oil prices have already plummeted to multi-year lows. This is an early sign of the looming recession regardless of the fact that prices began to fall initially due to a Saudi Arabia-Russia row over the extent of reduction in production.

Pakistan's exporters are rightly worried and so is the government. The government has already offered a relief package to them and that, along with the policy rate cut by the State Bank of Pakistan (SBP), may provide some relief to the exporters.

However, many are still worried because selling merchandise at a time of falling demand and countrywide lockdowns in large parts of the world is not an easy job.

Just because of full or partial lockdowns in Europe, America, China and the Gulf Cooperation Council (GCC) region, any increase in Pakistan's export earnings has become uncertain. Exporters say they are facing lots of problems in shipments.

Federation of Pakistan Chambers of Commerce and Industry (FPCCI) Senior Vice President Dr Mirza Ikhtiar Baig says, "Buyers in Europe and America have requested us to delay shipments due to decrease in demand for apparel owing to closed markets and shops. "Also, they don't want to lift even confirm orders which have already been produced. Our inventories are piling up and no exporter can afford to let this continue as it will erode the cash flow."

Exporters say buyers of their products in a number of countries are requesting to defer payments for 90 to 180 days against buying orders which have already been shipped.

The reduction in production is another major problem exporters are facing because of unavailability of staff and machine operators due to lockdown in the country. Moreover, mingling of workers cannot be allowed in factories for safety reasons.

Before the interest rate cut and the recent unveiling of the economic stimulus package, textile exporters feared 25-50% decline in exports for March and April.

Hopefully, they must be more enthusiastic now but given the uncertainty all around, it would still be too optimistic to expect that textile exports from March onwards would not see any decline.

Now, the issue is how to avert a massive decline in exports and better still, how to boost them.

Trade gap

Obviously, the exporters need to search for new markets while continuing to cater to traditional markets. It is pretty much possible because of the gap created in global supplies due to the current world trade situation.

Pakistan's export competitors, too, must be finding it difficult to meet export orders, leaving some gaps for Pakistani exporters to fill in.

So, there is an opportunity to take advantage of this situation and grab some export orders which are being diverted from countries like China, India, Bangladesh, Thailand, the Philippines, Vietnam and others.

Containing the decline in exports has become a real hard challenge also because cross-border trade with neighbours – India, Iran and Afghanistan – has stopped now.

Earlier, Pakistan's exports to neighbouring countries made up a tiny part of the total shipments. All three markets have a lot of potential in bilateral trade but political rivalry with New Delhi caused suspension of trade with India, which is hurting Pakistan in the absence of a quick and easy land route. Looking towards Iran is also of no use, for the reason that the country is still facing international sanctions and Covid-19 has caused more damage there.

Increased influence of China and India in Afghanistan and the ongoing war there reduced Pakistan's exports to that landlocked country.

But the recently signed peace accord between the United States and Afghan Taliban would possibly help improve bilateral trade with Kabul provided Covid-19 threat does not play a big role in both countries.

Except for China, Pakistan does not have a sizeable trade relationship with any of its neighbours, resulting in great dependency of exports on it. In the textile sector, Pakistan is highly dependent on imports of Chinese raw material. But those imports slowed down considerably after the outbreak of Covid-19 in China in December last year.

However, with proper planning and strategy and with adequate support from the government, textile millers can tackle such kind of hurdles and stave off a decline in exports.

New, old markets

When asked about the steps which the government should take in order to boost overall exports and not just those of textile, former FPCCI president Daroo Khan Achakzai told this writer: "Government should not only waive all export development surcharges but also ensure rapid release of export rebate."

He believes, "We not only have to explore new Central Asian and Middle Eastern markets but also revive activity in old conventional markets like the US, Afghanistan and Europe. We once used to export $2-3 billion worth of goods to Kabul. That has been continuously decreasing for some years, giving market space to other players like China and India. Consequently, our exports to Kabul stand close to a billion dollars. "It's time to boost exports to Afghanistan, first to $3 billion and then aim at exploiting the full potential of $5 billion."

Fortunately, no other trade partner offers so much economy of trade as Afghanistan does.

"It takes just two days for us to dispatch commodities to Afghan markets. Apart from this, since Afghanistan is an underdeveloped country, we can continue to export grains and low value-added products there."

The writer is a mechanical engineer and is doing masters

 

Published in The Express Tribune, April 6th, 2020.

Like Business on Facebook, follow @TribuneBiz on Twitter to stay informed and join in the conversation.