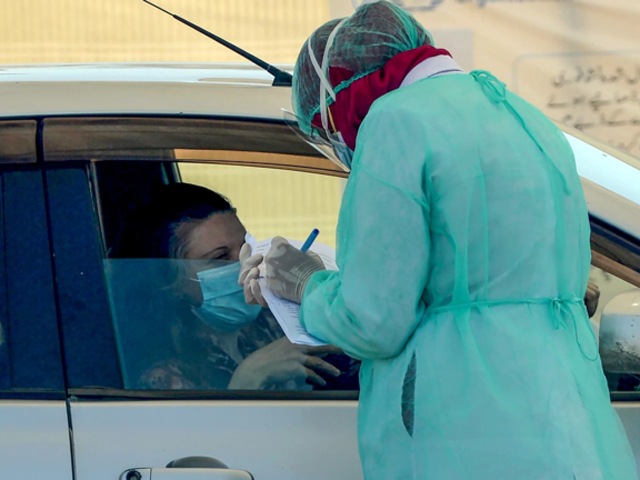 ---
MUZAFFARABAD/ GILGIT/ QUETTA/ PESHAWAR/ ISLAMABAD/ LAHORE/ KARACHI: The novel coronavirus emerged in the central China city of Wuhan towards the end of last year and proliferated to almost the whole world within a couple of months. It's not the virulence or fatality, but the infectivity of the new virus – also known as SARS-CoV-2 – that has set off a global frenzy.

The COVID-19 respiratory illness caused by this mysterious contagion has so far infected more than a million people in 202 countries and territories of the world – more than 55,000 of them have died and counting.

Pakistan, despite its close proximity with China, remained coronavirus-free until February 26 when a young man from Karachi tested positive after returning from Iran – one of the worst-hit countries. After a brief hiatus following the first case, COVID-19 cases spiked as more pilgrims returning from Iran tested positive for the virus.

The nationwide tally of COVID-19 patients soared past 3,100 with 1,380 cases in Punjab, 881 in Sindh, 405 in Khyber Pakhtunkhwa, 191 in Balochistan, 206 in Gilgit Baltistan, 78 in Islamabad, and 14 in Azad Jammu and Kashmir. The virus has claimed over 49 lives while at least 175 coronavirus patients have recovered.

The number of cases has continued to soar despite the country being under a lockdown for the third consecutive week.

The situation remains fluid and we're updating stats as soon as new figures are officially released.


Follow 

The Express Tribune'

s live coverage of the pandemic 

here.
11:45pm: COVID-19 cases rise to 405 as two more succumb to deadly virus in K-P
Two more patients of coronavirus lost the battle for life in Khyber-Pakhtunkhwa, taking the provincial death toll to 16.
Moreover, 33 new cases of COVID-19 have also been confirmed. This brings the total number of cases to 405 in the province.
11:20pm: Punjab reports another COVID-19 casualty bringing death toll to 12
Another patient of deadly coronavirus has passed away in Lahore, bringing Punjab's death toll to 12.
The 66-year-old woman, a resident of the city's Valencia Town, breathed her last at Mayo Hospital this evening.
This brings the total number of deaths to 47 across Pakistan.
10:30pm: Mob loots truck carrying ration bags in Hyderabad
A truck transporting ration bags to a district administration distribution point was looted by a mob in Hyderabad on Sunday.
The vehicle, which was heading towards the distribution point near the Niaz cricket stadium, was ransacked near Giddu Naka area, in the limits of the Hussainabad police.
The truck was loaded with around 400 ration bags, all of which were stolen by the robbers, who were reportedly residents of the suburban area.
Read more
here
.
10:00pm: President launches Muhafiz mobile app to facilitate people in COVID-19 quarantine
President Arif Alvi has launched Muhafiz App – developed by Pakistan Red Crescent Society to provide scientific informational care to families in coronavirus quarantine – at Aiwan-e Sadr in Islamabad.
9:30pm: COVID-19 facility at Karachi Expo Centre to begin operations from tomorrow
The 1,150-bed health facility established at Karachi's Expo Center will start admitting suspected and confirmed COVID-19 patients from tomorrow (Monday), according to a notification issued by the Sindh Health Department on Sunday.
The provincial health authority has directed the heads of all government hospitals to refer positive coronavirus patients to the facility from April 6.
The health facility, which is equipped with all necessary equipment including ventilators, will provide diagnostic, quarantine and treatment services.
The health department had issued a notification deploying over 900 doctors, nurses and paramedical staff at the field hospital and doctors from the army medical corps will also be deputed at the centre.
Read detailed story
here
.
9:15pm: Two more cases raise Balochistan's COVID-19 tally to 191
The Balochistan government has confirmed two more cases of novel coronavirus, bringing the total number of such cases to 191.
30 patients have recovered from the deadly disease in the province so far.
9:00pm: Punjab sees a sharp rise in COVID-19 cases as tally hits 1,380
As many as 1,380 confirmed coronavirus cases in Punjab have been classified into four catergories – Zaireen, Tableeghi Jamaat members, prisoners and common citizens – according to a statement issued by the provincial health department on Sunday.
Of them, 309 are pilgrims, who returned from Iran and were put into isolation in quarantined centres established in DG Khan, Multan and Faislabad.
The communique also said 443 patients belong to Tableeghi Jamaat who attended religious gathering in Raiwind last month, whereas 28 and 600 are prisoners and other citizens respectively.
Read more
here
.
8:45pm: Sindh CM urges people to keep social distancing until April 14 to defeat coronavirus
Sindh Chief Minister Syed Murad Ali Shah on Sunday urged the masses to cooperate with the government during the ongoing lockdown until at least April 14, fearing that if the coronavirus spreads in 
katchi abadis
 (slums areas) then the healthcare system of the province would be overrun.
In a video message, he said that many people in impoverished areas live in close proximity, sometimes even in a single room, and it would be difficult to contain the disease in such a scenario.
"We haven't seen many cases from 
kachi abadis 
so far but if they start flooding in, then we would have a big problem because our healthcare system would not be able to handle such a situation," Murad said, adding that the lockdown was enforced to avoid the same.
Read more
here
.
8:30pm: Sindh receives Rs68.5 million for COVID-19 relief fund from private donors
The Sindh government had received around Rs68.5 million from 871 private donors for its COVID-19 Relief Fund up until April 3, provincial government's spokesperson Murtaza Wahab said on Sunday.
This is in addition to Rs3 billion contributed by the government for the coronavirus pandemic, he said in a tweet.
"#SindhGovt #COVIDー19 Fund as on 3rd April had received a contribution of Rs68,445,108 from private donors. This donation has come from various 871 generous people & is in addition to Rs3 billion contributed by Sindh Govt for Corona pandemic. Thank u everyone for ur kindness," he wrote on his official Twitter handle.
#SindhGovt #COVIDー19 Fund as on 3rd April had received a contribution of Rs 68,445,108 from private donors. This donation has come from various 871 generous people & is in addition to Rs 3 Billion contributed by Sindh Govt for Corona pandemic. Thank u everyone for ur kindness

— Murtaza Wahab Siddiqui (@murtazawahab1) April 5, 2020
8:00pm: Another patient succumbs to COVID-19 as Sindh's death toll rises to 17
One more patient of novel coronavirus has died in Karachi, taking the death toll in Sindh to 17 on Sunday.
The female patient, a resident of Qayyumabad, was being treated for COVID-19 at Indus Hospital.
This brings the total number of coronavirus casualties to 46 across the country.
7:00pm: With 50 local transmission cases, Balochistan's COVID-19 tally rises to 189
With the addition of four new cases, coronavirus tally in Balochistan has risen to 189 as locally transmitted cases in the province crossed the 50 mark on Sunday.
According to the spokesperson of provincial government, Liaquat Shahwani, 13 more people have recovered from the virus in Quetta.
This brings the total number of recoveries to 32 in the province.
6:20pm: Slow pace of coronavirus spread is encouraging, says Asad Umar
Federal Minister for Planning and Development Asad Umar, while addressing a news conference in Islamabad on Sunday, said that novel coronavirus is still spreading in the country but its pace is very slow which is encouraging.
"Our main task is to trace those who are infected with COVID-19 and for this we need to ramp up our testing capacity across the country," he said.
The National Coordination Committee (NCC) on COVID-19 had decided to extend the lockdown till April 14, said the minister, adding that the decision helped in curtailing the spread of coronavirus which is a positive development.
"But if the number of coronavirus patients continues to rise then we fear that it might create problems for our health sector," he warned.
Umar, who also heads the National Command and Operation Centre (NCOC) for coronavirus, said hospitals where ICU and ventilator facility is available will be provided protective gears on priority basis.
"I cannot predict what will be the situation after April 14," he said.
#Live: Minister for Planning addresses news conference in Islamabad. https://t.co/N7a1Hpu9y9

— Radio Pakistan (@RadioPakistan) April 5, 2020
Read full story
here
.
5:15pm: 123 people recover from COVID-19 as total cases rise to 881 in Sindh
Sindh Health Minister Dr Azra Fazal Pechuho on Sunday said that 123 patients have recovered from coronavirus in the province.
She said that 51 locally transmitted cases were reported in Sindh today, taking the tally to 881. According to her, 8,931 tests have been conducted in the province so far.
Dr Pechuho further said that a total of 15 people have died while 68 have recovered so far in the province.
4:45pm: K-P lawmaker recovers from COVID-19
Abdul Salam Afridi, a member of the Khyber-Pakhtunkhwa Assembly belonging to ruling PTI, has fully recovered and tested negative for COVID-19.
In a statement issued on Sunday, Afridi thanked Allah Almighty for his recovery from the illness and vowed to continue his efforts against the virus outbreak.
Last month, he was infected with the coronavirus while participating in relief operations in his hometown Manga, an area near district Mardan identified as virus hotspot.
4:30pm: Two new COVID-19 cases bring AJK's tally to 14
Two more confirmed cases of novel coronavirus (COVID-19) surfaced in Azad Jammu and Kashmir (AJK), bringing the total number of patients to 14 in the state.
The AJK health minister, who is also focal person on coronavirus, on Sunday said that one case has been reported in Kotli district while the other emerged in Mirpur. Both patients have recent international travel history, he added.
1:55am: 13 COVID-19 patients recover in Balochistan
At least 13 patients who tested positive for COVID-19 have made a full recovery in Balochistan, said Chief Minister Jam Kamal Khan in a tweet late Saturday.
This brings the province's tally of recovered to 32.
Alhamdulilah 13 more positive patients initiatlly and now become negative. Discharged from SKBZ at 11 PM yesterday after 14days Isolation.

19 before and 13 now...

— Jam Kamal Khan (@jam_kamal) April 4, 2020
Lockdown
On March 23, the federal government 
green-lighted 
military in aid of civil power under Article 245 read with Section 131(A) of CrPc across the country. DG ISPR Maj-Gen Babar Iftikhar 
briefed 
media on the guidelines of the lockdown in a news conference.
The decision came a day after PM Imran Khan categorically ruled out lockdown owing to the economic situation and urged citizens to self-quarantine.
Much of the country was already under lockdown as part of sweeping measures to prevent the spread of the virus.
Sindh 
announced a 15-day lockdown from March 23 with 
Punjab
, 
G-B 
and 
AJK
 following suit. 
Balochistan
 and 
K-P
 were under a partial lockdown with minimum movement while Section 144 was imposed in 
Islamabad
.
The nation-wide lockdown has now been extended by two more weeks, till April 14.
Educational institutions, shopping malls, markets, restaurants, and other private businesses remained closed while inter-provincial and inter-city transport was also suspended. Factories, banks and the financial sector was directed to reduce work hours.