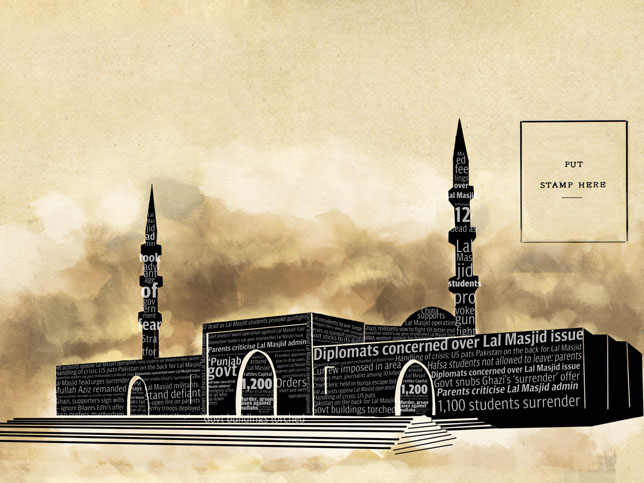 ---
Lal Masjid cleric booked for defying Friday congregation ban
FIR registered against eight people for flouting lockdown orders, anti-state slogans
---
ISLAMABAD: The Lal Masjid (Red Mosque) in the federal capital once again echoed with anti-state slogans as its administration flouted the ban on congregational prayers on Friday meant to prevent the spread of coronavirus (Coivd-19).

The Abpara police have registered a First Information Report (FIR) against the Red Mosque former khateeb (ex-prayer leader) Maulana Abdul Aziz and seven others on charges of provoking people against the state, playing jihadi anthems and organising congregational prayer despite ban.

The police officials said that they were on-duty near the mosque when they heard an announcement from the mosque's loudspeakers for Friday prayers congregation.

Congregational Friday prayers have been banned by the district government as a preventive measure to contain spread of coronavirus.

Maulana Aziz started delivered a sermon and provoked people to resist the state's decisions. The police officials rushed inside the mosque and asked the management to discontinue congregational prayer citing ban. The police also showed official notification issued by the Islamabad Capital Territory Administration (ICTA) to mosque's management. However, the former Red Mosque cleric continued his speech and started chanting slogans and playing jihadi anthems to incite the worshippers. Aziz said that they did not accept orders of a state that followed international agenda, adding that they would only abide by their own rules and laws. The FIR read that Aziz provoked people in an attempt to sabotage the peace.

Case against chasing suspects

The police on Saturday registered a case against five suspects for aerial firing amid chasing down a victim's car and hitting it. The complainant Zainab Ali informed Bara Kahu police officials that Shazaib, Shehbaz, and three unidentified suspects in a car started chasing her vehicle. When they reached Prince Road, the suspects started firing into the air and later rammed their car into her vehicle, leaving it damaged, and then drove away. The police have registered a case and started the investigation.

Teenager allegedly kidnapped

A teenage boy has been allegedly kidnapped from the suburban area of Seeri Chowk in the precincts of Bhara Kahu police station on Saturday. Abid Abbasi informed the police that his 17-year-old son Hussain Abid left the house in anger and then did not return.

The father alleged that his son had been kidnapped by unidentified suspects. Bhara Kahu police have registered a case of the incident and started investigation into the matter. 

Published in The Express Tribune, April 5th, 2020.