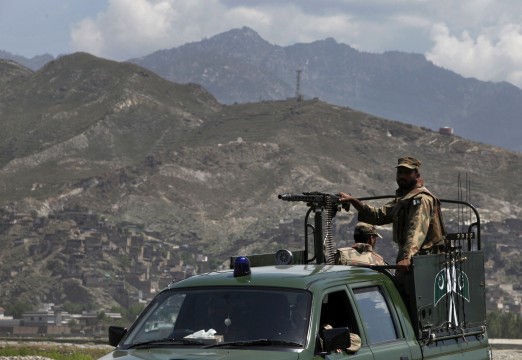 ---
The United States has presented evidence to Pakistan about the growing threat and reach of a militant faction which Washington suspects has ties to Pakistani intelligence, US officials said on Wednesday.

In the presentations, US military leaders provided Pakistan's army chief with information detailing the role of the Haqqani network in a string of increasingly brazen bombings, including one last month targeting the main NATO air base at Bagram in Afghanistan.

Washington has long pressed Islamabad to crack down on the Haqqanis in the North Waziristan tribal zone bordering Afghanistan, who are closely aligned with the Taliban, but US officials acknowledge it is a hard sell because of resistance within Pakistani intelligence.

General David Petraeus, who oversees the Afghan war as head of US Central Command, told a congressional hearing the Haqqanis had "transnational" ambitions, suggesting they could try to strike beyond Pakistan and Afghanistan.

Washington has issued similar warnings about the growing reach of the Pakistani Taliban, which investigators blame for a botched May 1 car bomb in New York's Time Square.

One US official said "some elements" of Pakistani intelligence, but far from all, still support the Haqqanis.

Pakistan has denied a report by the London School of Economics that alleges enduring ties between its Inter-Services Intelligence (ISI) agency and the Afghan Taliban.

Pakistan intelligence role

Petraeus said there was "no question" Pakistan has maintained "a variety of relationships," in some cases dating back decades, to groups which, with US support, battled the Soviets when they occupied Afghanistan.

"Some of those ties continue in various forms, some of them, by the way, gathering intelligence," he said.

"You have to have contact with bad guys to get intelligence on bad guys."

The Pentagon has expressed confidence that Pakistan will eventually mount an offensive in North Waziristan, but has acknowledged the country's armed forces were already stretched by operations in other tribal areas.

"The problem has been one of capacity. And again, we're working hard to enable that capacity," Petraeus said.

Petraeus, General Stanley McChrystal, the top US and NATO commander in Afghanistan, and Admiral Mike Mullen, chairman of the Joint Chiefs of Staff, discussed Haqqani's alleged role in the bombings in a recent meeting with Pakistan's army chief Ashfaq Kayani.

"We have shared information with him about links of the leadership of the Haqqani network ... that clearly commanded and controlled the operation against Bagram air base and the attack in Kabul, among others," Petraeus said.
COMMENTS (1)
Comments are moderated and generally will be posted if they are on-topic and not abusive.
For more information, please see our Comments FAQ