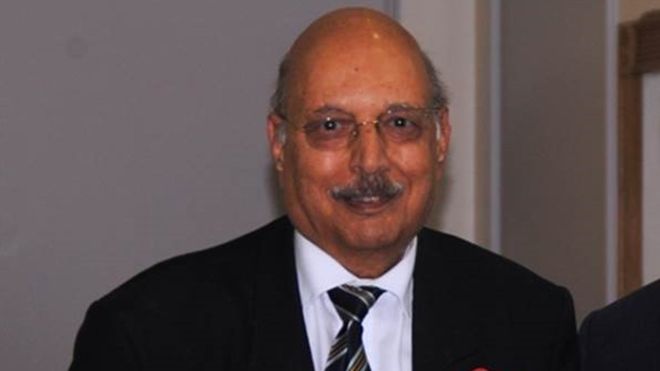 ---
The United Kingdom is paying tribute to Dr Habib Zaidi and three other Muslim doctors who died after contracting the coronavirus while being on the frontlines to tackle the pandemic.

The four men, including Alfa Sa'adu of Nigerian ancestry and Amjed el-Hawrani and Adil El Tayar of Sudanese origin, were Muslim.

Dr Zaidi, 76, died in intensive care at a hospital in Essex, 24 hours after being taken ill on March 24, reported British media. He showed 'textbook symptoms' of COVID-19.

Young doctor screening coronavirus patients dies of COVID-19 in Gilgit

A general practitioner (GP) in Essex for more than 45 years, he moved to the UK from Pakistan almost 50 years ago and was a managing partner with his wife at the Eastwood Medical Practice in the town of Leigh-on-Sea. Their four children also work in the medical profession.

His daughter, Dr Sarah Zaidi said his death was "reflective of his sacrifice" and he had a "vocational attitude to service".

Dr Jose Garcia-Lobera, who worked with the late doctor, told the BBC that Dr Zaidi had left behind an incredible legacy.

"[He] was a 'hugely respected, selfless man' who dedicated his life to helping others.

"Dr Zaidi will always be remembered for his significant contribution to local health services through his long career as a GP," he added.

Christine Playle, 73, one of Zaidi's former patients on whom he performed minor surgery less than three weeks before his death, told Al Jazeera she was "shocked and saddened".

Tales of survivors: 'Isolation, not coronavirus, was my worst nightmare'

"Dr Zaidi was a very well-liked and respected doctor and was the embodiment of what everyone looks for in their GP - kind, caring, friendly and jolly," she said. "He was a dedicated GP, and that dedication cost him his life."

Fallen heroes

Two of the four doctors who sacrificed their lives to battle the virus were from Sudan.

Amjed el-Hawrani was an ear, nose, and throat consultant at university hospitals in the north of England. Despite having no underlying health issues, el-Hawrani died in hospital on Saturday aged 55.






Adil El Tayar, also of Sudanese origin, was a veteran NHS surgeon who died on March 25. He was 64 years old. An organ transplant consultant, he graduated from the University of Khartoum in 1982.

El Tayar had been working at Hereford County Hospital in the west of England as a volunteer in the emergency department amid the pandemic, where his family believes he caught the virus. He began to self-isolate when he displayed symptoms but was eventually hospitalised and placed on a ventilator.

The British ambassador to Sudan, Irfan Siddiq, paid tribute to the father of four on Twitter and thanked healthcare workers everywhere for showing "extraordinary courage".

UK should be prepared for significant period of coronavirus lockdown

Nigerian-born Alfa Sa'adu was another veteran in the field of medicine and worked for the National Health Service for nearly 40 years. He died aged 68 after a two-week battle with the virus. Having retired, he was volunteering at the time of his passing.

Born in Nigeria, Sa'adu began his medical career as a consultant physician in geriatric medicine when he came to London and graduated from the University College Hospital Medical School in 1976.

Dr Salman Waqar, the head of the British Islamic Medical Association, in his tribute called the four doctors 'devoted family men' who made a contribution that was 'immeasurable'.

Urging people to stay at home, he added: 'They gave the ultimate sacrifice fighting this disease.'