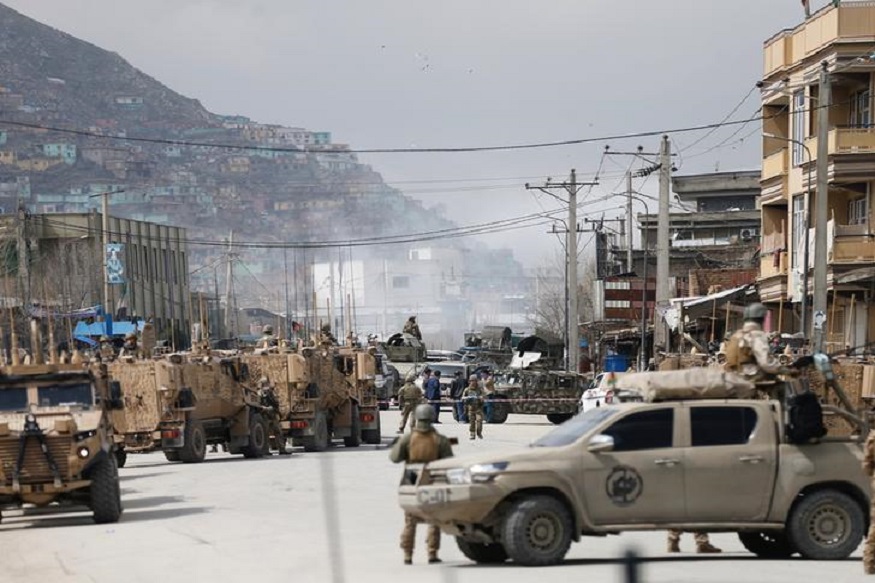 ---
ISLAMABAD/ KARACHI: As the world grappled with a still growing COVID-19 pandemic, war-torn Afghanistan was hit with yet another tragedy last week. Gunmen and suicide bombers affiliated with the Islamic State stormed into a gurdwara in Kabul, killing 25 Sikh worshippers before the hour-long siege came to an end.

Before the dust could even settle, certain Indian publications began insinuating the attack was 'Pakistan-backed bid to rupture Indo-Afghan ties' without any evidence. But as fate would have it, the finger pointing was nipped in the bud by another Indian publication. In a report published just two days after the attack, India Today revealed one of the suicide bombers was an Indian national from Kerala. It also pointed out that as many as 98 families from Kerala had joined up with IS in Afghanistan.

The India Today revelations now paint a very different picture. According to prominent Pakistani analysts, the present of Indian IS recruits in Afghanistan and the timing of the attack suggest Indian agencies may be colluding with Ashraf Ghani's government to both sabotage the Kartarpur Corridor and derail the US-Taliban deal.

'Indian citizen carried out Kabul gurdawara carnage'

Speaking to The Express Tribune, Maj Gen (retd) Inamul Haque said the genesis of IS in Afghanistan an 'enigma'. "It is very hard to pinpoint what the group's ideological motive and endgame is," he explained. "It is unclear who the real mastermind behind the group is. It almost seems as if the group was inserted in Afghanistan."

According to Gen Inam, far from being a monolith, there appeared to be different groups in Afghanistan operating under the IS banner. "IS first appeared in Afghanistan in 2014. At the time the US dismissed it as a breakaway group of the Pakistani Taliban due to the group's limited operational ability," he said. "Then there were the Orbaki militias, which were CIA-raised groups that operate outside the authority of the Afghan government."

"Islamic State in Khorasan (ISIK), which claimed responsibility for the Kabul gurdwara attack, is now believed to be a 3,000-strong force entrenched in rural areas of Eastern Afghanistan. Its membership is believed to comprise both locals and foreigners, including former Pakistani Taliban and militants from Central Asia and the Middle East," he added.

Lt-Gen (retd) Amjad Shoaib also suggested there were three different sets of groups in Afghanistan calling themselves IS. "The first one, which was composed almost entirely of Afghans who pledged allegiance to Abu Bakr al Baghdadi, has already been decimated by the US," he said. "The second one is a network of groups backed by the CIA, and is currently dormant," he told The Express Tribune, corroborating Inam's assessment.

"The only group still active in Afghanistan under the IS banner is ISIK, which mainly comprises militants who broke away from Tehreek-e-Taliban Pakistan," Gen Shoaib added. He claimed ISIK is directly funded and controlled by India and enjoy President Ashraf Ghani's 'tacit approval'.

According to Inam, it was suspicious that US forces in Afghanistan had shifted its strategy against IS from 'elimination' to 'containment'. "The group's overnight appearance in Afghanistan and US reluctance to fight it supports the suggestion that it is part of a covert effort to weaken the Taliban," he said. "There is a theory that ISIK was formed by US agencies and the Afghani government as a second line of defence behind the Orbaki militias against the Taliban."

He added that it was important to note that even China and Russia have now started viewing the Taliban as the only faction capable of containing ISIK.

Pakistan condemns terrorist attack on Gurdwara in Kabul

Speaking about the Kabul gurdwara attack, Gen Shoaib believed its objectives were twofold. "One hand, it does appear aimed at scuttling peace efforts. Those who orchestrated it may have planned to pin the blame on the Afghan Taliban or the Haqqani network," he said.

"On the other, the attack could also have been an attempt to create misgivings among the Sikh community towards Pakistan," he added. "Pakistan has always had good ties with Sikhs worldwide, but the Kartarpur Corridor has generated a lot more goodwill for the country among the community recently. India, meanwhile, has always been suspicious of Sikhs travelling to Pakistan."

According to Gen Shoaib, the Kabul gurdwara attack may have been an Indian attempt to discredit Pakistan before the Sikhs. He claimed it would not have been the first time Delhi had attempted to sow this mistrust. "Few months back, the ISI thwarted a RAW plan to carry out attack on the Kartarpur shrine," the analyst said.

Gen Inam, meanwhile, saw the attack mainly as an attempt to derail the US-Taliban deal facilitated by Pakistan. "New Delhi we know is hand in glove with Ghani's government. As such it is opposed to the US-Taliban deal and may have reached out to ISIK in order to scuttle it," he said. "I also cannot rule out the collusion of Ghani's government in the attack," he added.

Gen Inam pointed out that Taliban's stance has always been a pan-Afghan one. "Targeting minorities is an IS hallmark," he noted. "The gurdwara attack does appear to be an attempt to sow divisions in Afghanistan,  and we have to see who a divided Afghanistan favours."

Gen Shoaib, meanwhile, said Pakistan needs to "highlight the nefarious designs of India, which doesn't want peace returning to Afghanistan."

"It feels that peace deal will undermine its strategic interests in the region," he added.
COMMENTS (2)
Comments are moderated and generally will be posted if they are on-topic and not abusive.
For more information, please see our Comments FAQ