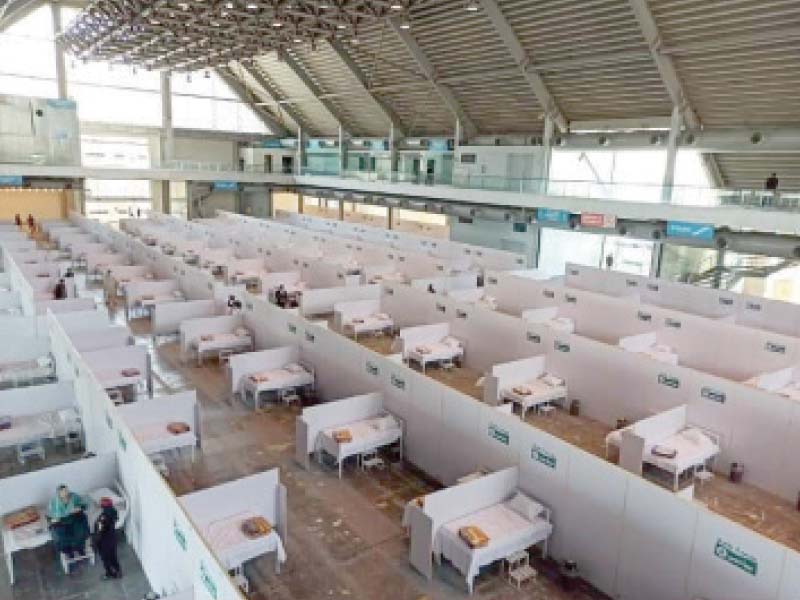 ---
LAHORE: The Punjab government has released Rs620 million for the establishment of eight new diagnostic labs at the divisional level to speed up the testing process for coronavirus patients.

After inspecting a 1,000-bed makeshift field hospital for coronavirus patients at the Lahore Expo Centre on Wednesday, Punjab Chief Minister Sardar Usman Buzdar said: "This 1,000-bed facility has been set up in a very short period by employing collective efforts. I visited this place nine days ago to inspect the arrangements and it is satisfying that the facility has become functional in such a short period. I congratulate all line departments and it is sanguine that necessary facilities have been arranged in this hospital."

He highlighted that various people detained for violating Section 144 have been released and appealed citizens to stay in their homes and observe social distancing.

"Staying home is the best solution to avoid catching or spreading the coronavirus. It will help in containing the spread of disease and protect the lives of the people," he emphasised. Buzdar also highlighted that the Chief Minister Insaf Imdaad Programme (CMIIP) has been launched from April 1 to help daily wagers and poor in this difficult time.

Army stands by nation to guard border between people and coronavirus: COAS

"The people will start receiving financial assistance from today (April 2) under the programme. Besides the PIIP, the government has also released Zakat funds worth Rs870 million to help the 170,000 deserving families," he added.

He underlined that the government has adopted a very transparent and efficient procedure for provision of financial aid to poor. The government has allocated Rs10 billion coronavirus relief package under which financial assistance of Rs4,000 will be provided to 25,000 impecunious families.

The antecedents of the applicants will be verified today and hundreds of thousands of people will be provided aid immediately after verification.

He underscored that applicants would not have to visit any office and financial aid will be paid online after receiving the required information. The applicants can also lodge their complaints online, he mentioned.

The chief minister also highlighted that the doctors and nurses were being trained at the district level to perform duties in this emergency situation.

"Majority of coronavirus patients in Punjab and other provinces are pilgrims with travel history. Only 33 patients are in hospital who got infected through local transmission," Buzdar said.

The chief minister also highlighted that wheat procurement will be done as per plan. The government has issued directions to wheat procurement centres to purchase the produce on 'first come, first served' basis at Rs1,400 per maund.

The restriction of 'gardaweri' has already been done away with, he indicated.

Provincial ministers Dr Yasmeen Rashid, Fayyazul Hassan Chohan, MPAs Mussarat Jamshed Cheema, Uzma Kardaar, Sadia Sohail, Punjab Secretary Specialised Healthcare and Medical Education, Secretary Information and DG Rescue 1122 were present on the occasion. The Lahore Division commissioner briefed the chief minister about facilities provided in the field hospital.

Meanwhile, Buzdar sent bouquets to the doctors and paramedics engaged in the treatment of coronavirus patients in various hospitals and quarantine centres as token of appreciation. He said doctors and paramedics are our heroes and their services will always be remembered.

Crackdown on profiteers

Reacting over public complaints, provincial Industries and Trade Secretary Capt (retd) Zafar Iqbal ordered strict crackdown against hoarders and profiteers involved in illegal trading activity.

Presiding over a meeting on Wednesday, Iqbal highlighted that special teams comprising of industries, agriculture, food, livestock and police departments have been constituted to launch crackdown on profiteers. These teams will visit markets to check prices on daily basis. Secretaries of departments concerned will themselves monitor and supervise crackdown operations.

Panic and unmindful buying incites hoarders and illegal profiteers to become pro-active in the markets. He urged people not to lend their ears to rumours about shortage of food or other items.

Restrictions tightened

Meanwhile, on Punjab government's direction Lahore DIG Operations has further tightened restrictions on public movement during lockdown. Official order made available to The Express Tribune indicates that the government has decided to keep markets, shopping malls, restaurants, public and private office closed. Inter-city, inter-district and intra-city public transport will remain suspended and all kind of public gathering will remain banned.

Home delivery and take-away services of restaurant, call centres with 50% staff, banks with skeleton staff, defence production, packing, food production and distribution, medical and medicine production units, general stores, grocery shops, bakeries, flour mills, milk shops, meat shops, fruit and vegetable shops, tandoors, auto workshops, petrol pumps and oil depots are also exempted from the ban.

The order highlighted that all grocery stores, department stores and shops will operate between 09:00am and 05:00pm, except petrol stations, oil shops, LPG filling shops, pharmacies, fruit and vegetable shops, tandoors, flour shops, postal services, call centres, restaurants take-away and home delivery services can function after 05:00pm.

Lockdown tightened in Raiwind

Following the outbreak of coronavirus disease, the government sealed Raiwind town on Wednesday.

Tales of survivors: 'Isolation, not coronavirus, was my worst nightmare'

Lahore Deputy Commissioner Danish Afzal told media persons that security arrangements in the area had been boosted and citizens ordered to stay in their homes. He highlighted that Rangers and police had been deployed in the area and strict checking was underway at its entry and exit points.

The area is being disinfected with chlorine spray and 900 people have been quarantined, the official said.

Lahore Division Commissioner Saif Anjum, Deputy Inspector General Rai Babar and Capital City Police Officer Zulfiqar Hameed also visited the area that was being patrolled by Rangers. DIG Babar said a population of 100,000 had been locked down and over 500 police personnel had been deployed to restrict their movement to contain the spread of the viral disease.

Published in The Express Tribune, April 2nd, 2020.