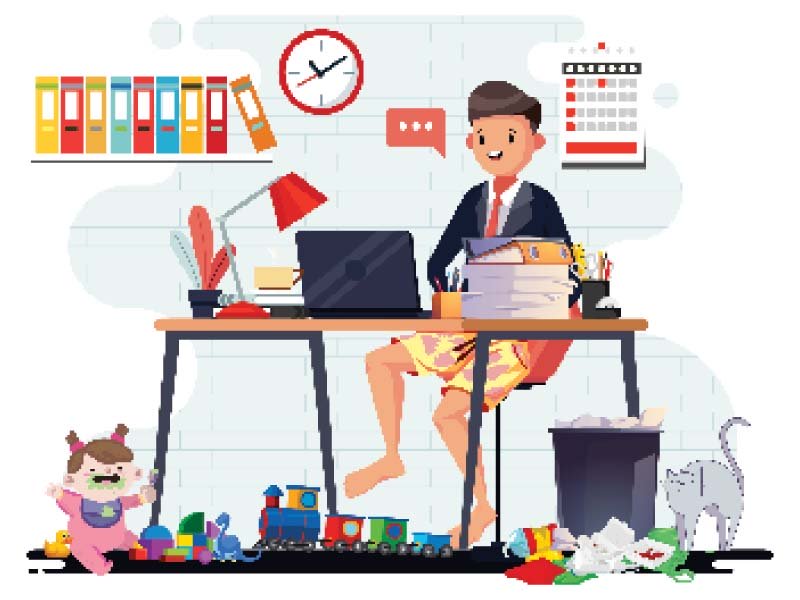 ---
KARACHI: The highly contagious novel coronavirus may have had a devastating impact on both the healthcare system and the economy, but it has sped up Pakistan's journey towards 'work from home' culture.

Although the option has been available to employers since high speed internet became common in 2014, COVID-19 has now made it a compulsion for businesses that were once reluctant to adopt it. Faced with the possibility of spreading the virus further or indefinite hiatus, big names like Nestle, P&G, Jaffer Group and Jazz have now mandated their employees to work from home.

As the battle with COVID-19 demonstrates the feasibility of working remotely out of necessity, many observers foresee the practice remaining commonplace in the country once the crisis blows over.

Trial by fire

"The work from home trend will definitely rise now as it offers both flexibility and a solution to emergencies," said Jazz CEO Aamir Ibrahim.

"The trend was already growing in other countries since the introduction of 4G, but traditional attitudes to work kept it from taking hold in Pakistan until now," said human resource expert and Expace Consulting CEO Shuja Shams.

"The crisis may have forced us to adopt it, but once we get out, I think this culture of working online from home is here to stay," said Tahir Aziz who is a centre manager for Aptech (MSG), which is developing a remote education system. "Emerging technologies, like 5G, will remove further limitations, making work from home culture more feasible."

According to Aziz, the IT industry had already embraced the practice prior to the pandemic.  Other employers had introduced it as an option for working mothers. "But never for the entire week."

"In my experience, the barrier to working from home is largely psychological on the part of both employers and employees," Aziz said.

"For instance, the introduction Skype made it easy for us to convene remote meetings, but it felt strange to do so outside of an office. With time, however, we got used to it and it became a standard practice."

The learning curve

No culture shift comes without growing pains, and so it will be with working from home, experts stress. "Even though it is increasingly common in other parts of the world, Pakistan until now hasn't seen that level of prevalence. We will have to see what mental impact it will have on workers," said Aziz.

According to him, not only employees but their family members would be affected by the move to working from home and it could be tricky for all parties trying to adjust.

"To begin with, employees will have to bring some measure of discipline if they are to work from home effectively. Essentially, you will have to set work hours aside that correspond with regular office timings," he said. "You will need to make sure you are available during those hours."

According to Aziz, bringing this discipline would both ensure the wellbeing of both employees and their families. "It could be devastating if work seeps onto personal time and vice versa."

Dr Ayesha Mian, an associate professor of psychiatry and dean of students at Aga Khan University, also highlighted the importance of routine and social interaction that an office allows. "Going to work involves getting dressed, commuting, chatting with your colleagues and taking breaks," she said. "Even a small shift away from that routine may cause stress and anxiety. It can lead to burnout, especially if work and home life overlap."

"In most cases, employees will not be alone at home. They may also find themselves taking up other duties that are not in sync with the work as well. Family members, children in particular, may place demands on your time that distract you from work responsibilities," she added.

"Then there is the problem of space. Not everyone will be able to set aside a quiet corner in their home, making it difficult to concentrate or hold remote meetings," said Dr Ayesha. "All of this may cause undue irritation, and possibly lead to family discord."

She added that working from home will also decrease interaction between colleagues which is vital for team cohesion. "This is why many workplaces that have instituted work from home are making virtual social breaks part of their employees' routine."

Coming back to the topic of burnout, Dr Ayesha stressed the importance of ensuring work-life balance. "It is important to keep track of how many hours a worker is putting in. Working from home means you are not punching in and out. While it may seem less strenuous at first, those who work from home often spend more hours finishing their tasks than at the office," she said.

Both employees and employers will find it beneficial to maintain this balance and ensure the former are rejuvenated the next day, HR experts agreed.

Two-way street

On the employers' end, a key concern is arising from letting their employees work from home is if whether they are actually working or not.

One way to do this, according to experts, is to identify key performance indicators to measure employees against. They said good organisations set clear goals for their employees, and that instead of buying employees' time, managers should simply ensure these goals are met.

This is a two-way street, however. The experts said employees would need to understand that working from home is not a paid vacation. Still, they stressed building capacity for employees to work from home is a worthwhile investment for employers. Speaking to The Express Tribune, Jazz CEO Ibrahim said work from home will not make offices completely obsolete. Some jobs, according to him, would still need an office.

He also believed productivity would be slow at first when instituting the new work culture, but stressed that it is only natural to take some time to familiarise with a new practice. "Any massive change brings decline in productivity at first but over time, things normalise and even improve."

That said, he stressed the only way to ensure efficiency is if employees dedicate office hours at home to their jobs only. Otherwise, he felt the option is best only used in situations that require flexibility.

Infrastructure hurdles

Beyond psychological barriers, a big hurdle that has kept working from home unfeasible for many in the country is the lack of infrastructure to support it.

For starters, there is the problem of electricity. While offices often run on backup generators in case of loadshedding and blackouts, many households in Pakistan cannot afford backup power supplies.

A large segment of the populace lives in areas with high electricity theft, leading power companies to institute rolling blackouts.

There is also the internet problem as most people in the country can only see high-speed connections as a luxury. "It is a big question whether our internet infrastructure has enough bandwidth to support work from home but a bigger impediment is that people still can't afford high speed internet," said the Jazz CEO.

Ultimately, the big decider as to whether there is a massive move towards working from home will be how fast the government is able to develop the infrastructure to support it. 

Published in The Express Tribune, April 2nd, 2020.

Like Business on Facebook, follow @TribuneBiz on Twitter to stay informed and join in the conversation.