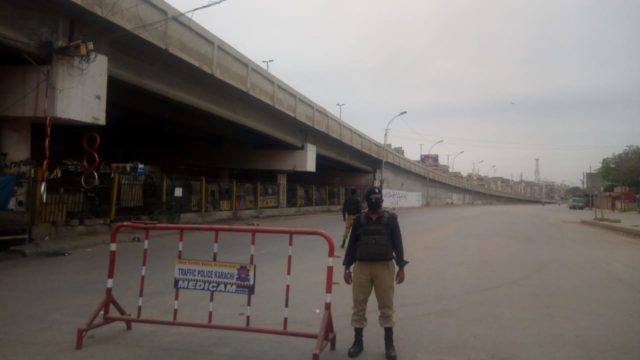 ---
KARACHI: As another coronavirus victim passed away and the tally of patients continued to rise, the Sindh government decided to extend the ongoing lockdown until April 14 and impose a 'curfew-like' lockdown on Friday (tomorrow) from 12 noon to 3pm in a bid to maintain social distancing at the time of Friday prayers.

"The ulema have been asked not to allow ordinary people – other than mosque staff – to offer the prayer in their mosques. Only designated staff such as the imam, muezzin and khadim of the mosque, with one or two other employees of the mosque would be allowed to pray in jamaat [congregation]," an official in the provincial government told the media on Wednesday.

He said it would not be a curfew, but the government would make sure that business centres remained closed and no one attends religious congregations.

Sindh govt sets up Coronavirus Emergency Fund

The decision was made after scores of worshippers flocked to mosques to offer prayers last Friday, in defiance of the government's temporary ban on congregational prayers. In the aftermath, dozens of prayer leaders and others were booked for violating the ban, though Sindh Chief Minister Syed Murad Ali Shah later ordered the police to withdraw the cases filed against them.

Sources said that Shah had once again approached the ulema for support in implementing the decision in both letter and spirit. "All our efforts will go in vain if crowds of people come for daily or Friday prayers," they quoted him as saying.

Another casualty in Sindh

Separately, Sindh Health Minister Dr Azra Fazal Pechuho confirmed the loss of another life due to COVID-19 in the province, bringing Sindh's death toll to nine.

The deceased, aged 59, was a resident of Karachi who had been brought to the hospital and tested positive on March 19, after his return from Saudi Arabia. The patient had a history of acute respiratory distress syndrome, and had been on a ventilator since the day he was admitted to the hospital.

Meanwhile, the ratio of locally transmitted coronavirus patients rose to over half of all those infected in the province, it emerged in the daily coronavirus taskforce meeting at the CM House.

PM orders Rangers to ensure goods transport in Sindh

By 8:30pm on Wednesday, 33 more cases had been reported in Karachi, with a total of 709 in Sindh so far. Of this number, 376 cases were locally transmitted – just over 50 percent. "This shows that local transmission is being further aggravated," pointed out the worried CM.

He was further told that the government was also collecting data on patients with severe pneumonia, so that the pandemic threat could be properly tracked.

Talks with the PM

Participating in a video meeting with Prime Minister Imran Khan, Shah said that if the federal government planned to resume flight operations, it would have to devise a standard operating procedure for testing each and every passenger at the airports, while also making necessary arrangements for their quarantine.

He further brushed aside the impression that he had banned the transport of essential goods in Sindh, clarifying that these operations had continued throughout the ongoing lockdown.

The CM further claimed that he had taken the necessary measures for food security, with the Sindh food department starting the procurement of wheat last week. "We have set a target of procuring 1.4 million tonnes of wheat," he added.

Moreover, he said, businesses and industries related to food and medicine were operational. "Yes, there will be problems because we are passing through an extraordinary situation, but simultaneously, we keep solving them as and when they are pointed out," he maintained.