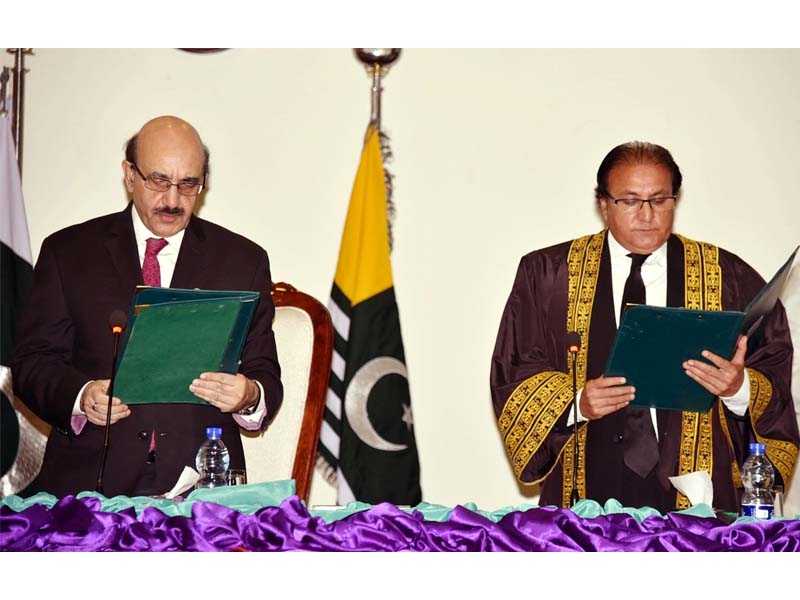 ---
MUZAFFARABAD: The senior-most judge of Azad Jammu and Kashmir Supreme Court, Justice Raja Saeed Akram Khan, was sworn in as acting chief justice of AJK on Wednesday.

President Sardar Masood Khan administered the oath in a limited ceremony held at the Aiwan-e-Sadr.

Justice Khan will perform as the acting CJ after the retirement of Justice Muhammad Ibrahim Zia.

The oath taking ceremony was kept short and limited as a preventive measure against the global pandemic coronavirus, with nine people have been tested positive for the COVID-19.

AJK Prime Minister Raja Mohammad Farooq Haider Khan, Law and Parliamentary Affairs Minister Sardar Farooq Ahmed Tahir, former chief justice Chaudhry Mohammad Ibrahim Zia, Supreme Court Judge Justice Ghulam Mustafa Mughal, acting chief justice AJK High Court Justice Azhar Salim Babar, other judges of High Court Justice Shiraz Kiani, Justice Sadaqat Hussain Raja, Justice Chaudhry Mohammad Munir, Justice Sardar Mohammad Ijaz Khan, Justice Khalid Yousuf Chaudhry, Justice Raza Ali Khan, Justice Raja Sajjad Ahmed Khan, Chief Secretary Mutahir Niaz Rana, Advocate General Inamullah Khan advocate and senior lawyers were present in the oath-taking ceremony.

Earlier, Secretary Law, Justice, Human Rights and Parliamentary Affairs Irshad Ahmed Qureshi read out the notification of the appointment of Justice Raja Saeed Akram Khan as the acting chief justice of Azad Jammu and Kashmir.