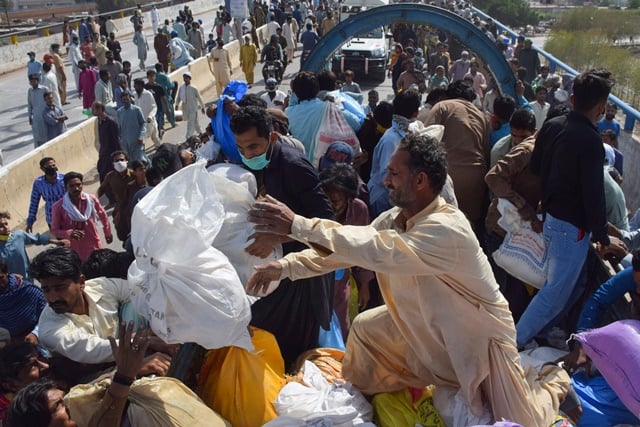 ---
The government has announced a massive Rs1.25 trillion corona relief package. How good is this package and how can the government's response be improved?

Let's bifurcate it between measures for crisis management and those for post-crisis recovery.

As part of measures to mitigate the prevailing crisis, the government has reduced the price of petrol, introduced tax exemptions on health and food supplies, allowed deferred payment for electricity and gas bills, expanded the cash transfer programme, and made emergency allocations for various needs. No one could disagree on these measures. In fact, more than the funds, the available supply of testing kits and relief material should dictate the quantum of these funds.

Similarly, direct cash transfers would be of immense help to vulnerable people, who are losing out on income and facing severe economic hardship. Reportedly, the package includes Rs200 billion exclusively for daily wagers, besides another Rs150 billion for cash transfers to the poor (Rs3,000 per month for four months). Dr Sania Nishter and her team are working on the modalities for this expanded coverage, by adding Rs1,000 per month to the stipend given to the existing 4.5 million beneficiaries. Additionally, the eligibility threshold is being relaxed to identify an additional three million affectees from Benazir Income Support Programme's (BISP) database, while another 2.5 million will be added by seeking applications through SMS, and screening through the National Database and Registration Authority (NADRA) data and district administration reports. These measures, however, account for only Rs84 billion, and it is not clear how the rest of the money would be used. If the government is serious about releasing Rs350 billion for cash transfers, this could amount to a total of Rs35,000 each for 10 million households, three times the promised amount, over and above BISP's existing programme.

Disruption in the food supply chain is another critical area, which can play havoc with the social order. The government is trying hard to keep the food supply going but only a small bottleneck can send ripples across the supply chains. Massive procurement of wheat or Rs50 billion for the Utility Stores would not be enough and may need to be supplemented with other mechanisms to provide the essential commodities to the public, such as mobile shops/camps, if the lockdown continues.

To deal with the post-crisis recovery, the government has announced primarily two measures: Rs100 billion to address the liquidity issues faced by exporters and another Rs100 billion for agriculture and SMEs. But these allocations seem to address only the tip of the iceberg.

If the existing crisis extends to few more weeks, the lack of access to routine health services and reliable and affordable food supply can lead to worsening of health outcomes such as reduced vaccination coverage, increased mortality rates, intensified malnutrition and more. Economic losses would not only span to exporters and SMEs' immediate losses but may also include significant decline in public revenues, investment, remittances and much prolonged demand compression. Some businesses may not be able to take the hit despite the liquidity cushion provided by the government and may have to close down. Rising unemployment and economic challenges could lead to security challenges. Other sectors might suffer through diversion of resources. And the ensuing recession may have its own second round effects, further worsening the situation.

For now, the crisis management should take precedence and government should divert as much resources as it can to manage the outbreak. But for post-crisis recovery, it would need to revisit the package in near future. Not only would the government need to enhance it substantially but would also need to recalibrate the entire public investment portfolio to mitigate the impact of Covid-19, besides working out financing mechanisms to provide the critically needed resources. 

Published in The Express Tribune, April 1st, 2020.

Like Opinion & Editorial on Facebook, follow @ETOpEd on Twitter to receive all updates on all our daily pieces.