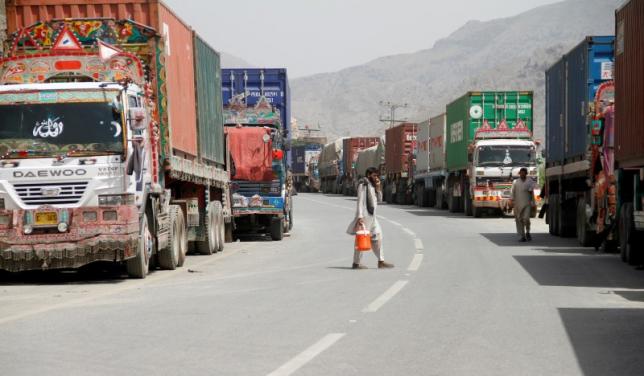 ---
100s of trucks and truckers stranded at Pak-Afghan borders amid virus threat
Truck drivers urge prime minister, army chief to intervene and let them cross the border
---
KARACHI: Hundreds of Pakistani truckers and their helpers are stranded on the Afghan side of the border at two main border crossings despite the prime minister's orders for opening the border for good transport.

The Chaman and Torkham border crossings with Afghanistan and the Wagah border crossing with India were closed earlier this month in an attempt to prevent the spread of the novel coronavirus, which has infected nearly 1,600 people and killed 17 of them.

Zahidullah, a member of the Afghan Transit Standing Committee, told The Express Tribune that around 1,500 trucks carrying shipping containers are stuck at Chaman and 800 at Torkham since last month.

Additionally, around 1,000 trailers are waiting on the Afghan side of the border to enter Pakistan.

"They are over 6,600 drivers and their helpers in these trucks and their life is at risk," he said, adding that the drivers have run out of cash and food and are living in miserable conditions. "They are selling oil and tyres of their vehicles to meet their needs."

PM Imran orders opening of Afghan border 'despite global pandemic'

One of the drivers stranded at Chaman said he has been stuck at the border crossing since last month due to which his family is facing immense difficulties and they do not have cash to buy food.

"We demand that the prime minister and the army chief direct the authorities concerned to let us cross the border," Ali Muhammad told The Express Tribune by the phone from Chaman.

Another driver said they are in a deep trouble and the perishable goods loaded on their trucks has started rotting and decaying.

Zahidullah feared that if their trucks were not allowed to cross the border the business community would bear losses worth billions of rupees.

"We have written letters to Prime Minister Imran Khan and high officials of Pakistan Army requesting them to allow us to cross the border," he added.

On March 20, Premier Imran ordered opening of the border at Chaman "despite the global pandemic" to support Afghan "brothers and sisters" as the novel coronavirus crept into the region.