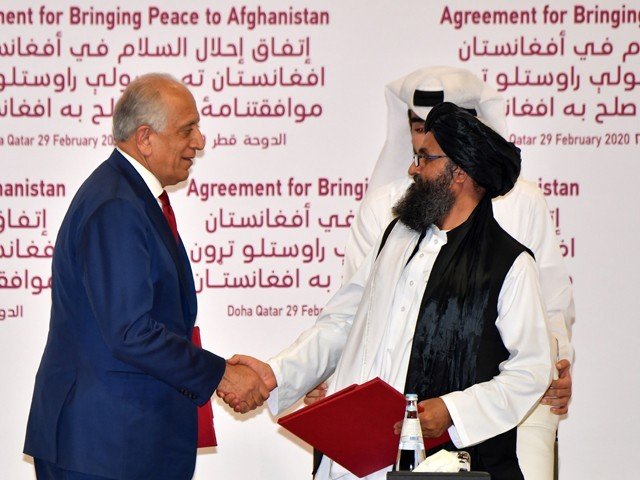 ---
It appears that Pakistan has emerged as a "winner" in the US-Taliban peace deal: that the Taliban are back in business, the US is on its way out, India and its investments in Afghanistan are down the drain, and China is likely to be more involved in Afghanistan's post-war setup are all things that Pakistan had hoped for. After two decades of war, however, it is hard to tell a victory from a defeat. The post-deal mood in the Pakistani security establishment is less of jubilance and more of a sense of relief.

If we go by the account of Steve Coll in Directorate S, Pakistan urged the US right after 9/11 to find a political settlement with the Taliban and arrest Osama bin Laden. However, the US persisted with war. For the next 19 years, Pakistan continued to convince the US that the war had no military solution and that a political settlement with the Taliban was the only way forward to avoid a total collapse in Afghanistan. Yet, for its principled stance Pakistan was tarnished as a state sponsor of terror with its agencies blamed to have gone rogue.

The US-Taliban peace deal, for Pakistani officials, hence provided the much-needed vindication and credibility to Pakistan which — especially under the new Prime Minister, Imran Khan — championed for a peace settlement in Afghanistan. Even the PM for his stance on peace was for over a decade labeled as Taliban Khan.

Second, Pakistan is also very glad to see India out of the picture in Afghanistan and its future. This was one of the main points by Pakistan in its negotiations with the US. For as long as Indian presence was in Afghanistan, Pakistan's security calculus did not allow it to provide US full assistance in the Afghan war. With assurances from the US to keep India at bay, Pakistan is optimistic that post-war Afghanistan will not be a safe haven for Indian covert operations against Pakistan.

At the same time, however, there is a caution in Pakistan over the Taliban. Having dealt with them for well over 40 years, the Pakistan Army is not under an illusion of Pakistan-Taliban brotherhood. The Taliban relied on Pakistan out of desperation; however, there is deep-rooted resentment on both sides. The Taliban view Pakistan Army as mostly a Punjabi-dominated and Western influenced army that cannot be entirely trusted as an institution. Therefore, the relation that Pakistan maintains with the Taliban has been less institutional and more based on individuals on both sides.

Similarly, there is a sentiment within the Pakistani security establishment that the Taliban have a history of going back on deals and are treacherous in their engagements. The concern is that the Taliban may not entirely prove to be a friendly partner to Pakistan in post-war Afghanistan. For this reason it has been in Pakistan's interest to forge relations across the board with actors in Afghanistan. For instance, PM Imran Khan's acceptance of Ghani as President is one aspect of Pakistan diversifying its stakes in Afghanistan unlike India, that has been less pragmatic in its foreign policy approach to Afghanistan.

Finally, a key issue that Pakistan hopes to resolve now that the US has a deal with the Taliban is to secure its removal from the Financial Action Task Force's (FATF) grey list. From Islamabad's perspective, Washington lobbied the FATF to put Pakistan back on its grey list in February 2018 to exert pressure on Pakistan to deliver in Afghanistan. But the listing has brought Pakistan on the verge of economic collapse. With the US-Taliban deal completed, Islamabad hopes Washington would ensure it gets off the list.

Since peace negotiations in Afghanistan are ongoing, it is impossible to gauge who the "winner" is, especially since all parties have suffered a great deal. But for now, it seems that the Taliban, Pakistan, and the Trump administration have all got a little of what they wanted.

Published in The Express Tribune, March 30th, 2020.

Like Opinion & Editorial on Facebook, follow @ETOpEd on Twitter to receive all updates on all our daily pieces.
COMMENTS (1)
Comments are moderated and generally will be posted if they are on-topic and not abusive.
For more information, please see our Comments FAQ