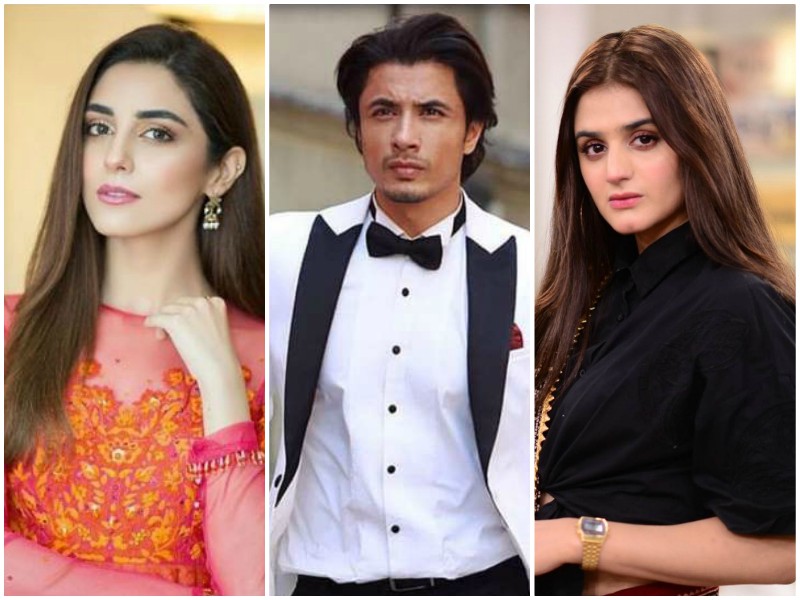 ---
Ali Zafar, Maya Ali and Hira Mani request for donations amid lockdown
The three have recently jumped the bandwagon of celebrities collecting ration bags for daily wage workers
---
Popular singer Ali Zafar, actors Maya Ali and Hira Mani are the latest to jump the bandwagon of celebrities collecting donations for the underprivileged.

The three recently made announcements on their social media requesting for ration bag contributions as coronavirus patients continue to increase.

Many celebrities had started similar campaigns earlier with renowned designer Nomi Ansari and actor Anoushey Ashraf leading the charge as their initiative for the daily wage workers clearly made a significant influence.

Read: Celebrities urge people to collect food for daily wage earners

Several celebrities followed suit, including Mansha Pasha, Hassan Shehryar Yasin (HSY), Ali Rehman Khan and others. And it seems the Teefa in Trouble actor Maya and Ali also felt similar initiative need to be taken. So accompanied by her friends, Maya collected several ration bags and uploaded the posts on Instagram.

https://www.instagram.com/p/B-KGnBYHihv/

In a post featuring the first batch of her collected donations the actor said, "It's time we play our own part instead of waiting for others to come and save people. I am glad that Allah has given me this opportunity to help those in need at a time like this. InshaAllah this all will end soon but until then we have to continue doing this... If any one wants to donate, please contact on this number and I'll make sure this reaches the deserving affected people."

https://www.instagram.com/p/B-M81g1nnhM/

Ali also took to his Instagram to request for donations as he uploaded a poster with an elaborate breakdown of the ration bags cost and what they will include.

He coupled his post with the caption, "In these testing times, it is most important that we use all our resources to help those who have none. Nobody should go hungry in the lockdown. Help us feed them. Join the movement. Donate generously."

https://www.instagram.com/p/B-Pi9BIlyhk/

As the film and music industry go through a dark time, it's certainly nice to see the celebrities uniting for a greater good. Here's hoping the need for such measures does not occur in the first place and the pandemic subsides without casualties or permanent damage.

Among others, Hira is also looking for people who could help contribute to their cause. The latter posted a video on her Instagram last night coupled with an elaborate caption. It read, "Help those who can not help themselves, be a part of my team by donating for those who really need our support in this pandemic situation. You can send any amount from anywhere in the world through the below link. Step forward to help people in need during this pandemic crises. Donations are required for groceries, medicines etc."

https://www.instagram.com/p/B-NGN7InmuW/

In her video she said, "Coronavirus is not permanent, it is not a war that we need to fight, it is in fact, a test from God. And it is a good thing that we're all following the law for a change and staying in our homes. But there are many of us who still want to go outside because they had been earning on a daily basis."

https://www.instagram.com/p/B-QfM7on4JU/

She added, "Ever since the lockdown, they cannot do that anymore. So my team and I have been working to ensure such people are not left unattended and you all can also contribute to help make their lives easier."

Have something to add to the story? Share it in the comments below.