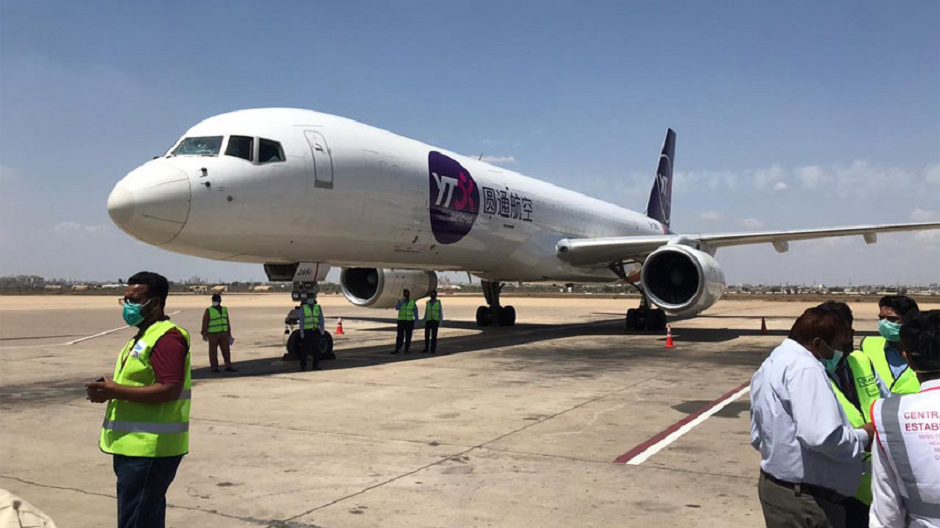 ---
China sends another aircraft carrying medical supplies to Pakistan
China donates two tons of supplies worth Rs67 million, including face masks, test kits, ventilators
---
Chinese billionaire Jack Ma's Foundation and Alibaba Foundation on Saturday sent another aircraft carrying medical supplies to Pakistan, as the number of confirmed coronavirus cases crossed 1,350.

According to the National Disaster Management Authority spokesperson, China sent another aircraft carrying at least 50,000 testing kits to Karachi.

According to the Chinese Embassy in Pakistan, two tonnes of supplies worth Rs67 million were delivered to Karachi, including face masks, test kits, ventilators and personal protective equipment.



چین تندعی سے متحرک و سرگرم عمل!
دو ٹن ماسک، تشخیصی کٹس، 6 کروڑ 70 لاکھ مالیت کے طبعی حفاظتی لباس کامیبخیرو خوبی خنجر اب کے مقام پہ حکام کے سپرد
یہ وہ دوستی ھے جو کوھساروں سے بلند تر ھے۔ @ArifAlvi @ImranKhanPTI @ForeignOfficePk @zfrmrza @MFA_China pic.twitter.com/JXghBNEc6N

— Chinese Emb Pakistan (@CathayPak) March 27, 2020

Earlier this week, Chinese billionaire Jack Ma's Foundation and Alibaba Foundation sent a cargo plane carrying medical equipment to Pakistan.

"Collectively, the nations will receive a total of 1.8 million masks; kits for testing 210,000 people, 36,000 pieces of protective clothing, as well as essential medical equipment such as ventilators and forehead thermometers."

The Chinese Embassy of Pakistan posted on microblogging website Twitter and said a cargo plane carrying N95 masks and other protective equipment had been dispatched to Karachi.