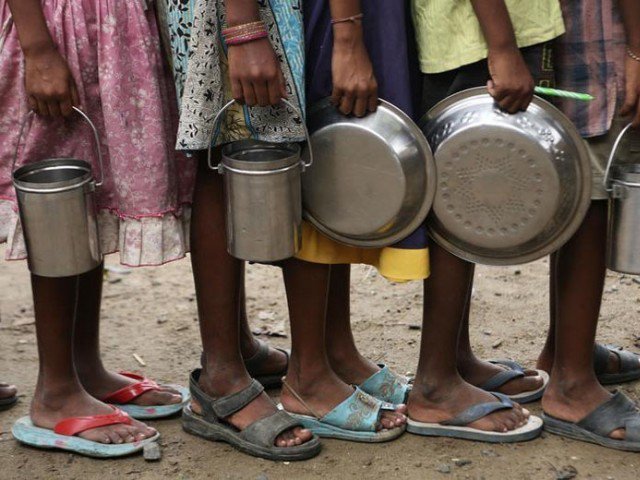 ---
Stay at home, say officials. Where do the homeless go?
As the province goes into lockdown, how do the city's marginalised fare?
---
KARACHI: On Saturday morning, the gentle rays of dawn hit upon Yasmeen, nudging away the remnants of sleep. She tossed and turned, desperate to catch a few more winks, but it was to no avail. There wasn't enough shade at her usual spot on the pavement near Abdullah Shah Ghazi's shrine.

With gnarled fingers, she rubbed her eyes open, and joints cracking, lifted her body off the footpath. Some of her neighbours followed suit but the addicts among them remained unperturbed - the substances they used last night had not yet worn off. A few grubby children played at their feet.

Yasmeen rolled up her belongings in the sheet that sufficed as her bedding. Neither soap nor sanitiser were among her possessions. She made her way to work - another spot on the dusty road, some blocks away from the pavement.

There she sat, a few hours later, the sun scorching down on her back.  But the sun was the least of her worries.

US special envoy congratulates Afghan leaders on 'inclusive' team for Taliban talks

"It's the police. They used to ask us to leave [before] but it wasn't as often as it has been over the past few days," bemoaned Yasmeen. "You see there," she said, gesturing aimlessly in the distance, "they just beat up a boy over there. He lives with us [on the footpath] and refused to leave."

Yasmeen was a fairly recent addition to the shelterless inhabiting the pavements near the shrine. She only shifted to the footpath three months ago. Like many others who lived on the streets, she looked at Abdullah Shah Ghazi's shrine as a place of respite. It offered free food and could be approached easily when nature called.

Meanwhile, her ailing husband and two unemployed sons continued to live in a rented shanty dwelling in Orangi Town and she would visit them once a week.

Here, said Yasmeen, she was at least able to beg and collect money for her husband's treatment.

Since the shrine closed on March 14, though, she found her worries exacerbated. Chief among them was finding a place to relieve herself. "Now since the shrine is closed, I either go home to home, begging people to let me use the washroom, or when no one is around, I urinate in the bushes. What else am I to do?" she asked.

The shrine was closed as a measure to curb the spread of the novel coronavirus. Hundreds of people visited it each week, making it a hotbed for contagion.

On Sunday, a week had passed since it closed. However, Yasmeen and her neighbours had continued to sleep side-by-side on the pavement - the footpath wasn't conducive for social distancing. Some of them had also interacted with persons frequenting the shrine before it closed.

On Monday, however, Yasmeen, and other homeless persons who dotted the pavements near the shrine were no longer there. Their belongings, muddy blankets and measly utensils, were left abandoned on the footpath.

Where did they go?

Most were taken away by law enforcement officials or asked to leave, said Osama, a rickshaw driver who claimed to have witnessed the scene Sunday evening, following the announcement of a province-wide lockdown. Many were told that they were being shifted to a Edhi shelter home, he added. "They used force so that they [the homeless] couldn't resist," he claimed.

On average, hundreds of homeless persons and families can be seen scattered along the roads of Karachi. There is no data available for their actual numbers.

But as Karachi commissioner Iftikhar Shallwani, speaking to The Express Tribune about the measures taken to shift them from the streets amid a province-wide lockdown, enforced since March 23, to control the spread of coronavirus, said, "There are countless." Shallwani said that relevant government departments were in the process of shifting the homeless to shelter homes run by organisations like the Edhi Foundation and Saylani Welfare Organisation, as well as government-run panahgahs. Since there were so many residing on the streets shifting them was a tall task but it was important as they may be potential carriers, he said. However, only those who presented symptoms were being screened, he added.

According to Shallwani, the drug addicts among the homeless were being dealt with separately by the anti-narcotics department. This was in line with the suggestions of the head of the infectious disease department at the Indus Hospital, Dr Naseem Salahuddin, who noted that the addicts could turn violent when deprived of drugs and keeping them with others was not recommended.

Faisal Edhi, though, denied any knowledge of homeless persons being brought to the foundations' shelter homes by the authorities. He noted that Edhi shelter homes did not have the capacity to house all of the city's homeless - the women's shelters, in particular, were full.

However, he added, Edhi homes had not yet stopped any admissions of the homeless. "New admits are kept in quarantine for 15 days, away from our previous residents," said Edhi, adding that nobody was allowed to visit them during these times.

"Of our 5,000 residents, too many are elderly. We are very afraid that there will be too many deaths if the virus gets in," he said.

Edhi added that only those who wished to come voluntarily were being admitted. "We will not force anyone to come," he stressed.

When asked whether the charitable organisation was being provided any support by the government during these times, he replied in the negative, but maintained that the shelter homes had enough food to provide for its residents for two months. "Even if we run short, we will ration the food and make it last three months," he assured.

Muhammad Bilal, one of the managers at the Edhi Foundation, said that there wasn't enough space for all new admits to be kept in separate rooms. But they were being kept at a distance of six to seven feet away from each other in rooms separated from those of the previous residents, he added.

When Sindh Social Welfare Secretary Dr Muhammad Nawaz Shaikh was contacted to inquire whether any provisions had been for the homeless, he said, "There is an emergency right now. Think of the citizens. Apko homeless ki parhi hai [you are concerned about the homeless]."

He did add that an awareness workshop had been organised for the existing residents of Darul Aman, the government-run panagah.

How vulnerable are they?

But are shelter homes or streets the better choice for the homeless?

According to Dr Salahuddin, COVID-19 does not sustain too long in the air and is primarily transmitted via droplets. She maintained that its effects were diluted in the open air and there were more chances of contracting the virus in closed spaces. Hence, she did not recommend that the homeless be shifted to shelter homes such as Edhi.

However, should homeless persons contract the virus, they would fare far worse than others suffering from the disease, she added. "Almost 60 per cent of those living on the streets are drug addicts, and many of them are either HIV positive or have AIDS," explained Dr Salahuddin.

The World Health Organisation maintains that persons with pre-existing medical conditions or with weak immune systems are at high risk for succumbing to the disease. It also warns that COVID-19 can be contracted through contaminated surfaces.

Similarly, Dr Asma Nasim, an associate professor at the Sindh Institute of Urology and Transplantation's infectious diseases department, said that though those living on the streets were not as prone to contracting coronavirus at present, she feared that if the outbreak escalated, they would be some of the most vulnerable. "And since they have conditions like malnutrition, it will be difficult for them to fight the disease."

Are precautions a luxury?

The city's homeless population grew significantly last year, as several shanty homes were demolished during various anti-encroachment drives.

Among those affected were the ones who had built their homes alongside the Karachi Circular Railway tracks. Around 220 families in Gharibabad had their houses either partially, or completely, razed. Another 113 families in Quaid-e-Azam Colony witnessed their houses demolished entirely.

According to KCR Mutasireen Committee Representative Sagheer Ahmed, the former residents of Quaid-e-Azam Colony regularly visit houses in Gharibabad to meet their culinary and sanitary needs.

Their informal settlement cannot sustain itself through social distancing and self-isolation, as most of them live in make-shift tents established upon the rubble. They rely on those who managed to salvage some parts of their houses. "There is no bathroom and no funds to make one," said Aslam, a factory worker who used to live in Quaid-e-Azam Colony.

With little means to maintain hygiene, his problems, like those of many others displaced, were exacerbated with COVID-19 outbreak.

Nowhere to go

Adding to the predicament of the shelterless was the lockdown, which few among them saw coming. Many living nearby Abdullah Shah Ghazi's shrine had nowhere to go.

Edhi shuts morgues across country amid 'fears of coronavirus spread'

On the second day of the lockdown, some of Yasmeen's fellow residents on the footpath had returned. They sat under the trees, dotting the pavement as always but appeared afraid due to the stringent measures taken by the government.

A woman among them, speaking on the condition of anonymity, said, "Now, we are made to leave several times a day. More than ever." She did not know where the missing among the inhabitants of the footpath had gone. But they had to return as they had nowhere else to go.

Yasmeen was not among those who had returned. She had not known the terms coronavirus or COVID-19 but had been aware that there has been an outbreak. However, she had expressed no fear of contracting it.

"What if I contract it? At the most, I would die and my body would be thrown [likely in a garbage dump]," Yasmeen had said when asked about the virus. For her, too, there was nowhere else to go.

Published in The Express Tribune, March 28th, 2020.