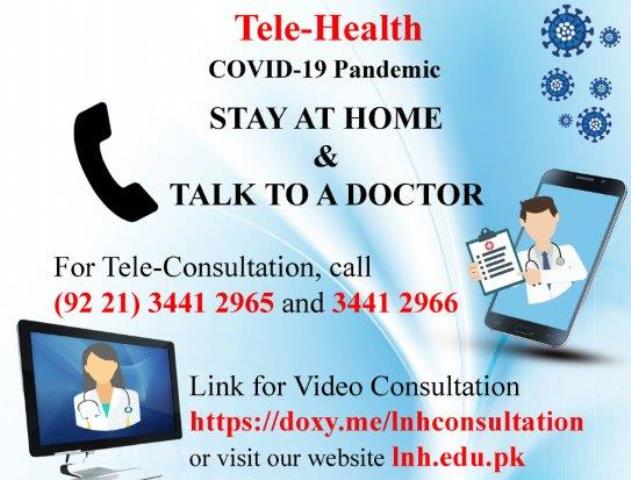 ---
KARACHI: To counter the chaos and misinformation about the novel coronavirus, a private hospital in Karachi has introduced a free of charge Tele-Health service, where people can call and get appropriate information about the prevention and symptoms of COVID-19.

"We have been receiving a lot of queries about this virus, and what we understood from those queries was that most of the people are confused about the actual details of the virus, including its symptoms, prevention, and cure," Liaquat National Hospital spokesperson Anjum Rizvi said on Friday.

A lot of misinformation is being spread on social media and the Tele-Health service will also counter all such rumours and misinformation, he added.

The nationwide tally of COVID-19 patients has crossed 1,300 with 440 cases in Sindh, 425 in Punjab, 131 in Balochistan, 180 in Khyber-Pakhtunkhwa, 103 in Gilgit-Baltistan, 27 in Islamabad and two in Azad Jammu and Kashmir.

The contagion has claimed nine lives in Pakistan. On the other hand, 23 patients have fully recovered.

Edhi shuts morgues across country amid 'fears of coronavirus spread'

The spokesperson said,"Since people are confined to homes, it is difficult for them to consult with specialist doctors in hospitals or clinics…. and due to their confinement to home, there is a surge in social media usage which is apparently the hub of all the misinformation right now, therefore keeping in view all these considerations, the Liaquat National Hospital started the Tele-Health programme where people can talk to the Infectious Diseases specialists and get more information or advises about COVID-19."

While talking about the facility, Rizvi said: "The service is free of charge, available from 10am to 4pm from Monday to Saturday, and a doctor can be contacted either on phone 021-34412965 and 021-34412966 or a physician can be approached via a video link http://doxy.me/lnhconsultation or the Liaquat National Hospital's website lnh.edu.pk.