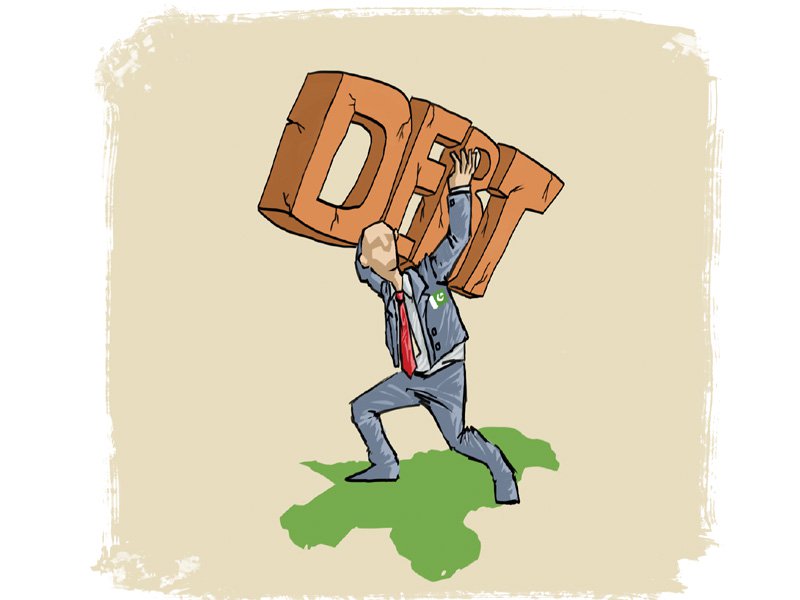 ---
ISLAMABAD: Pakistan is considering seeking moratorium on its foreign debt payments to multilateral creditors, as $2.3 billion external debt will mature in the next three months, excluding repayments of commercial and some Chinese loans.

The huge payments in the last quarter are likely to further stretch the official foreign currency reserves that have come under pressure due to mass scale withdrawal of $1.9 billion hot foreign money and anticipated hit on remittances and exports related inflows in the aftermath of COVID-19 pandemic.

The Ministry of Finance has been working out the modalities to seek a freeze on interest and principal amounts repayments to multilateral creditors, highly placed sources told The Express Tribune on Wednesday.

"The Ministry of Finance and Economic Affairs Division are working on the proposal and after that there will be an approach to multilaterals," said Ministry of Finance Special Secretary Omar Hamid Khan.

The local spokespersons of the World Bank (WB) and the Asian Development Bank (ADB) neither explicitly confirmed nor denied whether Pakistan has sought a moratorium on its payments.

Out of total outstanding official public debt of $73.8 billion on December 2019, Pakistan owes $28 billion or 38% of it to these two largest multilateral creditors.

Out of $2.3 billion official public debt related repayments, $1.821 billion will be returned to the ADB ($530 million) and the WB ($1.3 billion) in just three months.

Sources said about $5.2 billion worth external debt related payments are maturing from April to June of this fiscal year. These included $2.3 billion payments to official bilateral and multilateral creditors, $2 billion Chinese SAFE Deposit and over $1 billion commercial loan repayments, said the sources.

However, under the International Monetary Fund (IMF) programme Pakistan cannot make repayments to China, Saudi Arabia and United Arab Emirates on account of $7.5 billion that it has received before IMF programme to boost the reserves. The country is also rolling over commercial loans.

"These are unprecedented times for the World and Pakistan and the WB has ramped up its support to Pakistan to procure urgently needed medical equipment and supplies and address the rising socio-economic disruptions. We continue to engage with the federal and provincial governments to provide the needed technical and financial support," stated WB spokesperson Mariam Altaf.

Altaf had been requested to comment whether Pakistan has formally approached the WB for moratorium and what will be its strategy to deal with the country.

"We do not have any information to share about the matter at this stage," said the ADB spokesperson Ismail Khan while responding to similar questions.

The Federal Minister for Economic Affairs Hammad Azhar on Wednesday indicated Pakistan's plan to seek relief in a tweet that he made after the WB and the IMF call on bilateral creditors to freeze loan repayments of development nations.

"PM Imran Khan has been urging this since COVID-19 pandemic. We hope it shall be accepted and we also urge multilaterals for relief on their debts," Azhar wrote.

The total public and publicly guaranteed external debt stood at $73.8 billion by December 2019. This is exclusive of balance of payments support that runs into billions of dollars.

Out of this, $29.5 billion is multilateral debt; $24 billion bilateral debt; $10 billion worth are commercial loans; $3 billion Chinese SAFE deposits and $7 billion are Eurobonds and Sukuks.

In the category of bilateral, Pakistan owes $12 billion to China (excluding balance of payments support); $5.5 billion to Japan; $1.6 billion to France and $1.3 billion to Germany.

Details available with The Express Tribune showed that Pakistan will not get any major relief from the bilateral creditors even if they decide to pause the repayments.

Out of $2.3 billion that Pakistan is bound to pay in next three months, the repayments to bilateral countries are only 6.5% or $150 million (excluding SAFE deposits and commercial loans).

About $520 million ADB loan, $1.3 billion WB loans (including two policy credits) and $290 million of Islamic Development Bank interest and principal amounts are maturing in next three months.

In next fiscal year too, Pakistan will return $7 billion to its multilateral and bilateral creditors, excluding balance of payments related repayments. Pakistan's external position has come under stress after the foreign investors withdrew $1.9 billion hot foreign money.

The State Bank of Pakistan (SBP) also let the rupee further depreciated that shed another 2.8% of its value and closed at Rs166.2 to a dollar on Thursday. In past two weeks, the rupee shed its value by Rs11 to a dollar.

Last month, the SBP Governor Dr Reza Baqir had assured the Public Accounts Committee that he had sufficient reserves, in case the hot money is withdrawn suddenly.

"Emerging markets are dramatically impacted by a record high capital outflows and severe shortage of forex liquidity," stated IMF Managing Director Kristalina Georgievea during an extraordinary meeting of G20 Leaders Summit.