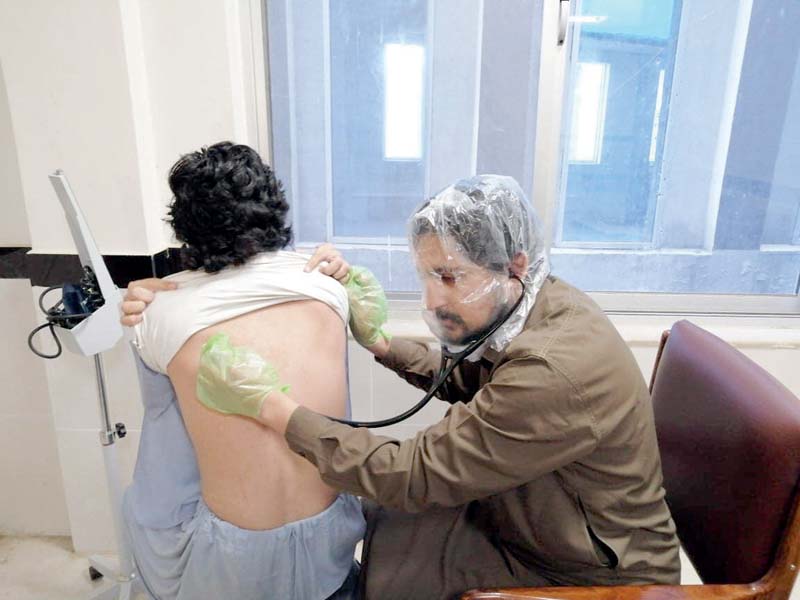 ---
SWABI: Making rounds on social media, an image of a Swabi based doctor inspecting patients wearing a plastic bag has raised some serious concerns about the state of Khyber Pakhtunkhwa's healthcare system.Featuring Dr Amir Khan, the viral photograph comes in the wake of the coronavirus pandemic, which has created a dearth of Personal Protective Equipment (PPE) in the province; leaving healthcare officials working on the frontlines at the highest risk of infection.

The image, which first appeared on microblogging service twitter a couple of days ago, has since then amassed thousands of comments and shares across multiple social media platforms. Where certain comments seem to advise the doctor to procure PPE by his own means, the majority have raised questions about the province's lack of concern for its healthcare staff.

Speaking exclusively to The Express Tribune, Amir Khan, who holds a basic medical degree from Kohat Medical College and a specialty from England, shared that his act was a form of protest against the lack of medical facilities in his hometown of Swabi. "I personally have enough resources to procure required safety equipment like PPE, sanitisers and masks from my own pocket but I shouldn't have to," said Khan. "As taxpayers, it is our right to be provided with all necessary medical safety equipment by the government but we are to fend for ourselves in these difficult times, which is why I have been compelled to wear a polybag on face to register my protest," he added.

When asked about the government's initiatives for providing healthcare staff with the required protective gear amid the pandemic, the now viral doctor shared that all his efforts to reach the officials concerned have so far gone in vain. "My district has over 26 Basic Health Units but none of them have enough doctors and neither do they have basic protective gear for the staff and technicians working there. Whereas, my appeals to the super intendent of the district health office for the provision of PPE to category D hospitals has fallen on deaf ears."

"While many of my colleagues have cashed in on the opportunity to go work in bigger cities like Peshawar, I have remained committed to serving the people of my hometown. I have never worked for private clinic or offered consultation from personal facility and have taken it as my responsibility to serve the needy through this hospital. But in recent times, the government has compelled me to don a plastic bag in the absence of surgical masks and register my protest while also serving my people," he expressed.

Member K-P Provincial Assembly Samar Haroon Bilour taking note of the issue, said in a post on Twitter "This is seriously horrible, have doctors not been given PPEs yet? The provincial govt seems to want to endanger not only the Awaam but also the medical staff because of its weak policies. If the government has [sic] not changed its policies, the consequences will be very serious," she tweeted on Thursday.

However, it is reported that following social media outcry, the newly appointed district health officer visited the Yar Hussain Hospital, where the now viral doctor practices. Sources reveal that boxes of surgical masks and gloves were provided to the hospital staff prior to the district health officer's visit and later an explanation was sought from Dr Khan.

On the other hand, when contacted, the K-P health department revealed that the complaint was flagged by the honorable minister as soon as it was received and immediate action has been taken.  "Protection of healthcare staff is our top most priority and we are trying our best to fill the gaps by procuring equipment and providing them to hospitals," K-P health department spokesperson informed The Express Tribune.

Published in The Express Tribune, March 27th, 2020.