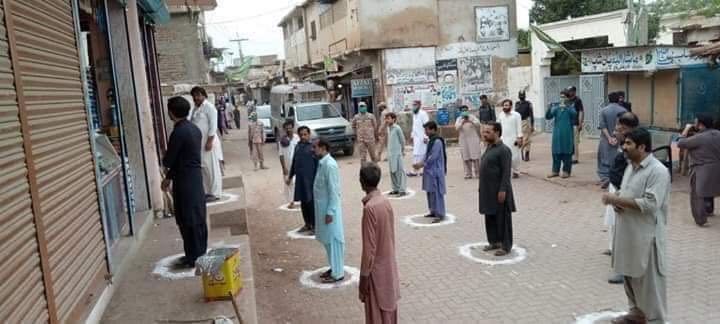 ---
From Talhar to Karachi, chalk circles help customers mind the gap
The innovative social distancing method has caught on, not just in Badin district, but across Sindh
---
KARACHI: As citizens in many major cities of the province disregard the government's orders and guidelines about self-isolating, the Talhar Town Committee in Badin came up with a new method to ensure social distancing.

On Tuesday, photos emerged on social media of people waiting outside shops while standing in chalked out circles separated by a few feet. It turned out that the committee had drawn white circles in front of every shop, petrol station and bank, compelling customers to wait their turn or else fail to be provided services or items.

Talhar Town Committee chairperson Mir Shahid Talpur, saying he was the first person to introduce the initiative, explained, "We initiated this drive when we felt people were not cooperating and following the guidelines of social distancing."

Speaking to The Express Tribune, Talpur said that law enforcing agencies and the local administration had been trying to convince residents as well as people from different villages to keep a reasonable distance.


Pakistan's charities assist in fight against coronavirus

"They did not listen to us," he said. "So we started thinking about how to create social distancing without harming and arresting them," he maintained, saying the idea of putting the customers in chalk circles is useful in ensuring this.

According to Talpur, the system has been working and people have begun waiting their turn. He predicted that other provinces would soon follow suit. "It is a better option and I will appeal to the government to do so in places where people do not follow guidelines," he proclaimed.




Following the new technique, a medical store owner in Badin city, Feroze Ali Khawajo, drew circles in front of his pharmacy. "The distance is just three feet because I don't have enough space, but it's better to keep at least some distance amongst the customers," he explained.

Khawajo told The Express Tribune that he had asked all the customers to follow his instruction of social distancing at least in front of his shop, adding that he refuses to sell medication to those who do not follow this rule.

"This is the only way to teach people the need of the hour," he stated, adding that he was astonished to see the method working, with customers actually waiting their turns outside the store. "There is no need for policemen either," he stated, adding that many shopkeepers, not only in Badin city, but in other parts of the district too, had begun chalking out these circles.

From there, the practice spread to Golarchi, Tando Bago, Tharparkar and other parts of the province, with chalk circles popping up in front of numerous shops and banks. Some have even been seen in other cities across Pakistan.




Partab Shivani, a social activist, told The Express Tribune that the Tharparkar district police and local administration have played a major role in creating social distancing, among their population.

"The white circle drive works perfectly and there is a visible reduction in the rush around any shop," he said, adding that chalk circles, set apart with a reasonable distance of about three to five feet have been drawn in many small towns in Tharparkar, including Mithi, Diplo and Nagarparkar.

On Thursday, the circles turned up in Karachi, where, on the instructions of Karachi commissioner Iftikhar Shallwani, they were drawn outside many shops and banks. In a statement, he ordered the deputy commissioners of all the city's districts to create 'reasonable' social distancing amongst customers in the provincial capital.

As a result, deputy commissioners in areas like Malir have directed all banks and other essential service providers to maintain a metre's distance between customers, using markings on the ground to help people queue up.