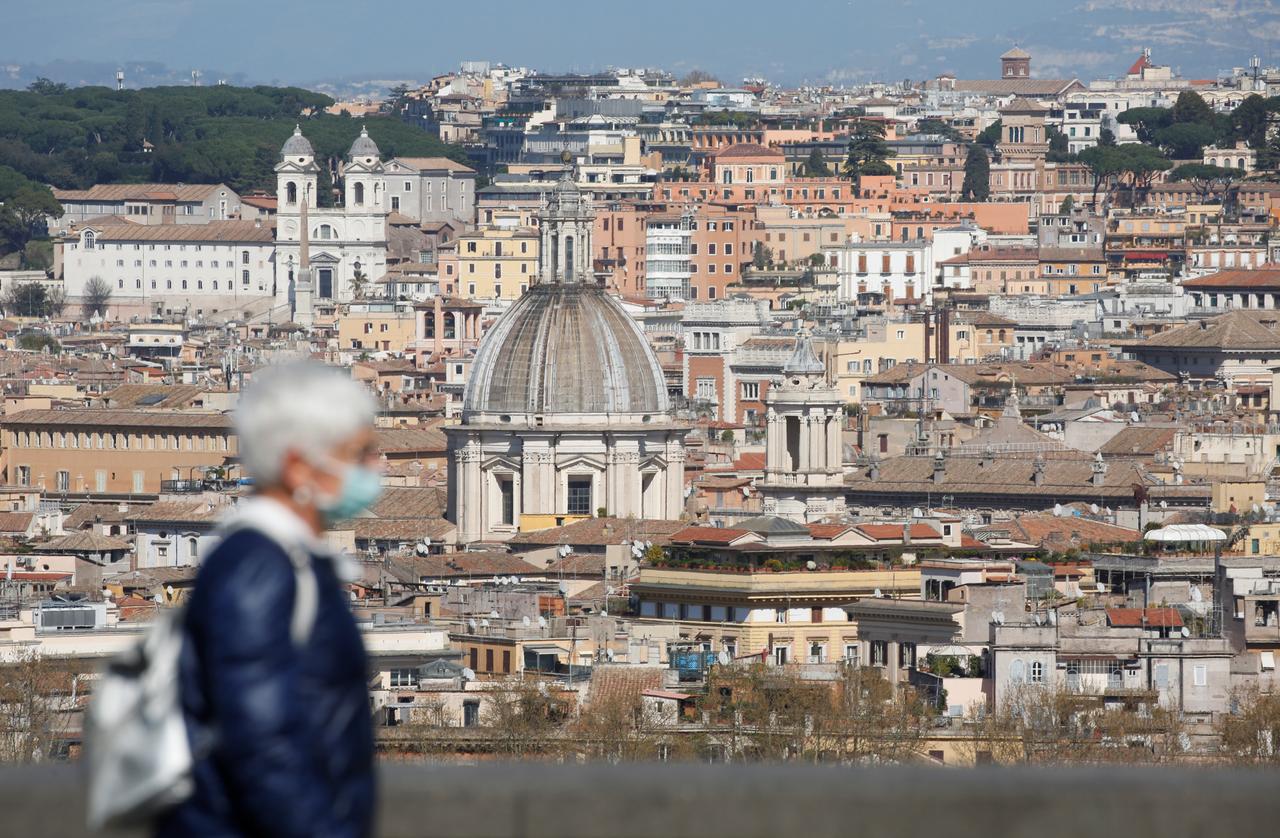 ---
I got back to Rome on March 11 from one of my regular trips to Pakistan. The city was locked down. Only food shops, chemists, tobacconists and newsagents were open. Schools, colleges, universities, gyms, swimming pools, restaurants, bars, cinema halls, theatres and hairdressers were all shut. Churches were open but all services, such as those for weddings and funerals, were suspended. People were advised to go out only for essentials (one person per household) and avoid any meetings and functions. One could go out for a run or bike ride but only by oneself. All organised sporting events, such as football matches and the Rome Marathon were cancelled.

It was bizarre to see Rome like this. My local fresh food market that is normally full of people from 7.00AM until closing time at 2.00PM was almost empty; main thoroughfares, normally choked with traffic, were devoid of any vehicles; popular tourist sites, such as the Trevi Fountain and the Spanish Steps, were empty. With all bars closed, there was no place to get an espresso coffee, cappuccino or cornetto. All this was particularly striking as these are the first days of spring and, with the beautiful weather, the city should have been throbbing with locals and tourists.

But all this calm was misleading. The incidence of diagnosed Covid-19 patients carried on increasing as did the number of deaths. On March 19, the death toll in Italy reached 3,400, overtaking the total number of deaths in China (circa 3,300). And things kept getting worse. The daily death toll kept rising and crossed 700 a few days later with the total cases crossing 70,000 and deaths exceeding 7,000. Hospitals in the hot spots such as the region of Lombardia were overwhelmed with patients in the general ward when they should have been in the ICU; doctors were turning away patients who should clearly have been in the hospital and not home; and army trucks were taking away dead bodies for cremation as local undertakers were overwhelmed.

On March 22, the government announced further measures to restrict movement shutting all professional activities such as those of lawyers and accountants, as well as many factories not considered essential; closing all parks and playgrounds; limiting sales of food at railway stations and highways; and restricting people to their homes except for essential shopping and work. Factories had to make adjustments to allow a distance of one metre between workers. Supermarkets and pharmacies had to limit the number of people inside the premises and those queuing outside had to maintain the one metre safety distance. The sanctions for breaking rules were severe and included fines and a possible prison sentence of up to three months. The police, traffic wardens, the military police (Carabinieri), the tax police (Guardia di Finanza) and the army were called to intensify controls, and roadblocks were set up. The Prime Minister called it the greatest emergency since the Second World War.

So what is going on in Italy? Why is the pandemic not stopping and why are so many people dying? There are some factors specific to Italy, such as the large number of old people who are more likely to succumb to the illness. Other factors are specific to the provinces in the north, the richest and most industrialised part of the country, where the epidemic has hit hardest. These include high levels of air pollution; large numbers of people working in close proximity in the many medium and large factories in the area; high volumes of work-related travel which involves stopping into bars and restaurants along the way. Another factor could be that many people had been taking their traditional ski-week (Settimana Bianca) in the many ski resorts in the north just as the virus was entering the country. Many picked it up while in queues on the slopes, and at bars and restaurants, and then took it back to wherever they came from. A large proportion of these could have been children who may have become contagious without showing any significant symptoms.

There is some consensus that the government in Italy acted late and the initial measures were not severe enough. For example, most factories stayed open, even those that could not conform to the one-metre safety distance between workers. People were permitted to travel to and from work with a simple "auto-declaration" which also allowed students and workers to return to their place of residence. Over 2,000 people from the south of Italy who were working or studying in the north, mainly around the Milan area, took to trains, buses and cars to head home. Many of these carried the virus with them and two weeks later there are documented cases of the illness among the elderly parents and relatives of these Covid-19 refugees.

One other factor, peculiar to the "devil may care" Italian psyche is likely to have also played a role. Italians are a rather rowdy lot and not inclined to follow rules and orders. Moreover, the political instability of recent years, and the country's inability to address these, has very significantly eroded trust in the government. A recent Ipsos Mori poll done at the end of February found that only 60% of Italians would back a government call for quarantines. This cavalier attitude was certainly evident in the early days of the epidemic when many people simply ignored advice to stay home and practice social distancing. Often men, both young and old, were the worst offenders thinking it was a sign of bravado to take such risks. This could have been a factor in why more men than women are falling ill.

So are there lessons for Pakistan? The first is to act fast and not dillydally. Going step by step and escalating controls in response to developments is not going to work. The virus can travel fast and along unexpected pathways. Our health system is nowhere like Italy's and will simply not be able to cope.

The second step is to stop the rush to leave big cities and head back to villages. This is a natural instinct for many recent migrants but also a rational choice for many daily wage workers who would find it difficult to earn enough to feed themselves in the cities. However, if not stopped, these Covid refugees will spread the disease to places where even basic health facilities are not available. The various private initiatives to provide meals to these workers are therefore of primary importance but the government must also play its part.

Published in The Express Tribune, March 27th, 2020.

Like Opinion & Editorial on Facebook, follow @ETOpEd on Twitter to receive all updates on all our daily pieces.