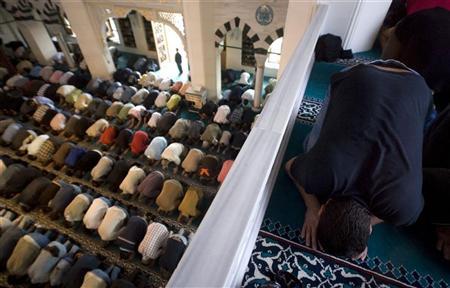 ---
ISLAMABAD/ KARACHI: The Sindh government on Thursday decided to ban congregational prayers at mosques to stem the rapidly growing novel coronavirus cases while the Centre "restricted" the number of worshippers.

The ban in Sindh will remain in place from March 27 to April 5. Only three to five people -- primarily the administrative staff -- will offer the daily five-time and Friday prayers at mosques. The restrictions will also apply to religious places of other faiths.

"The decision has been made after consultations with religious scholars belonging to all schools of thought and medical experts," tweeted Murtaza Wahab, the spokesperson for the provincial government.


کورونا وائرس کے پھیلاؤ کو روکنے کے لئے حکومت سندھ کا بڑا فیصلہ، مساجد میں عام افراد باجماعت نماز ادا نہیں کرسکیں گے، فیصلہ تمام مکاتب فکر کے علمائے اکرام اور طبی ماہرین کی مشاورت کے بعد کیا گیا ہے۔ مسجد کے عملے سمیت پانچ افراد باجماعت نماز پڑھ سکیں گے۔شہری فیصلے کی پابندی کریں۔

— SenatorMurtaza Wahab (@murtazawahab1) March 26, 2020


Speaking to a private TV channel, Wahab said mosques had not been closed and prayers would be offered there but it was necessary to limit the number of worshippers to curb the spread of the disease.

Earlier, the federal government announced that congregational prayers at mosques would be restricted to a limited number of worshippers.

Religious Affairs Minister Noorul Haq Qadri said a consensus had been reached during President Arif Alvi's meeting with clerics belonging to all schools of thought earlier in the day that mosques would not be closed and only their administrative staff and a reduced number of people would be allowed to offer prayers there.

"The National Coordination Committee on COVID-19 has decided that mosques would not be closed," he announced while addressing a news conference. "Azaan and Zikr will continue at mosques."

The minister added that clerics had been asked to tell people to pray at their homes. "It's not only the government's job to control the spread of the virus, but people also need to take responsibility."
According to a statement issued by the President's office, religious scholars assured

President Alvi that they would "comply with the instructions" issued by the government to curb the coronavirus pandemic and "support its efforts".

The president highlighted the preventive measures which needed to be taken by the people to stop the disease from spreading," the statement read. "He emphasised that the only solution to the present crisis was to maintain social distancing and act upon the guidelines provided by Islam to cope with such a situation."

The clerics informed the president that they had already taken a number of steps including cancellation of religious congregations, postponement of convocations and examinations and announcing holidays for over three million madrassah students.

Alvi chaired the meeting at the President House. Religious scholars from the four provinces, Gilgit-Baltistan and Azad Jammu and Kashmir participated in the meeting through video conferencing from governor houses. The clerics from Islamabad and Rawalpindi were physically present there.

AJK President Sardar Masood Khan, Religious Affairs Minister Noorul Haq Qadri, governor and Council of Islamic Ideology Chairman Qibla Ayaz also participated in the meeting.

Hajj agreements

Saudi Arabia has asked the Pakistani government not to finalise agreements for the arrangement of food, shelter and travel for Hajj pilgrims from the country this year in the wake of the global coronavirus outbreak.

Saudi Hajj and Umrah Minister Dr Mohammad Saleh bin Taher Benten wrote a letter to Pakistan's religious affairs ministry asking it to defer the agreements until the situation became clear.

He informed the ministry that the Saudi authorities were closely monitoring the situation and would keep the Pakistani government updated about any progress.

According to a spokesperson for the religious affairs ministry, the Saudi authorities had asked it to defer the payments for the arrangements for the time being to facilitate the intending pilgrims.
Religious Affairs Minister Qadri said the government was constantly in touch with the Saudi authorities. "They have asked us not to take any final steps before they give the nod," he added.

The minister further said the Custodian of the Two Holy Mosques, King Salman bin Abdulaziz, would make the final decision about this year's Hajj.

"Governments across the world are making decisions according to the changing situation. We are also doing that."