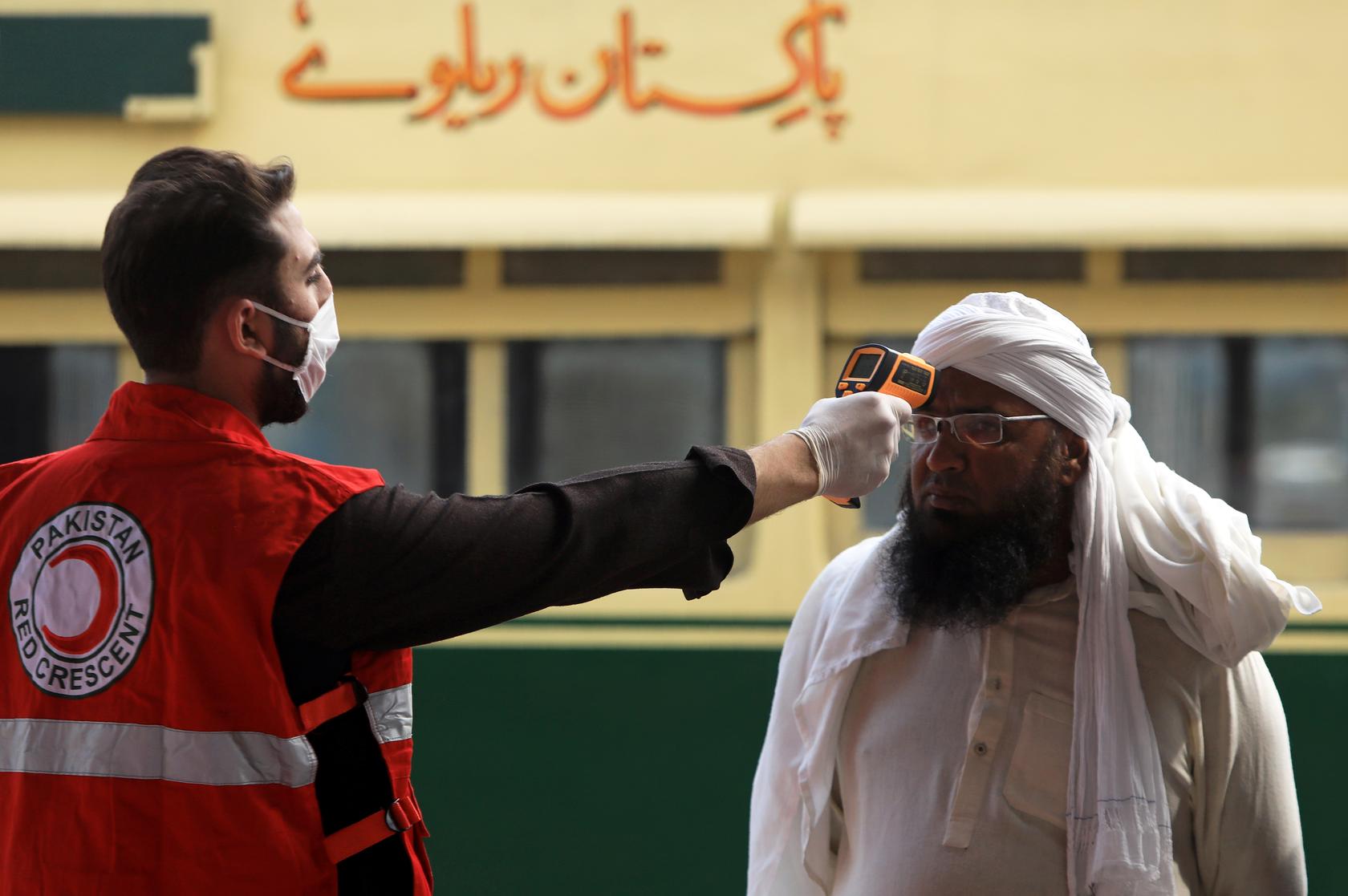 ---
COVID-19 in Pakistan: Fill the gaps or brace for impact
In Pakistan, more than 275 people live in a square km which is far more than China, USA, Italy and Iran
---
Control of infectious diseases in a country like Pakistan with one of the highest population density in the world and insufficient healthcare facilities  is nothing less than a nightmare. The country has no trained quarantine experts and no training program for the medics  paramedics and laboratory staff in order to handle patients according to internationally recognized protocols. Visuals coming out of healthcare units clearly point towards the fact that there is complete chaos at all levels due to lack of proper training and facilities. The spread of the most dangerous contagion via untrained lab technicians, medics and paramedics therefore can be an impending calamity.

According to recognized protocols  those who handle biological samples of patients must be trained in Biosafety level 3 practices in order to do good rather than doing harm to themselves or other people by unintentionally spreading the infection. Although there are only a couple of BSL3 labs in the country, samples handling is being carried in labs and healthcare units with no biosafety levels at all. Apart from proper handling of samples, there is no system for disposal of medical waste at the national or provincial level. It simply means that like all other medical waste discarded in the open  samples of CoVid-19 patients can also go in the open thus causing further spread. It is to be noted here that the virus is thought to be infectious not only for humans but other animals and birds species as well. Although it is yet to be determined experimentally or via observation, insilico studies indicate that such a situation will most likely arise due to the potential of the virus to infect other animal cells. It can cause tremendous loss and endanger our survival both in terms of economy and health as some major industries would be severely affected.

Many technicians currently dealing with CoVid-19 patients  do not know about the diversity of samples containing the virus which in turn can not only complicate patients management but will also add to environmental contamination. CoV-2 is not only present in saliva, sputum or blood but considerable quantity has been detected in the stools, nasal secretions and urine of patients as well. It means that a patient can contaminate the environment in several different ways. A recent study published in the New England Journal of Medicine, scientists found SARS-CoV-2, which causes the Covid-19 disease, was detectable in aerosols for up to three hours, up to four hours on copper, no longer than 24 hours on cardboard and up to three days on plastic and stainless steel. That's a long time for the virus to stay in the environment and come in contact with other hosts which may not only be humans but other yet unknown species as well.

Although studies from the developed world indicate that  community settings as compared to healthcare settings  were more responsible for transmission of CoV-2, lack of biosafety level 3 in Pakistani healthcare settings can render these equally responsible for disease transmission. Compiled according to Clinical Experience, The First Affiliated Hospital, Zhejiang University School of Medicine has published a booklet containing detailed information for setting up a healthcare setting dedicated for CoVid-19, classification of cases, diagnosis, handling of samples, disinfection procedures and treatment. Ironically, we neither have the necessary infrastructure as described by experts in the CoVid-19 booklet nor do we have awareness about proper disposal of medical waste and disinfection of patients belongings including clothes, bed sheets, towels, masks, isolation wards etc. As the virus survives for longer time in the items mentioned above, chances of spread of the infection via these items are always there. In Pakistan, more than 275 people live in a square km which is far more than China, USA, Italy and Iran. There is a lot of burden on a couple of healthcare facilities dealing not only with CoVid-19 but lots of other diseases as well. In this situation, it is most probable to expect hospital acquired CoVid cases in the next 10 to 15 days.

Diagnosis of the condition in our healthcare settings is not according to the protocol which can in turn add to the spread of the virus in the healthy population. PCR for detection of the virus after 3 to 5 days of infection has got it's own limitations and can not always give correct information about the patients status. A negative PCR doesn't mean that the subject is clear. confirmed  case  is based  on  epidemiological  history (including  cluster  transmission),  clinical manifestations  (fever and  respiratory  symptoms), lung  imaging,  and results  of  SARS-CoV-2 nucleic acid detection and serum-specific antibodies. I will again emphasize here that all dealing with above mentioned steps must be trained according to BSL3 level practices.

Pakistan can minimize the risk of CoVid-19 and can also prepare herself for handling epidemics by analysing the current situation on scientific grounds and filling the following gaps.



The current situation has badly exposed our system of quarantine which is non-existent. We do not have trained quarantine specialists who can deal with CoVid-19 and who even understand the risks associated with their routine practices. Special programs for training of quarantine specialists should be launched in different institutions. For the current outbreak, we should train quarantine specialists to deal with emergency with the help of our neighbours.


Designate labs for CoVid-19 diagnosis in each district and also upgrade such labs to BSL3 and arrange for training of staff in BSL3 practices. Channelize transportation of suspected samples to the designated labs only.


Launch awareness and biosafety program for medics and paramedics on emergency basis which should be based on points mentioned in the article.


Regulate private laboratory set ups and strictly warn not to handle CoVid-19 cases and to adopt proper medical waste disposal system. Infact such a system is needed for all healthcare set ups in order to minimize the risk of diseases transmission.


Establish a state of the art research centre in emerging and re-merging infectious diseases with focused programs on management of outbreaks and epidemics.


Encourage genuine research in the country and devise mechanism to judge productivity of local research not just by publication of papers but visible contribution to society.


Do selective lock down in areas with positive cases at least. Priority for designating and Upgradation of diagnostics labs should also be managed according to this rule initially.


Always remember that 'negligence is a voluntary misfortune'.