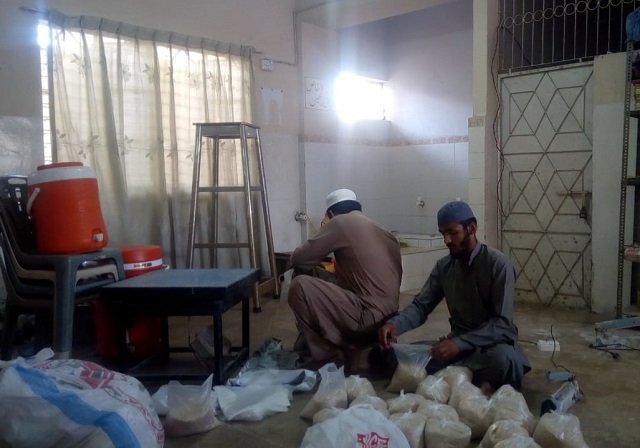 ---
KARACHI: They say a crisis brings out the best and the worst in people. This is what the novel coronavirus pandemic is doing in Karachi. Profiteers are using the pandemic to their use to make some easy money as they are selling protective medical equipment at inflated rates. At the same time, there are others, who imbued with the spirit of humanity, have unstrung their purses to help fellow citizens.

Karachi is in lockdown to stem the proliferation of the deadly contagion. However, the lockdown has hit the daily-wagers hard. This is something the prime minister has repeatedly warned about as he remains reluctant to order a countrywide lockdown.


Karachi's rich unstring their purses for those hit by COVID-19 lockdownhttps://t.co/afzWo1SkQJ pic.twitter.com/3ocNHMz7iE

— The Express Tribune (@etribune) March 25, 2020


In Karachi however, some affluent people have started pooling money to help the daily wagers. And they are doing this inconspicuously. Karachiites have always been generous, be it Ramazan, Eid or a natural crisis, they have always stepped forward to donate with an open heart.




In District Central, a group of rich people have started distributing food items to the families of daily-wagers in different neighbourhoods. And they are doing this humanitarian work systematically but discreetly.

They quickly did a survey of District Central to identify the families who they knew would suffer if the city locks down as they survive on daily wages. Food items are dropped at their doorsteps.

"We are doing this for Allah. He will reward us," said Sheikh




Mohammad Zaid, the man supervising the campaign. He requested that neither their neighbourhood nor the recipients of food items should be identified in the report because they do not want publicity.

He appreciated the government decision to lock down the city to contain the spread of the coronavirus. "This is a global pandemic. We need to stay home to prevent the spread of the virus," he added.


Affluent people start distributing food items among daily wagers in Karachihttps://t.co/afzWo1SkQJ pic.twitter.com/RAhqzh4Ymu

— The Express Tribune (@etribune) March 25, 2020


"There are many respectable families in our area who earn their living on a daily basis. They have no food reserves," he said. "Some of our friends decided to distribute food items to these families because they would never beg."

They are distributing food bags to about 100 families. Each bag contains five kilos of flour, two kilos of rice, cooking oil, soap, pulses and other kitchen items, which would suffice each family for 15 days.




"Each bag cost us around Rs3,000. We're delivering these bags secretly at their doorsteps to protect the dignity of these families," said Sheikh Zaid.

They haven't asked anyone for donations. They pooled the money to arrange these bags. "If we have more resources, we will help more families – and even extend the campaign to other districts of the city," he said.




Sheikh Zaid said the government alone cannot do everything. The affluent people must come forward to help the needy in these difficult times," he added. "Karachiits are generous. They have proved on a number of occasions."

He hoped that their campaign would be replicated by others at the union council level. He appealed to the government to create a system in which the needy people could easily receive relief goods. "We will stay united and take precautions. "Insha Allah, together we will defeat this coronavirus pandemic," said Sheikh Zaid.