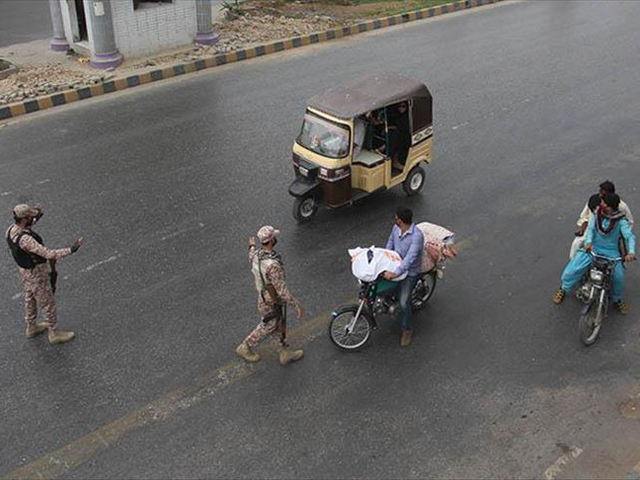 ---
KARACHI: On the first day of the 15-day lockdown in Sindh, the tally of coronavirus patients in the province soared to 394, as 42 new cases were reported.

Meanwhile, the Sindh government announced a decree to protect the jobs and salaries of workers amid the pandemic.

Chairing the daily coronavirus taskforce meeting at the CM House on Monday, Sindh Chief Minister Syed Murad Ali Shah highlighted the locally transmitted cases. "This is why I took the difficult decision of locking down the province," he stated.

At least 83 of the cases in Sindh were locally transmitted, while 109 were found among the second batch of travellers who arrived in Sukkur from the Taftan border last week. In this batch of 833 pilgrims, 677 people tested negative – a contrast to the first batch, where 50 per cent of the travellers had been diagnosed with the infectious disease.

COVID-19: Karachi and the first day of lockdown

Protecting workers

Meanwhile, the Sindh government also issued a decree protecting the employment and salaries of industrial workers.

The order, issued on Monday, stated that no industrial enterprise would be able to terminate any employee in the midst of the pandemic.

According to the home department, the Sindh government has ordered, under the Pandemic Diseases Act and other laws, that every industrial and commercial worker be paid a full salary, with no deductions during the lockdown period.

Special powers have been assigned to the Sindh labour secretary and labour director, with the labour department ensuring the protection of workers' salaries, vacations and jobs. Unemployment and pay cuts have been declared punishable offenses for industrial and commercial workers, with violating factory or business owners liable to be booked and penalised.

Govt green-lights army deployment across country to fight coronavirus

Releasing funds

The Sindh finance department, on Shah's directives, also released Rs11.2 million to set up a field hospital at the Expo Centre in Karachi, where a quarantine facility is also being set up in coordination with the army.

The funds are to be utilised on the establishment of the field office, procurement of necessary equipment, and the proper care of patients.

A cheque for the amount was handed over to army officials, who will operate the hospital.

Generous donation

In response to the CM's appeal, an 88-year-old man donated Rs 1 million to the Sindh government's coronavirus emergency fund on Monday morning.

Contacting the chief minister directly on the condition of anonymity, the man submitted a cheque for the assistance of coronavirus patients along with a handwritten letter.

"Dear CM, I am a retired person on 88 years. In respect to your appeal, I submit herewith a cheque of a humble amount in [the] face of [an] unheard and dreadful epidemic," states the letter.