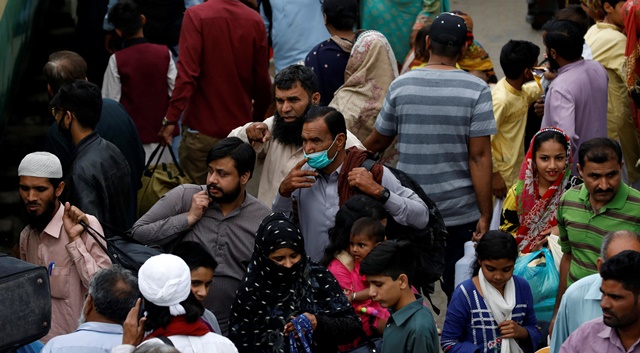 ---
QUETTA: Balochistan Chief Secretary Captain (retd) Fazeel Asghar has said the number of people affected by the novel coronavirus has increased to 110 in the province while procurement of more medical equipment was under way to deal with the crisis at hand.

The chief secretary said 50 acres of land has been arranged on Sariab Road where a medical city will be set up in three months with the capacity to accommodate 1,000 persons. The facility will be operational in any emergency situation.

"The proposed medical city will initially have the capacity to accommodate at least 1,000 people," the Chief Secretary said while talking to media along with provincial ministers Mir Zahoor Buledi, Engineer Zamarak Khan Achakzai and others after the Anti-Corona Core Committee meeting here in Quetta.

He said that 5,000 more rooms will be constructed in the same medical city in the near future.

Asghar said two more cases of coronavirus have been reported in Balochistan after which the number of total infected patients has increased to 110 in the province, while one person has died.

He said more medical supplies and medicines will be purchased to deal with the situation, adding that Natural Disaster Management Authority's (NDMA) 600 containers have not yet arrived in Taftan.

"With the new equipment, 1,000 patients will be handled for a period of two to three months," he said.

The secretary said Sheikh Zayed Hospital has been fully reserved to deal with the patients of coronavirus while wards and isolation units have also been established in other hospitals.

He said the Balochistan government has decided to purchase laboratory equipment which will enable testing of 1,000 people daily.

"If the virus spreads in Quetta, a survey will be conducted in the city to know which area is affected the most," he said.

He appealed to the masses to stay at homes in order to control the spread of the virus.

"The citizens must take precautionary measures. Meanwhile, pilgrims who have tested negative for the virus, will also have to be really careful for at least two months," Asghar said.

The chief secretary also paid tribute to the doctors and paramedical staff and requested the government to pay them their salaries during this period.

He added that the government will support those working on daily wages.

"Welfare organisations should also provide services to the affected people in this regard," he urged.

Speaking on the occasion, provincial ministers Engineer Zamarak Achakzai and Mir Zahoor Ahmad Buledi lamented that people were not taking the deadly contagion seriously in Balochistan.

They said the political parties were still meeting while other activities too were taking place as normal, stressing that there was a dire need to take the situation more seriously.

Published in The Express Tribune, March 24th, 2020.