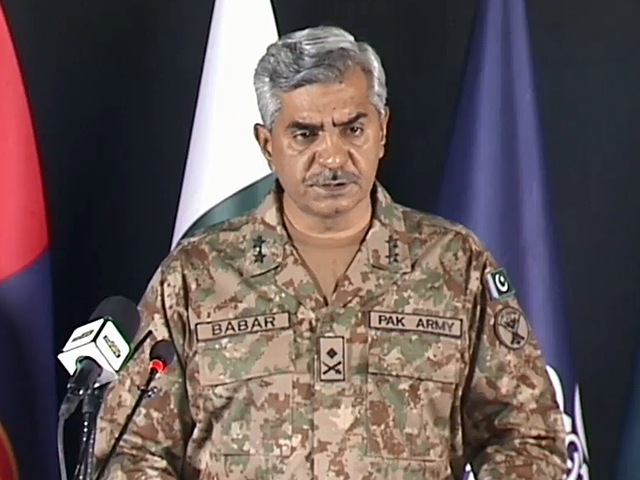 ---
Pakistan Army's chief spokesperson Major General Babar Iftikhar on Monday briefed the media on the steps being taken by the armed forces to assist the civil administration in dealing with the coronavirus crisis as the nationwide COVID-19 tally has surpassed 875 with six deaths.

Addressing a press conference at the Inter-Services Public Relations (ISPR) headquarters in Rawalpindi, Maj-Gen Iftikhar said that the country is facing serious challenge of novel coronavirus, which has also wreaked havoc in the developed nations of the world.

He said the army has been called in under Article-245 of the Constitution in aid of the civil administration across the country.


DG ISPR Press Conference - 23 Mar 2020 https://t.co/gM0i0V9mYp

— DG ISPR (@OfficialDGISPR) March 23, 2020


"Pakistan Army is fully aware of their duties and will extend their all-out support in coping with the coronavirus crisis," DG ISPR said.

He also said despite the heavy deployment of troops at western border and Line of Control (LoC), army chief General Qamar Javed Bajwa dispatched all available troops and medical teams in aid of the civil administration to help contain the spread of COVID-19.

As of  now, the nationwide tally of COVID-19 patients topped 875 with 394 cases in Sindh; 110 in Balochistan; 246 in Punjab; 38 in K-P; 71 in Gilgit-Baltistan; 15 in Islamabad; and one in Azad Jammu and Kashmir.

Govt green-lights army deployment across country to fight coronavirus

Maj-Gen Iftikhar said as per the directives of the provincial governments, the public gatherings will not be allowed and all shopping malls, restaurants, swimming pools and other non-essential markets will remain shut.

However, he said, grocery stores, pharmacies and other essential services will remain operational.

"We have closed all of our borders with neighbouring countries but the real border is between human and coronavirus which we need to shut."

In view of the world's best practices, actions will be taken to limit the interaction of the people and the army reviewed the action plan in yesterday's special corps commander meeting, he added.

The DG ISPR said that all army officers including army chief have donated their salaries in the COVID-19 fund.