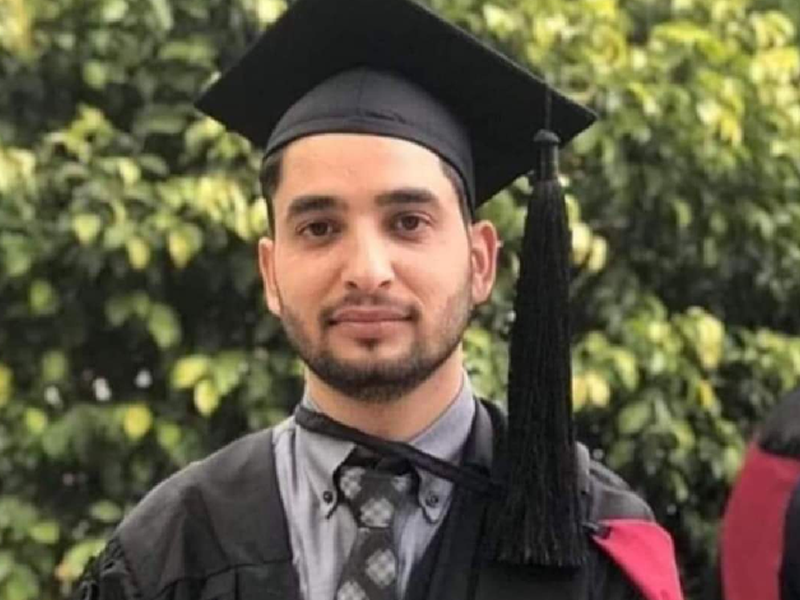 ---
PESHAWAR: A young doctor who had contracted the novel coronavirus while screening some infected pilgrims returning from Iran and Iraq in Gilgit-Baltistan lost the battle to COVID-19 disease on Sunday.

Dr Usama Riaz developed serious complications two days after testing positive for the coronavirus and was shifted to the district headquarters hospital in Gilgit where medics put him on ventilator due to his critical situation. However, he passed away on Sunday.

G-B's Information Department confirmed the death, saying Dr Usama Riaz has sacrificed his life in the war against the coronavirus. "He will be declared a national hero," it added.


نہایت ہی افسوس کے ساتھ محکمہ صحت گلگت بلتستان اس بات کی تصدیق کررہا ہے کہ کورونا وائرس کے خلاف جنگ میں ہر اول دستے کا کردار ادا کرنے والے ڈاکٹر اسامہ ریاض جام شہادت نوش کر گئے ہیں ۔شہید کو قومی ہیرو کا درجہ دیا جائے گا ۔۔
*محکمہ اطلاعات گلگت بلتستان *

— Information Department Gilgit-Baltistan (@IDGB_Official) March 22, 2020


"Dr Usama proved himself the real hero by sacrificing his life to save others," G-B Information Minister Shams Mir said. "He was deputed to screen pilgrims returning from the Taftan border crossing and at an isolation centre set up for COVID-19 patients in G-B," he added.

Dr Usama's colleagues called his death a "huge loss" and complained that the government had not provided protective equipment to the medical and paramedical staff screening the pilgrims or those deputed at the isolation centre.

The government has put G-B on lockdown after the coronavirus tally jumped to 71. All schools, markets and public places are closed and people are not allowed outside except for emergency. Paramilitary forces have also been called in to enforce the lockdown.

According to information minister, Dr Usama had developed serious health complications and was shifted to the hospital and put on ventilator. "He was tested positive for coronavirus and after two days being on ventilator he passed away on Sunday."

However, the heroic doctor's fellow colleagues complained that the government had not provided them protective gears for their safety.