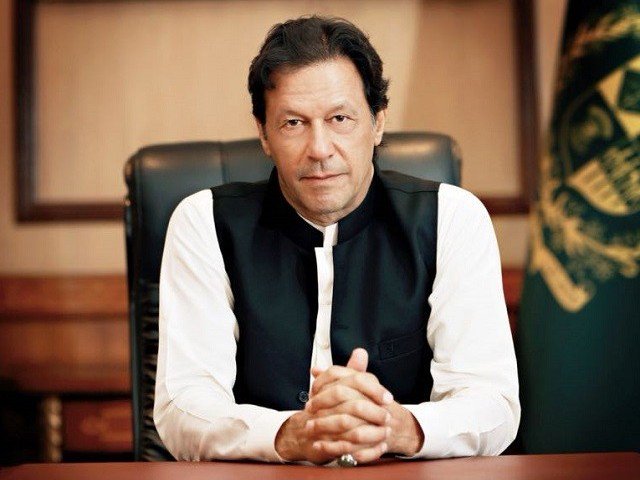 ---
COVID-19: PM Imran urges nation to self-quarantine
Premier Imran Khan asks the people to "fully trust" him
---
Prime Minister Imran Khan has ruled out complete lockdown in the country, urging citizens to self-quarantine instead.

Addressing the nation as cases of the novel coronavirus spike across the country, the premier explained what a lockdown actually mean. "First, let me tell you what a lockdown is... it means  imposing a curfew and locking people in their houses."

The address came hours after Pakistan confirmed fourth death due to COVID1-19 on Sunday. The country's tally of confirmed cases stands at 646 with 292 patients in Sindh, 152 in Punjab, 104 in Balochistan, 55 in Gilgit Baltistan, 31 in Khyber-Pakhtunkhwa, 11 in Islamabad and one in Azad Jammu and Kashmir.

He observed that the situation in Pakistan does not call for a lockdown yet. "If the condition was similar to that of Italy, I would have imposed a lockdown."


وزیراعظم عمران خان کا قوم سے خطاب https://t.co/F7oMgxyfpw

— Government of Pakistan (@GovtofPakistan) March 22, 2020


PM Imran pointed out that a lockdown would have an adverse impact on daily wagers and highlighted the economic challenges to be faced by the country.

He also reflected that China and Italy can afford a lockdown but "Pakistan does not have a capacity to provide entire nation with food at home".

The prime minister pleaded to the masses to observe self-isolation instead. "It is your responsibility to take precautions... if you have symptoms, self-quarantine yourself."

He asked the nation to "fully trust" him. "Panic and chaos would cause more damage than the deadly pneumonia-like virus," he added.

Total lockdown in Sindh from midnight, says CM Murad

Owing to the increasing number of COVID-19 cases, the provincial government in Sindh, Punjab and Balochistan have sought army deployment in aid to civil power under Article 245 of the Constitution read with Section 131 (a) of the Code of Criminal Procedure (CrPc).

It pertinent to mention here that much of the country is already under a lockdown as part of sweeping measures to prevent the spread of the virus.

Shortly after the PM's address, Sindh Chief Minister Syed Murad Ali Shah announced a 15-day province-wide lockdown. The provincial government has already revised academic year by preponing summer vacations, banned public gathering and closed down restaurants, gyms, social clubs, wedding lawns and halls across the province. It also shut down government offices for two weeks.

The Punjab government has also announced a lockdown till March 24 in wake of a surge in the cases of contagion. The government chose to go digital adopting a work-from-home policy through Skype. It has also banned public gatherings, suspended entry to tourist points including Murree and restricted shopping malls to a 10pm deadline.

The K-P government also announced a lockdown as it shut down all markets, shopping malls and restaurants from Sunday 9am to March 24 owing to escalation in the transmission of COVID-19. The government has also barred restaurants and eateries from takeaways, only allowing home delivery services.

It may be mentioned here that public gatherings and private ceremonies in houses and closed compounds are also banned while educational institutions remain closed.

The Balochistan government has imposed health emergency while also announcing closure of all shopping malls, crowded markets and inter-provincial and inter-city public transport services for an initial period of three weeks.

On the same steps, the Gilgit-Baltistan government also took stringent measures and imposed Section 144 of the Criminal Procedure Code to discourage gathering of the people.

The Azad Kashmir government suspended the inter-state public transport for three days from Saturday under the health emergency imposed on late Friday to prevent the spread of coronavirus.



Follow The Express Tribune's CORONAhub for latest updates on the pandemic here.