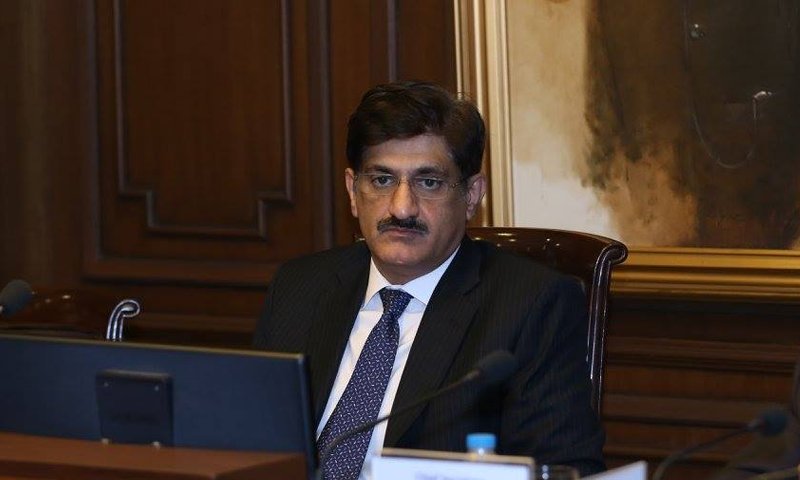 ---
No choice except a province-wide lockdown: Sindh CM Murad
Sindh to go into 15-day lockdown amid COVID-19 outbreak
---
KARACHI: Sindh Chief Minister Syed Murad Ali Shah announced a province-wide lockdown for 15 days starting midnight Monday following a spike in the novel coronavirus cases in the country.

The move comes as Pakistan confirmed its fourth casualty from the virus today with a woman passing away in Khyber Pakhtunkhwa. The country's tally of confirmed COVID-19 cases stands at 646 at the moment with 292 cases in Sindh; 104 in Balochistan; over 152 in Punjab, 55 in Gilgit-Baltistan, 11 in Islamabad, and one in Azad Jammu and Kashmir.

The chief minister made the decision after hosting an online meeting over the COVID-19 situation attended by civil and Law Enforcement Agency (LEAs) leadership, and another meeting with the stakeholders including political leaders from Muttahida Qaumi Movement-Pakistan, Pakistan Muslim League-Nawaz, Pakistan Tehreek-e-Insaf and Jamaat-e-Islami.

Noting the rapid increase in COVID-19 cases in the province, Murad said he had no choice but to opt for a province-wide lockdown. "We are making tough decisions in the best interest of the people," he said.

"No one will be allowed on the roads without a solid reason," he added and emphasised that the government would do its best to facilitate citizens during the lockdown to ensure basic necessities were available. The ATMs will also be open.

CM Murad has also urged the masses to maintain social distancing and avoid public places until absolutely necessary.

Fund

The chief minister also appealed to the citizens to help the government tackle the ongoing crisis and to donate to the Sindh Corona Emergency Fund established in Sindh Bank under the A/C No. 03015594456100.

Power sector

Murad also directed the power and water authorities to ensure uninterrupted supply of electricity and water. The CM urged HESCO, SEPCO, WASA, KWSB, SSGC and various other essential institutions to continue their services without hindrance.

CM further asked the power utility companies including K-electric, HESCO, and and Sui Southern Company (SSGC) not to charge bills that amount upto Rs5000 from consumers at the moment. "This bill can be paid in installments in next 10 months," he said adding that his government will request the federal government to continue the supply of furnace oil to power and gas companies.