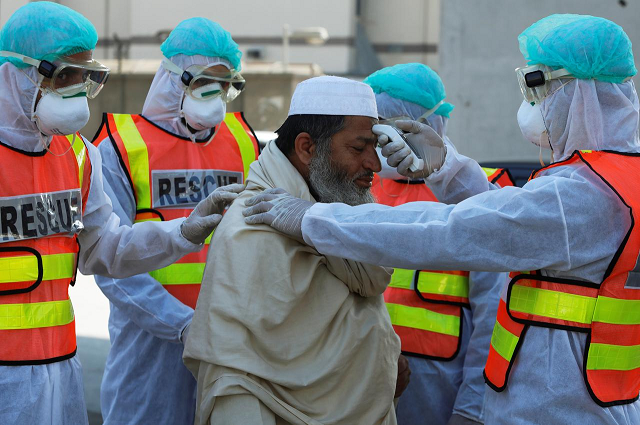 ---
KARACHI: At a time when an apocalyptic pandemic is sweeping the world and threatening Pakistan, government officials need to work in sync to keep the people informed about the correct coronavirus situation in the country, but they appear to be doing the opposite: .creating panic by releasing incorrect figures.

On Saturday, the public relations officer (PRO) to the Sindh health minister told the media in an update that the number of COVID-19 patients in the province has surged to 392. Throughout the day, the media outlets quoted the new figures which took the nationwide tally of COVID-19 patients to 745.

The massive spike in numbers created alarm and sent the people panicking. However, late in the night the PRO revised the figures downwards to 292 citing a "counting error".

"Due to a counting error, the COVID-19 Sindh figures sent earlier are requested to be ignored," the PRO said in the revised update.

Currently, there are 105 positive cases in Karachi and Hyderabad and 187 in Sukkur – all of them pilgrims who have returned from Iran, the PRO said. "This brings the total number of cases in Sindh to 292. I apologise for the mistake. It was a simple human error."

According to the new breakdown, there are 105 coronavirus-infected patients in Karachi. Of them, three have recovered and sent home, one has passed away, while 101 are currently under treatment. Of all the cases, 60 are locally transmitted.

In Sukkur, 714 people were tested for the novel coronavirus. Of them, 187 tested positive, while the rest – 527 – tests came out negative. All the infected people were repatriated from a quarantine facility at the Taftan border crossing where they were housed for 14-day incubation period after their return from Iran.

According to the revised update, 39 new cases were confirmed on Saturday – 36 are pilgrims from Iran and three in Karachi.




Though the Sindh health minister's PRO revised the figures for the media, a web portal recently launched by the federal ministry of Health Services showed the earlier incorrect figures for Sindh and an inflated nationwide tally until Sunday morning.

This showed how out-of-sync the Sindh and federal governments are which only created confusion among the people and stirred up panic. If the government wants to stamp out the deadly contagion, the federal and provincial authorities will have to improve coordination.