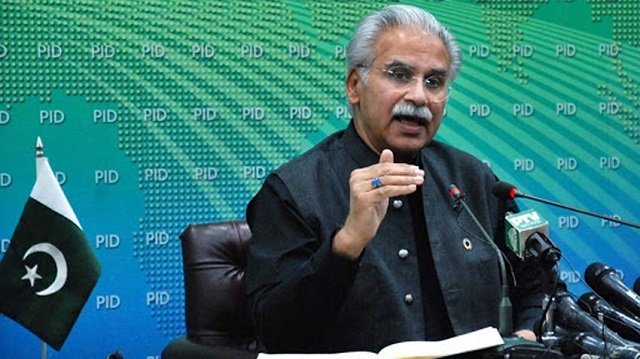 ---
There's a raging debate globally on whether the response to Covid-19 should be led by politicians or health experts. This is especially the case in America, where Trump is known to dismiss science and technical expertise. Closer to home, Imran Khan made an early decision to enable experts to lead Pakistan's response to Covid-19.

The man at the centre of the storm, Dr Zafar Mirza, our health minister, happens to be a seasoned World Health Organization (WHO) expert, whose storied resume reads like his whole life was meant to prepare him for this moment.

But will that be enough against the most frightening global pandemic to challenge human life in recent memory?

"Call me at 6.30AM tomorrow," texted Dr Mirza, when I asked for time to discuss Pakistan's response to Covid-19. His voice is punctuated with conviction, clarity andcalmness as he answers my first question: how many people will be infected with this virus in Pakistan, based on the government's latest modelling? "This is playing out differently in different countries and there are lots of variables, for example climate, whose impact we don't know yet," shares Dr Mirza.

It's true, the spread of this virus has been uneven, with Africa being largely spared. The response of countries has also varied.  China saw an exponential rise in cases and a dramatic social lockdown to bring cases down. Italy and the United States were relaxed in the beginning and are now implementing harder lockdown measures. The UK took a dramatically different approach — herd immunity — allowing enough people to get infected to develop natural immunity in time for when this virus comes again next winter.

Eighty per cent of coronavirus cases aren't severe and only a small percentage of mostly elderpeople have a high fatality risk.

The UK chose to play a long game — a test match versus a T-20 match — and kept schools open, concerts going, before being forced to take a U-turn recently.

I asked Dr Mirza why Pakistan isn't going for a harder clampdown."Each country's response is an interplay between science and their political economy," explained Dr Mirza. While he didn't say it in those many words, this virusis a political animal in a poor country like Pakistan.

It's easy for the government to enforce a hard lockdown but daily wage earners and those most vulnerable in society will face devastating economic consequences.

The truth is that there are many other diseases — as well as poverty and hunger — which kill more poor people in this country than corona ever will. But this virus doesn't discriminate between the rich or poor, which is why it gets more attention from the rich or middle-class folks who shape public discourse. And while Covid-19 deserves more attention because of how quickly it spreads, the government has to balance that with taking care of the interests of the poor.

What has the government done so far to contain this crisis? A million passengers have been screened at airports and 20,000 travellers from high risk countries are being constantly monitored as well as anyone they've come in contact with.

Perhaps the most controversial decision the government took was blocking Pakistani students in Wuhan from coming back. There was hysterical outcry in the media on that decision but in hindsight, it looks like Dr Mirza took the right decision.

He argues that the early action, containment measures and close coordination for learning with China is why Pakistan was one of the last countries to get an infected case in the region and why WHO views Pakistan's response as one of the best in theworld.

Today, Pakistan is also on the cusp of being able to assemble diagnostic kits locally and is finally able to share transparent, real time updates on cases via a live national data dashboard.

All this would sound good if it wasn't for Taftan. If we blocked the Wuhan students from coming back, why did we let folks in from Iran via Taftan? "There's a qualitative difference in how China was managing the crisis versus Iran," shares Dr Mirza.

Pakistani students were better off in China, our zaireen (pilgrims) in Iran weren't.

Taftan is a desolated place where the government couldn't set up isolation areas logistically at the quality that was needed. Today, these pilgrims have been transferred to proper one-room-one-person quarantines in their respective provinces.

At least for now, the number of local-to-local transmissions in Pakistan has remained low.

No one can predict how Pakistan's healthcare system will cope with what's coming next. However, this is a rapidly spreading global pandemic which will require significant international collaboration/transfer of knowledge.

Fortunately, Dr Mirza already has the international relationships needed to help Pakistan make it to the front of the cue. A silver lining amongst all this madness is that healthcare is dominating the national security agenda today, after decades of systematic under-investment.

Covid-19 is simply exposing the already existing weakness of our healthcare system but once we emerge from this, I'm confident that citizens will re-negotiate their social contract with the state to demand more spending on healthcare versus shiny new F-16s and Metro trains.

Meanwhile, in a moment of crisis like this, the wisest thing a society can do is appoint its best brains to work on its most difficult challenges. After speaking to Dr Mirza, I feel a lot more calm and confident that we have the best possible Pakistani expertise available running the show.

Published in The Express Tribune, March 22nd, 2020.

Like Opinion & Editorial on Facebook, follow @ETOpEd on Twitter to receive all updates on all our daily pieces.