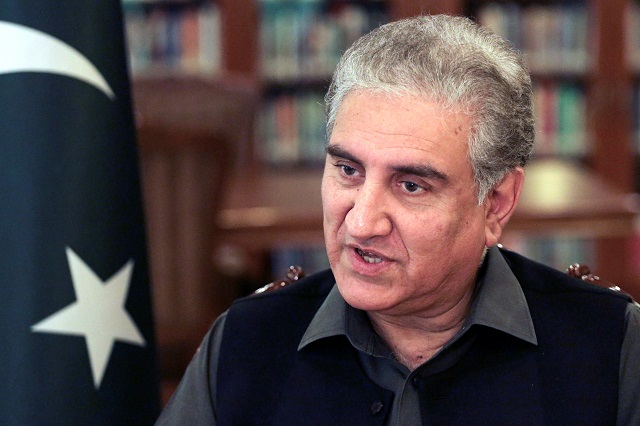 ---
FM reiterates PM Imran's call to consider writing off loans to help cope with pandemic
Qureshi says alleviating this financial burden will help protect the most vulnerable and already struggling
---
Foreign Minister Shah Mehmood Qureshi on Saturday reiterated Prime Minister Imran Khan's call to the international community to consider writing off loans for developing countries such as Pakistan in order to ensure resource allocation to fight coronavirus that has gripped the world.

"The UN SG has highlighted the message of Global Solidarity and focusing on protecting most vulnerable," FM Quershi said in a tweet. "PM Imran Khan has also underscored the importance of relieving the burden of debt-ridden developing countries in order to ensure resource allocation for saving lives and stemming eco decline."

The foreign minister also said alleviating this financial burden will help protect the most vulnerable and already struggling to cope with the challenge with limited resources and infrastructure to fight this COVID-19 pandemic.


I reiterate PM's call for alleviating this financial burden to protect the most vulnerable already struggling to cope with the challenge with limited resources & infrastructure to fight this pandemic (Covid-19). https://t.co/17eeF1K7aT

— Shah Mahmood Qureshi (@SMQureshiPTI) March 21, 2020


All you need to know about coronavirus testing in Pakistan

Earlier on March 17, in an exclusive interview with Associated Press, the premier expressed concern over the devastating impact the virus may have on economies of developing countries.

The premier said if a serious outbreak happens in the country, the Pakistan Tehreek-e-Insaf (PTI) government's efforts to lift the economy out of collapse would begin "an unstoppable slide backwards".

"Exports would fall off, unemployment would soar and an onerous national debt would become an impossible burden," the premier added.

The prime minister maintained that Pakistan does not have the capability and resources to deal with the novel coronavirus.

He further directed lifting sanctions against Iran and lauded the country's humanitarian imperative to contain the outbreak by pushing aside political rivalries.

Pakistan in diplomatic push to lift US curbs on Iran

Pakistan on Friday increased its diplomatic efforts for lifting of the US sanctions against Iran in the wake of the outbreak of deadly coronavirus in the neighbouring country, where one person is dying every 10 minutes.

It comes after Iran's President Hassan Rouhani wrote a letter to PM Imran, asking him to play his role in the lifting of the sanctions. Diplomatic sources said that Pakistan's reaction to the Iranian leadership's request is positive.

Later Prime Minister Imran called for the lifting of "unjust" US-led sanctions on Iran, so that Tehran can better deal with the novel coronavirus crisis. "I would stress and insist on the international community to lift the sanctions on Iran," Imran said on Friday. "It is very unjust they are dealing with such a large outbreak on one side, and on the other, they are facing international sanctions."