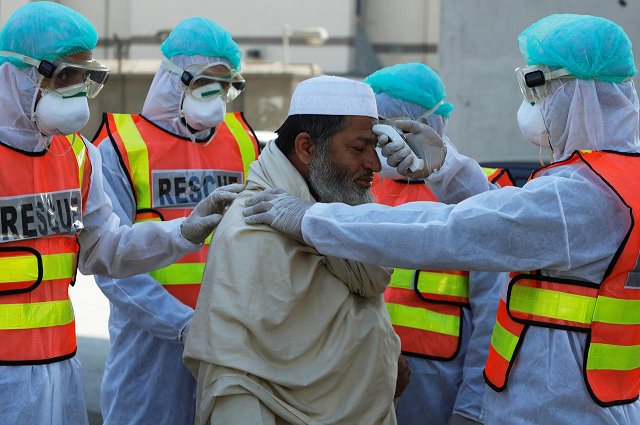 ---
G-B govt imposes Section 144 to ban gatherings as coronavirus cases rise
Govt decides to detain passengers who avoid taking the coronavirus test after returning to the country
---
GILGIT: The Gilgit-Baltistan government on Saturday took drastic measures and imposed Section 144 as the total number of confirmed cases in Pakistan crosses 500.

The decision was made by province's chief minister, said the Secretariat's Sajjadul Haq.

"Section 144 is effective from today onwards to discourage gathering of people," he said, adding that arrangements would be personally supervised by G-B Chief Minister Hafeezur Rehman.

The number of coronavirus cases reached 30 in the region but the provincial government fears it could soar in the coming days.

In addition, the government has decided to detain passengers who avoid taking the coronavirus test after returning to the country.

LIVE: Nationwide coronavirus tally crosses 500, PM Imran urges social distancing

The government has already closed all educational institutions and has decided to suspend inter-district public transport from Monday.

A quarantine centre has also been established on the outskirts of G-B.

A young doctor, who was screening pilgrims coming from Iran and Iraq is in critical condition and has been put on a ventilator at the main district headquarter hospital in Gilgit.

His COVID-19 test has been conducted and his results are awaited.

A local journalist has also been quarantined for 14 days after being suspected of contracting the virus during his coverage of a quarantine centre in the Sakwar area.

The journalist denied meeting any individual and said, "This is sheer victimisation", adding that he was wearing protective gear the entire time.