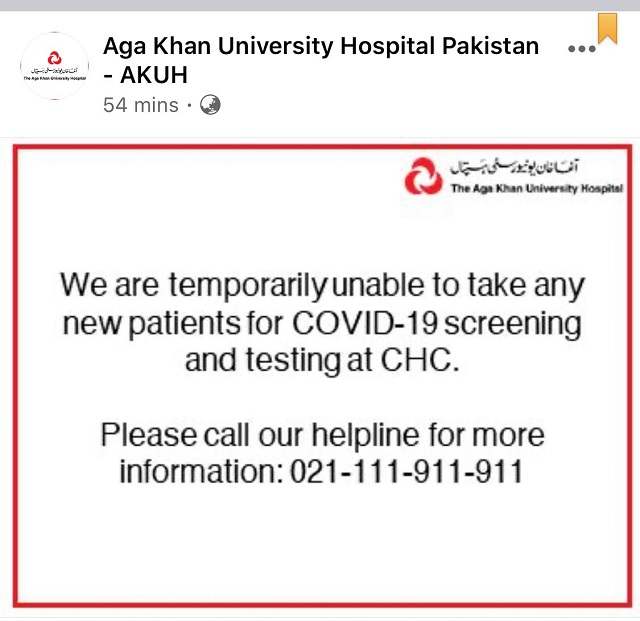 ---
The Aga Khan University Hospital on Saturday temporarily closed its Community Health Centre for testing any new patients for COVID-19 citing overcapacity.

The branch also closed its emergency services due to influx of coronavirus patients; however, the spokesperson of the hospital confirmed that it was only for a brief period of time as it was not safe to admit new patients at that moment.

PPP, PML-N extend support for parliamentary committee

"Since Aga Khan [University Hospital] is JCI accredited, we have to follow its protocols. As of morning the emergency is now open, but we are over capacitated to accommodate and test COVID-19 patients," the spokesperson said.

"This is just temporarily," the spokesperson assured.

The nationwide tally of COVID-19 patients has crossed 500 with 267 cases in Sindh; 92 in Balochistan; 96 in Punjab; 23 in K-P; 21 in Gilgit-Baltistan; five in Islamabad; and one in Azad Jammu and Kashmir.

UAE reports first two deaths from coronavirus

Though the deadly infestation has been contained by the Chinese government in Wuhan, the virus has now spread elsewhere, especially in Europe and the United States, with the World Health Organisation declaring Europe as the new epicentre of the viral disease.

Pakistan, despite its close proximity with China, remained unscathed by the virus until February 26 when a young man from Karachi tested positive for the novel coronavirus. The man, in his twenties, had returned from Iran, which is also one of the worst-hit countries.