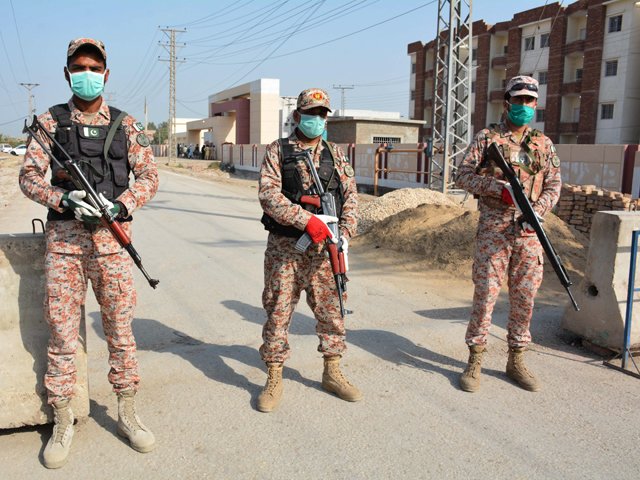 ---
March 21: Sindh decides to go into total lockdown, calls army in aid of civil power
K-P, Punjab, Balochistan also impose partial lockdown as nationwide tally jumps to 646
---
PESHAWAR / KARACHI / ISLAMABAD / QUETTA: The novel coronavirus – which originated in the central China city of Wuhan towards the end of December 2019 – has spread to all continents excluding Antarctica. The COVID-19 respiratory illness caused by the mysterious contagion has so far killed thousands of people and infected tens of thousands of others across the globe.

Though the deadly infestation has been contained by the Chinese government in Wuhan, the virus has now spread elsewhere, especially in Europe and the United States, with the World Health Organisation declaring Europe as the new epicentre of the viral disease.

Pakistan, despite its close proximity with China, remained unscathed by the virus until February 26 when a young man from Karachi tested positive for the novel coronavirus. The man, in his twenties, had returned from Iran, which is also one of the worst-hit countries.

After a brief pause following the first case, COVID-19 cases witnessed a sharp surge as more pilgrims returning from Iran tested positive despite the fact that they were quarantined for 14 days at the Pak-Iran border crossing of Taftan in Balochistan.

Pakistan confirmed the third casualty from the virus on Friday, two days after two men – both pilgrims returning from Iran and Saudi Arabia – died of the coronavirus in Khyber-Pakhtunkhwa. The third casualty – a septuagenarian cancer survivor – was confirmed in Karachi.

The nationwide tally of COVID-19 patients has jumped to 646 with 292 cases in Sindh; 104 in Balochistan; over 152 in Punjab; 31 in K-P; 55 in Gilgit-Baltistan; 11 in Islamabad; and one in Azad Jammu and Kashmir.

Since the situation remains fluid, the stats are changing fast and we're updating them accordingly.

Follow The Express Tribune's live coverage of the pandemic here.


March 22


3:00am: Sindh revises COVID-19 figures to 292, apologises for 'counting error'

At a time when an apocalyptic pandemic is sweeping the world and creeping into Pakistan, government officials need to work in synch to keep the people informed about the coronavirus situation in the country, but they appear to be doing the opposite: .creating panic by releasing incorrect figures.

On Saturday morning, the public relations officer (PRO) to the Sindh health minister told the media in an update that the number of COVID-19 patients in the province has surged to 392. Throughout the day, the media outlets quoted the new figures which took the nationwide tally of COVID-19 patients to 745.

The massive surge in numbers created alarm and sent the people panicking. However, late in the night the PRO revised the figures downwards to 292 citing a "counting error".

"Due to a counting error, the COVID-19 Sindh figures sent earlier are requested to be ignored," the PRO said in the revised update.

Currently, there are 105 positive cases in Karachi and Hyderabad and 187 in Sukkur – all of them pilgrims who have returned from Iran, the PRO said. "This brings the total number of cases in Sindh to 292. I apologize for the mistake. It was a simple human error."


Read full story here.


12:30am: Sindh govt to impose complete lockdown from Sunday

Amid a sharp uptick in COVID-19 cases, the Sindh government has decided to impose a complete lockdown and called in the military in aid of civil administration under Article 245 of the Constitution.

The lockdown would come into effect Sunday midnight and a formal announcement to this effect will be made by Chief Minister Murad Ali Shah in a video message, sources told The Express Tribune late Saturday night.

The lockdown decision was made in the meeting of the provincial task force on coronavirus chaired by the chief minister.

In the wake of the fast multiplying cases of the novel coronavirus, the provincial government requires the services of the armed forces in aid of civil power under Article 245 of the Constitution.

"It's therefore requested to kindly accord the approval for the deployment of armed forces to aid civil power in the province of Sindh," reads a letter written by the Sindh home department to the federal interior secretary and the government of Pakistan.


Read full story here.


10:45pm: K-P imposes partial lockdown till March 24

The Khyber-Pakhtunkhwa government has decided to keep all markets, shopping malls and restaurants shut from Sunday 9am to March 24 owing to escalation in the transmission of COVID-19.

The government has also barred restaurants and eateries from takeaways, only allowing home delivery services.

Pharmacies, grocery stores, karyana shops, bakeries, atta chakkies, tandoors, milk shops, auto workshops and petrol pumps, chicken and meat shops, fruit and vegetable shops and all kinds of mandis including grain, fruit and vegetable however will be exempted from the restrictions.




9:45pm: With 39 new cases, coronavirus tally rises to 396 in Sindh

The Sindh health department has confirmed 39 new cases -- 36 in pilgrims who have returned from Taftan border and three in Karachi -- taking the provincial tally to 396.

The total number of COVID-19 positive cases in Karachi has reached 105 with three cured and one death. Out of 105, 60 are locally transmitted cases while 100 patients are currently being treated in different health facilities.

291 pilgrims, being kept at Sukkaur quarantine centre, have been tested positive so far.




8:30pm: Sindh govt gears up for province-wide lockdown 

The Sindh government is gearing up to take strict actions by going as far as imposing a province-wide lockdown to contain the spread of novel coronavirus, as provincial cases rose to 357 on Saturday.

Chief Minister Murad Ali Shah has discussed several options in this connection with Sindh Governor Imran Ismail, Karachi Corps Commander, Sindh Rangers DG and Sindh IGP to ensure full implementation of the government's decision of keeping people at their homes, provincial government's spokesperson Murtaza Wahab confirmed on Saturday.

The government will ensure that grocery and medical shops remain open, he added in a tweet.

"Time for some tough decisions. CM Sindh has discussed with Governor Sindh, Corps Commander Khi, DG Rangers & IG Sindh to ensure full implementation of Govt's decision of keeping people at their homes. #SindhGovt will ensure that grocery & medical shops remain open," he wrote.


Time for some tough decisions. CM Sindh has discussed with Governor Sindh, Corps Commander Khi, DG Rangers & IG Sindh to ensure full implementation of Govt's decision of keeping people at their homes. #SindhGovt will ensure that grocery & medical shops remain open

— Murtaza Wahab Siddiqui (@murtazawahab1) March 21, 2020
Read full story here.


5:25: Sindh reports 90 news cases, jumping provincial tally to 357

Sindh Minister for Health and Population Welfare Dr Azra Fazal Pechuho has confirmed 90 new cases in the province, raising total number of cases to 357.

She said that the provincial health department has conducted up to 2,700 tests for COVID-19 so far in the province.

"Out of these tests we have had 101 positive cases from Karachi, one positive case from Hyderabad and 255 cases from pilgrims from Iran, who are kept in the isolation facility in Sukkur," she said.

This has brought the total number of cases in Sindh to 357. "Out of these 357 cases we have cured and discharged two patients from Karachi and one patient from Hyderabad."




4:30pm: Punjab CM appeals people to stay at home for two days

Punjab Chief Minister Usman Buzadar has asked people to go into a two-day isolation to stay clear of coronvirus, which has infected nearly 100 in the province and over 600 throughout the country.


LIVE: Chief Minister Punjab @UsmanAKBuzdar's press Conference:
https://t.co/W6XkZdlpIO#PunjabCoronavirusUpdate

— Government of Punjab (@GovtofPunjabPK) March 21, 2020
Read more here.


4:00pm: Govt suspends all international flights for two weeks

The government has decided to suspend all international flights arriving in the country for two weeks. The ban will not apply to Pakistan International Airlines (PIA), which is allowed to bring back its planes from across the world.

Read more here.




3:50 pm: Health Minister Zafar Mirza confirmed 4,046 suspected cases in Pakistan.

He said the total number of confirmed cases in the country is 534, with five complete recoveries and three fatalities.

In the last 24 hours, 13,991 people have been screened from all entry points in the country.

The minister also stated that 3,083 pilgrims from Taftan were quarantined today.

Mirza reassured that measures have been taken to contain the virus, including 14 labs that have been established across the country, to test Covid-19 patients.

"Yesterday, we took another decision, that all international flights coming into Pakistan will be suspended till April 4," said the PM's aide Moeed Yousuf.

"The only exception to this would be certain PIA flights that are currently in various capitals around the globe, particularly Europe, those passenger planes will be allowed to return, they will do so tomorrow along with the passengers booked on it."

He added that this was a temporary suspension - for 2 weeks – and a decision taken after taking input from all advisers and stakeholders.




3:20pm: 

Chief of Army Staff Qamar Javed Bajwa on Saturday ordered for stepping up Pakistan Army's assistance to civil administration for containment of the coronavirus.

The army chief underscored that protecting oneself is the foundation for the nation's collective protection against the coronavirus.

He urged the nation to be responsible and take every precautionary measure to curb the spread of the virus.

Read the full story here.






3:00 pm: Pakistan International Airlines (PIA) has decided to cancel all international flights, in accordance with directives from the government.

The decision will become effective from 8pm today until March 28.

PIA is cancelling all its international flights in accordance with the directives of Government of Pakistan effective from 8 PM 21 Mar 2020 till 28 Mar 2020. We apologise for the inconvenience caused. For more information & reservation changes contact 111-786-786. #PIA

— PIA (@Official_PIA) March 21, 2020

Read full story here.




2:40 pm:  Foreign Minister Shah Mehmood Qureshi on Saturday reiterated Prime Minister Imran Khan's call to the international community to consider writing off loans for developing countries such as Pakistan in order to ensure resource allocation to fight coronavirus that has gripped the world.


I reiterate PM's call for alleviating this financial burden to protect the most vulnerable already struggling to cope with the challenge with limited resources & infrastructure to fight this pandemic (Covid-19). https://t.co/17eeF1K7aT

— Shah Mahmood Qureshi (@SMQureshiPTI) March 21, 2020


2:26 pm: The provincial government of Khyber-Pakhtunkhwa confirmed two additional COVID-19 cases.

The provincial tally now stands at 25.

https://twitter.com/smzrz/status/1241290242415562752




2:20 pm: Another increase in the number of cases was reported from Balochistan, with the total number of coronavirus cases in the province reaching 104.

The provincial chief secretary said 12 additional cases were confirmed.




1:00 pm: The Gilgit-Baltistan government on Saturday took drastic measures and imposed Section 144 as the total number of confirmed cases in Pakistan crosses 500.

The decision was made by Chief Minister Secretariat's Sajjadul Haq.

"Section 144 is effective from today onwards to discourage gathering of people," he said, adding that arrangements would be personally supervised by G-B Chief Minister Hafeezur Rehman.

In addition, the government has decided to detain all those passengers who avoid taking the coronavirus test after returning to the country.

A quarantine centre has also been established on the outskirts of G-B.




11:30 am: A 3,000 room quarantine centre has been set-up in Multan with 171 isolation rooms and a 5-bed high dependency unit to facilitate 1,270 pilgrims from Taftan. After screening, patients will be shifted to a newly established general hospital for treatment.


3000 room quarantine centre set up in Multan with 171 isolation rooms & a 5 bed high dependency unit; the facility is currently being used to house and test 1270 zaireen from Taftan. Serious patients to be shifted to a newly established general hospital. #CoronaVirusPakistan pic.twitter.com/BcrUZPEvSM

— PTI (@PTIofficial) March 21, 2020


11:00 am The Sindh government has proposed the establishment of a "Government of Sindh Coronavirus Emergency Fund" to help those affected by the novel coronavirus.

The funds will be generated by deducting money from the salaries of provincial ministers, advisers, assistants and other government officials.

The Sindh Social Relief Fund, which was established in 2007 to provide relief to the disadvantaged and vulnerable people in the province, may also be utilised to contain the pandemic.

A committee will be formed and will look after measures for rehabilitation and long-term welfare and financial being of those affected by the virus.

The committee will spread awareness, particularly amongst high-risk groups, subsidize the costs of tests, treatment and hospitalisation and bear any costs during the quarantine period.




10:09 am: Health desks have been established at airports to screen passengers travelling within the country.

According to the Civil Aviation Authority spokesperson, the desk has been set up and the screening has begun.




9:43 am: K-P Health Minister Taimur Jhagra said there are no new confirmed cases but the number of suspected cases is 13. He requested that citizens practice social and physical distancing to curb the spread of the virus.

1. Pakhtunkhwa #CoronaVirusUpdates, end of day March 20.
No further confirmations, but the number of suspect cases is 13. My request to the public; at the moment, the best advice is to follow what's happening across the world, and work on social or physical distancing. pic.twitter.com/Sf8h7Dm79i

— Taimur Khan Jhagra (@Jhagra) March 21, 2020


March 20

10:45 pm: Balochistan imposes near lockdown for three weeks

As the number of coronavirus cases has risen to 81 in Balochistan, the provincial government has decided to impose a 21-day partial lockdown across the province to control the spread of highly contagious disease.

Under the lockdown, which is similar to the restrictions imposed by the Sindh government, all major shopping centres, markets and food restaurants will remain closed. However, food delivery will be allowed during the lockdown.

Read more here.




7:45 pm: Three more cases in Sindh take provincial tally to 252

Three more cornavirus cases have been confirmed in Sindh, taking the provincial tally to 252 and Pakistan's to over 475.




7:45 pm: Sindh reports 11 new cases, provincial tally soars to 249

Sindh Health Department has confirmed 11 new cases, taking the total number of coronavirus cases in the province to 249 with one death.

All cases were locally transmitted in Karachi.




6:30 pm: Sindh CM asks people to go into 'three-day isolation'

Sindh Chief Minister Murad Ali Shah has appealed to people to isolate themselves for three days as his administration is making all-out efforts to stem the proliferation of the novel coronavirus which has infected 238 people in the province as of Friday.

"Please stay home to protect yourself and your loved-ones," he said while presiding over a meeting of the provincial task force on the viral outbreak in the province.

Read more here.




5:40 pm: PM says people should self-quarantine for 45 days

https://www.facebook.com/PTIOfficial/videos/3469134953113084/

Prime Minister Imran Khan, while addressing the media in Islamabad on Friday, said people should self-quarantine for at least another 45 days to help tackle the coronavirus crisis.

He appealed to media the houses, opinion makers and journalist fraternity among others to report judiciously so as to not create panic.

He ruled out a complete lockdown in the country which he believes would slow down the economy and increase unemployment.

"We are also developing a comprehensive economic package which will be announced on Tuesday," the premier said during an interaction with senior journalists in Islamabad on Friday.

The prime minister said the government is going to announce incentives for the construction industry, so that day labourers associated with the industry continue to get work amid the economic slowdown in the country.

Read more here.




4:40 pm: Punjab confirms 16 new COVID-19 cases

Chief Minister Punjab Usman Buzdar confirmed 16 new coronavirus cases in the province, taking the provincial tally to 96.

Out of the 96 cases, 71 are Iran-return pilgrims, 15 are in Lahore, two in Multan, three in Muzafargarh, three in Gujrat, and one each in Rawalpindi and Jhelum according to the breakdown given by the chief minister.


I can confirm that there are currently 96 #COVID19 positive cases in Punjab.
Out of which 71 are Zaireen, 15 in Lahore, 2 in Multan, 3 in Muzafargarh, 3 in Gujrat and 1 each is in Rawalpindi and Jehlum.

Please practice #SocialDistancing and stay safe during this Global Pandemic!

— Usman Buzdar (@UsmanAKBuzdar) March 20, 2020


2:15 pm: Sindh Health Department dismisses social media reports

Sindh Health Department Spokesperson Meeran Yousuf dismissed rumours circulating on social media about five doctors contracting COVID-19 on duty.

"One doctor with travel history had tested positive. He self-quarantined himself after return. He was not on duty," she told The Express Tribune.

Earlier in the day, the department posted an ad looking to recruit doctors on a six-month contract during the COVID-19 emergency.


Sindh Health Department is looking for doctors from #Sindh to work on a 6 month contract basis during the #COVID19 emergency. Please send in your documents on the address mentioned below if you meet the criteria. #SindhHealth #CoronaInPakistan #CoronaVirusPakistan pic.twitter.com/5YnjhAE9Bc

— Health and Population Welfare Department, Sindh (@SindhHealthDpt) March 20, 2020