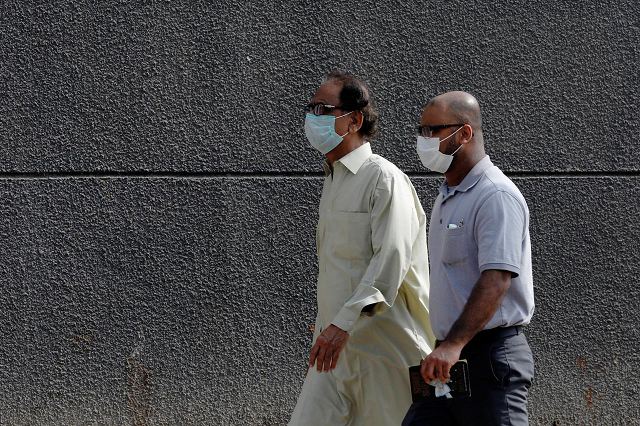 ---
Province reports 58 new cases of coronavirus
Hundreds of people have been quarantined at Taftan after returning from Iran
---
QUETTA: At least 58 new cases of novel coronavirus – officially named as COVID-19 – have been confirmed in Balochistan, taking the provincial tally to 81.

In a tweet on Thursday, Balochistan Chief Minister Jam Kamal said: "Balochistan. So far total tests of the Pakistan Council of Scientific and Industrial Research (PCSIR): 353. Positive so far PCSIR: 60. Total: 16+60=76."

Balochistan province – which shares borders with Iran and Afghanistan – has quarantined several pilgrims from the neighbouring country in an attempt to contain the spread of the deadly virus.

According to the tweet, as many as 60 people tested positive with coronavirus  – out of the 353 tested by the PCSIR.

Earlier in the evening, Balochistan government spokesperson Liaquat Shahwani  confirmed that the province had reported 22 new cases.

"Test reports of 252 people placed in the Quetta quarantine centre came out [on Thursday]. As many as 22 people are confirmed as infected with COVID-19," he said in a statement.

According to the spokesperson, all the diagnosed patients have been shifted to isolation rooms where "they are receiving proper treatment".

More than 1,600 pilgrims were sent to their home provinces from the quarantine centre of Taftan through 40 buses. With that dispatch, 400 people, who belong to Balochistan, remained in Taftan.

As a precautionary measure, Pak-Iran border at Taftan, from where a large number of pilgrims were arriving from Qom, remained closed for the 26th consecutive day while Pak-Afghan border at Chaman also remained shut. The bilateral activities, including trade, remain suspended.

Balochistan government has established a quarantine centre on the outskirts of  Quetta at Mian Ghundi, where lack of facilities prompted health staff, patients and the area locals to protest.

According to figures issued by the Provincial Disaster Management Authority (PDMA), at present 600 people are in quarantine at Mian Ghundi and all of them hailed from Balochistan.

Earlier, the locals and patients staged a demonstration on the western bypass area of Quetta against the establishment of the quarantine centre as it was situated near the village and was not considered safe.

However, they called off protest after successful negotiations with the administration.

Besides, the provincial government has taken other measures to limit the interaction of people in order to contain coronavirus.  In Quetta, major trading centres and shopping malls have been closed for 15 days. It has also been decided to shut down public transport across Balochistan, including Quetta.

Other measures have also been taken at the provincial level in order to quell the spread of the deadly pneumonia-like disease. According to officials, screening of passengers has been made mandatory at railway stations in the provincial capital.

Published in The Express Tribune, March 20th, 2020.