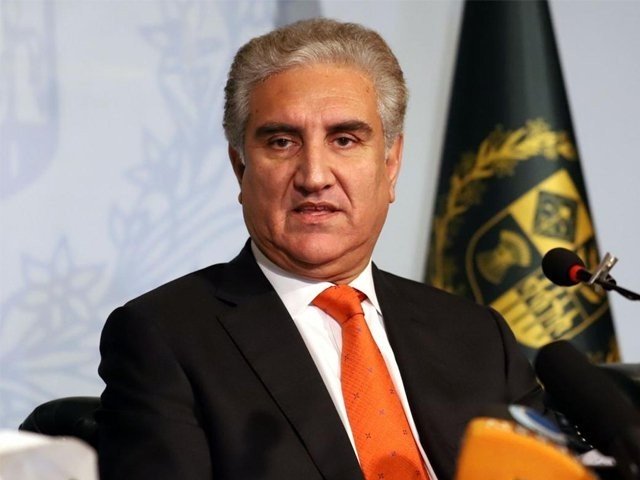 ---
ISLAMABAD: Foreign Minister Shah Mehmood Qureshi on Wednesday decided to isolate himself as medical experts advised him to get tested for COVID-19 after five days following his visit to China.

"My family members are distant," he said. "We have to exercise caution in the wake of the outbreak."

The foreign minister has gone in self-isolation following the recommendation of doctors but showed no symptoms of the coronavirus. Qureshi tested negative for the virus after arriving from Beijing.

Talking about President Arif Alvi's recent visit to China, FM Qureshi said that its purpose was to show solidarity with the Chinese people in their time of need. The Chinese leadership says it will not forget the moral and emotion support it got from Pakistan in this time of trial, he added.

President Alvi discusses fight against COVID-19 in Pakistan with Chinese counterpart

He also said that the Chinese leadership assured they would also stand-by Pakistan in time of need in every way possible whether it be medical support or otherwise.  "They will not disappoint," said Qureshi quoting Chinese leadership.

"Even the countries whose health care system is far better than us is very much affected and is facing a lot of difficulties due to this virus," FM said. " We cannot battle this virus by being divided. We have to be united."

The foreign minister lauded steps taken by the Sindh government and urged to work together in order to overcome the issue. Highlighting the importance of social distancing to tackle the problem, he urged the nation to follow guidelines of the World Health Organization (WHO).

"The world is blaming China [for the outbreak] whereas it is an international issue," Qureshi said. "Pakistan had expressed confidence in not repatriating students from China. These students did not face any mishap."

The foreign minister said that the decision to repatriate pilgrims was a difficult one, but "they had to return as [quarantine] facilities were inadequate at the [Taftan] border." Discussion about pilgrims going for Umrah would also be held as Saudi Arabia has suspended the year-round pilgrimage.

FM reiterated that "we have to come together as one nation to curb its spread. Only one case has been reported from Wuhan. We have to make the right decisions as we will have to face this situation for some time."

Sindh edges towards virus lockdown

FM Qureshi said that Prime Minister Imran Khan has made a 'National Coordination Committee', "we have to analyze the effect on the economy if there is a complete lockdown.'

Qureshi also urged media to play a 'unified role' in this time of crisis as it did against Indian atrocities. He added that 'now is not the time to hold rallies'.