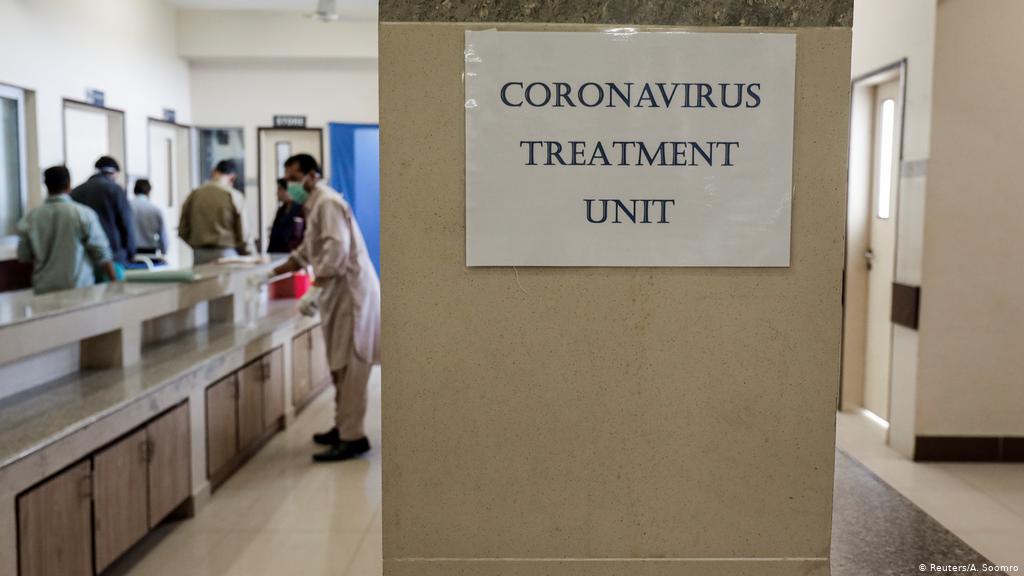 ---
Pakistan's COVID-19 tally rises to 268 after new cases emerge in Sindh, Islamabad & K-P
Four new cases in Islamabad, one in Khyber-Pakhtunkhwa
---
ISLAMABAD: Pakistan tally of confirmed coronavirus cases crossed 250 on Wednesday after new cases emerged in Sindh, Islamabad and Khyber-Pakhtunkhwa.

The deadly pneumonia-like disease, which surfaced in China's Hubei province late December 2019, has infected over 198,000 people globally with over 7,900 deaths.

According to the situational report for March 18, four new cases emerged in Islamabad. Advisor to Sindh Chief Minister Syed Murad Ali Shah on Information Murtaza Wahab confirmed nine new cases in Sindh while the Khyber Pakhtunkhwa government reported three new cases.


Following is the update of #COVIDー19 affected people in Sindh as on 18.03.20 at 11 AM:

Positive =38
Cured=2
Under treatment =36

Pilgrims Sukkur
Total tests conducted 290
Negative 147
Positive 143

Grand Total 181

— Murtaza Wahab Siddiqui (@murtazawahab1) March 18, 2020
#CoronaVirusUpdates

In the spirit of continued transparency; have received news that 3 new cases in Pakhtunkhwa tested positive today - 1 each from Buner, Hangu and Mardan. All 3 being treated according to protocol & are cases of international travel. Our tally now stands at 19

— Taimur Khan Jhagra (@Jhagra) March 18, 2020


The total number of confirmed COVID-19 cases in Sindh stands at 189 while Punjab has 28, K-P reported 19 cases, Islamabad two, Gilgit-Baltistan 14 and none in Azad Jammu and Kashmir. It may be mentioned here that the Balochistan government's tally of total cases stands at 16 as opposed to federal government's 15.

Majority of Pakistan's COVID-19 cases are linked to the pilgrims at Taftan while less than half a dozen are locally transmitted.

Authorities in Pakistan have screened over 1,015,900 travellers since the virus was first detected in the country. At least 20,088 travellers have been screened in the last 24 hours.

Find the situational report here.

Pakistan, China urge united global response to COVID-19

Varying stats

The varying stats paint a dismissal picture of coordination between the federal and provincial governments. Prime Minister Imran Khan's address to the nation late Tuesday paid a tribute to the Balochistan government and Pakistan Army officials for their part in containing the virus at the Taftan border.

However, Sindh government has come out criticising Centre for lack of foresight in quarantine arrangements in Taftan where over 9,000 pilgrims returning from Iran had been quarantined by the Balochistan government in a 'tent city'.

After completing the 14-day incubation period, the pilgrims were allowed to travel back to their cities. However, Sindh and K-P sent the pilgrims to isolation facilities in Sukkur and Dera Ismail Khan and tested them before allowing further travel. So far 134 pilgrims tested positive in Sindh and another 15 in K-P.

The federal government maintained that health was a provincial matter under the 18th Amendment however Pakistan Peoples Party (PPP) argued that border management falls under Centre's domain.

Sindh edges towards virus lockdown

Preventive measures

In its March 13 National Security Committee meeting, Centre formed a Novel Coronavirus Core Committee with daily meetings between federal and provincial authorities.

The Pakistan Tehreek-e-Insaf (PTI) government tasked National Disaster Management Authority (NDMA) to coordinate with provincial governments and lead the fight against novel coronavirus.

The federal government also decided to ban public gatherings, close all educational institutions until April 5 and cancel Pakistan Day parade on March 23. It also sealed borders and limited international flights operations to Islamabad, Lahore and Karachi.

However, the NSC decision on international travel was taken back on Tuesday when the government lifted restrictions on all airports except Gwadar and Turbat.

In Sindh, the Pakistan Peoples Party (PPP) government edges towards lockdown after it closed all restaurants, malls, shopping centres and imposed Section 144. Only grocery stores and pharmacies have been allowed to operate.

Sindh also changed its academic year dates after preponing summer vacations and shut down all goverment offices across the province.

Punjab banned all public gatherings under Section 144 of the CrPc.

Balochistan government banned public gatherings, suspended biometric attendance, limited activities and closed educational institutions.

K-P also banned public gatherings, closed educational institutions and directed police to ensure people were not arranging private events.

Follow The Express Tribune's live coverage of the Covid-19 outbreak in Pakistan and the around the globe here.