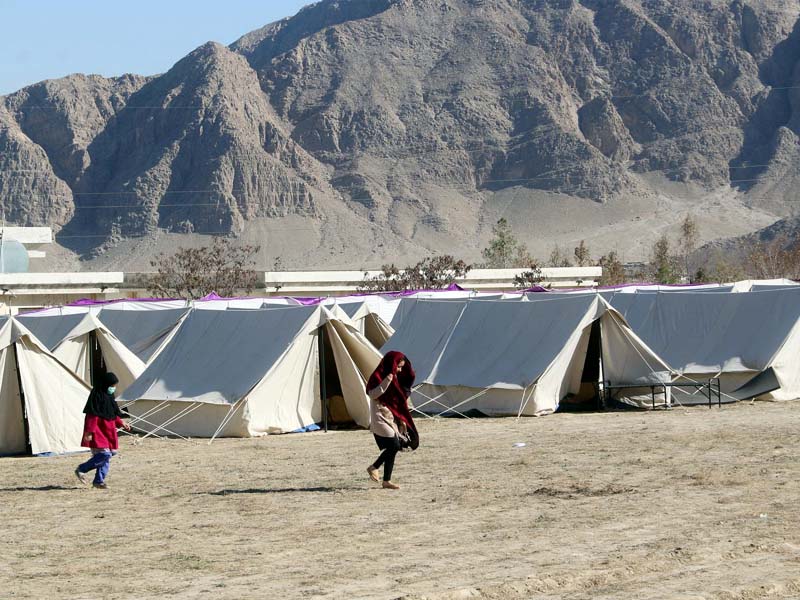 ---
QUETTA/ CHAGHI: Amid fears of coronavirus in Pakistan where confirmed cases of the pandemic have reached 183 on Monday, pilgrims returning from Iran's Qom complained about lack of facilities at Pakistan House, where they were kept for quarantine, located near border area of Taftan.

Talking to The Express Tribune, Naimatullah — one of the pilgrims returned from Iran — briefed that they were being kept for 14 days at the centre devoid of preventive measures as a large number of people were at the camp who might have contracted coronavirus.

"No medical screening was performed at the camp, neither local administration provided us masks," said Naimatullah, adding that deadly virus may spread at the quarantine centre because pilgrims were returning from high-risk areas.

The provincial government has set up hundreds of camps outside the quarantine centre because of large influx of pilgrims and other people to the border town.

Sharing the ordeal, Naimatullah added that temporary shelters were in miserable conditions where no amenities were available.

"We were forced to stay at the quarantine centre devoid of safety kits, potable water and facilities," said Naimatullah, adding that 150 people were stranded at the camps who hailed from Kharan, Chaghi, Noshki and Dalbadin.

Lamenting the situation, another pilgrim said that he crossed the border in search of work but the severe conditions forced him to wake up at night. He demanded of the government to supply them masks, sanitisers, handwash or else allow them to leave for their hometowns.

The tally of pilgrims returning from Iran and kept at Pakistan House has reached more than 3,000 till the filing of the story.

According to Taftan Tehsildar Zahoor Baloch, more than 1,900 pilgrims have been shifted from Pakistan House to their native districts.

"Temporary beds and supplies under their use have been discarded outside the centre to prevent the spread of the virus," said Zahoor.

The sources added that nearby areas of the border have been sealed.

Earlier, pilgrims kept in quarantine at Mian Ghundi stormed out of the quarantine centre and held a protest on Mastung Road against extension of quarantine days as they had already spent 14 days in the centre at Pakistan House.

They staged a sit in on the national highway for more than three hours and demanded that they be allowed to return to their homes.

However, the pilgrims called off the protest after negotiations with the administration.

According to an official, the protesters wanted to enter the provincial capital but security forces barred their way.

Balochistan Health Director General Dr Faheem Khan assured the pilgrims that they would be kept for two more days after the tests if they tested negative. 

Published in The Express Tribune, March 17th, 2020.