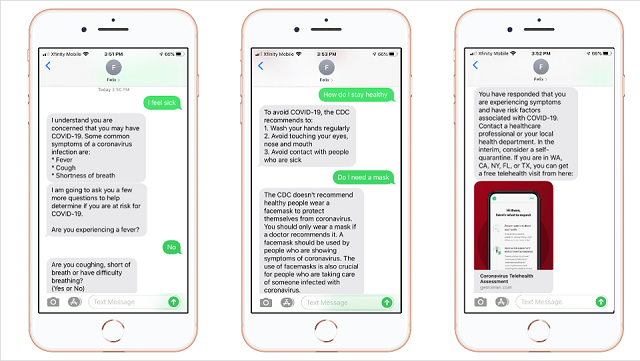 ---
You can now text message this chatbot with questions about coronavirus
The primary goal of the chatbot is to avoid crowding clinics and prevent spread of the coronavirus
---
Two telemedicine startups are working together on a program that allows worried patients to text concerns related to coronavirus or COVID-19 which then directs them with remote doctors.

The primary goal is to avoid crowding clinics which increases the risk of the virus spreading. The service is being offered by San Francisco-based Memora Health and New York-based Ro.

Coronavirus impacts gaming events, eSports tournaments

The chatbot is powered by artificial intelligence that answers basic questions about the virus and those who match the symptoms are connected to a doctor.

Patients can simply text, "What are the symptoms?" and "should I wear a mask?" and the bot, using automated software programmed with recommendations from the Centers for Disease Control and Prevention (CDC) and the World Health Organisation (WHO), texts back answers.

Twitter tells all staff to work from home due to coronavirus

The new partnership is "a public health tool accessible to anyone who has text messaging on their phone," says Manav Sevak, Memora's CEO.

Users are connected to a doctor via phone or video if they have fever, cough or have recently travelled to a location where there has been an outbreak.

The article originally published on Forbes.