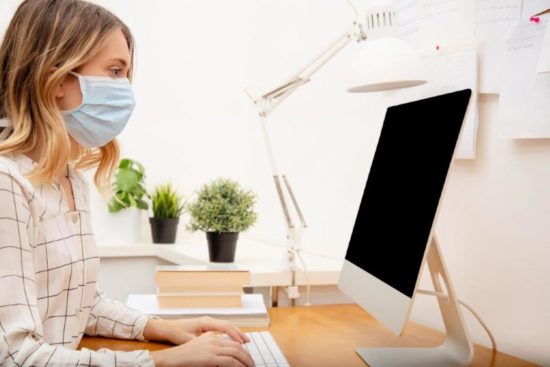 ---
Coronavirus is spreading across the world like wildfire. Several government and health organisations worldwide are recommending measures to contain the outbreaks spread.

As a result, many companies have adopted work from home models to reduce the chances of catching the contagious disease.

Working from home comes with its own set of advantages and disadvantages. From saving money to working in sweats to being relaxed in the comfort of your own space, there are many benefits in working from home.




However, there are some challenges. This includes being distracted by family and domestic duties. You may even struggle to be productive when you are not directly supervised. While working from home can be a respite, the redundancy of the busy and buzzing office nature can demotivate us.

As compiled by Pink Villa, here are some ways to amp up the productivity and stay focused while working from home.

Plan out your day

It's vital to first identify your goals and targets on an everyday basis. Make a plan of the main things that you must complete. With the help of cloud-based services such as Google Drive and Dropbox, one can log in and access the files from anywhere, anytime without any interruptions. Good old paper planning also doesn't go astray - keep a diary and note down your daily goals.

Avoid drop-ins by friends and relatives




Tell your friends and relatives to meet over the weekend because you will be unavailable during work hours. Ask them to call first to check with you whether you are free. This way, you can restrict meeting them during professional working hours. Also, try and avoid answering home phones as you can be tempted to chat away.

Have a dedicated work-space and dress up 

You should have a dedicated and personalised work-space with a desk and chair if possible at home. You will not only be more comfortable but also feel like you are working in an office like set up. Try to create a barrier with a door or curtain if a spare room for an office is not available, to reduce distractions.

Also, try to dress up just as you do for the office to into the right mind-space. right mental tone. You can change and relax in pajamas after work hours like usual.

Make sure to separate your work and personal hours




Meeting friends or family over dinner will help you separate work time and personal time. This is very important as working from home can be tricky and it's possible to easily lose track of time. Set an alarm at the end of the day so that you know your normal workday has come to an end.

Have short breaks

When we work from home, many of us avoid breaks altogether as we may feel guilt that we are in a relaxed place. It's important to also reward yourself with a 10-minute break after a few hours of productive work. It is vital to get out of the chair and have a coffee or get some fresh air, as this will help boost productivity throughout the day.

Get started early in the morning 

The best part of work from home schedule is that you can utilise saved travel time by waking up and starting your day quicker.  However, the transition from bed to the laptop can be lazy and sluggish. Try to have a morning routine and have a proper breakfast.

Have something to add to the story? Share it in the comments below.