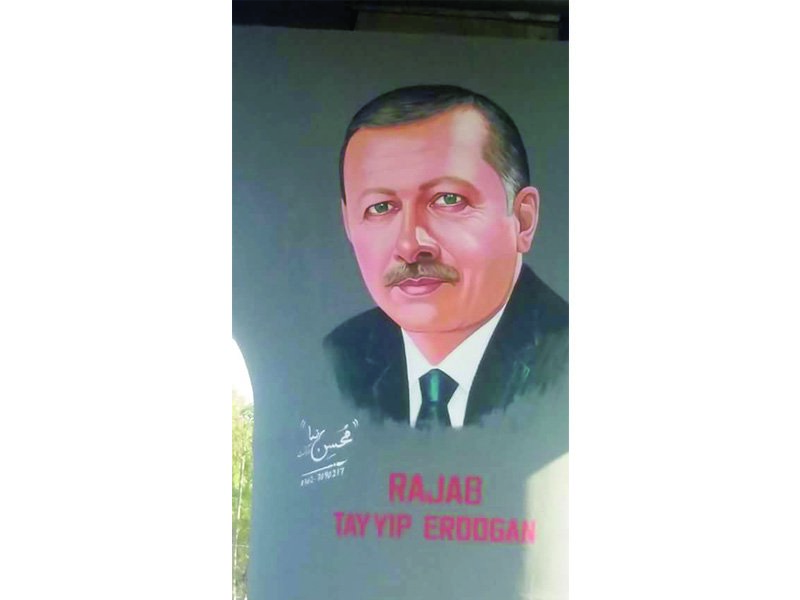 ---
ISLAMABAD: In its nascent days, handmade movie hoardings were the most popular and the perhaps the only form of film publicity in the country. Expert artists would start by hand-drawing the scene on a giant canvas and dividing it into smaller portions. With great care, they would mix the right shade of pigment with varnish and coat each portion separately with flat colours.

At this stage, the giant blotches of flat colour would make little sense up close but viewing from a certain distance is when the scene would start to take a dynamic form.

The varnish would add sheen to the colour and increase its lifespan, and once dry; the artist would add the remaining details to the scene and join the tin sheets to prepare the hoarding for placement. Final strokes would then be applied to the installed board to complete the hoarding for public viewing.

However, the tradition only lasted the first five decades of Pakistani Cinema before the introduction of computers in the 1990s, which propelled the industry into the digital age; putting and experts and artists who had built a career painting movie hoardings looking elsewhere for a muse.

One such artist, dubbed Mohsin Raza, recently came into light when a painting of his featuring Premier Imran Khan with wife Bushra Bibi and ex-wife Jemima Goldsmith caught the attention of Jemima herself and the internet at large.

According to Raza, although he now paints all kinds of politicians, he began his career in 1974 as a movie hoarding painter in Lahore, where his work gained him recognition in the still budding film industry.

Netflix series to produce series based on 'Charlie and the Chocolate Factory' 

"I have always enjoyed painting. I would spend hours trying to paint faces of movie stars even before I started getting paid for it. Actresses Rani and Anjuman were my favourite faces to paint," said Raza, recalling his days as a young painter in the buzzing city of Lahore. "Soon when took up painting movie hoardings as a profession, my paintings began to appear outside cinemas not only in Lahore but across the country, seeing which brought me immense joy," he added.

Speaking about his work at the Art Code gallery, the artist shared that ever since end of his career as movie hoarding painter, he's invested his time in painting renowned faces like that of former President Asif Ali Zardari, former Premier Benazir Bhutto, Turkish President Tayyip Erdogan and former CM Punjab Shehbaz Sharif for murals and personal collections.

"The idea came to me when I was contacted by people from the Art Code galley and they advised me to start painting portraits of famous politicians in the style of old Pakistani movie hoardings," Raza told The Express Tribune. "They have organised displays and exhibitions for my work and I have also been asked to offer painting classes to young and budding painters through the gallery's cooperation," he added.

Today, in the digital age, cinema publicity has generated a new visual language which is a mix of indigenous and western design elements. However, Raza believes that old Pakistani movie hoardings represent a very specific indigenous style of art which needs to be preserved and protected for the generations to come.  "Although some street cafes and restaurants still use the art style to decorate their premises, the government needs to step in and take initiatives to conserve and revive the art of painting movie hoardings as it did with Truck Art."

Published in The Express Tribune, March 9th, 2020.


COMMENTS
Comments are moderated and generally will be posted if they are on-topic and not abusive.
For more information, please see our Comments FAQ