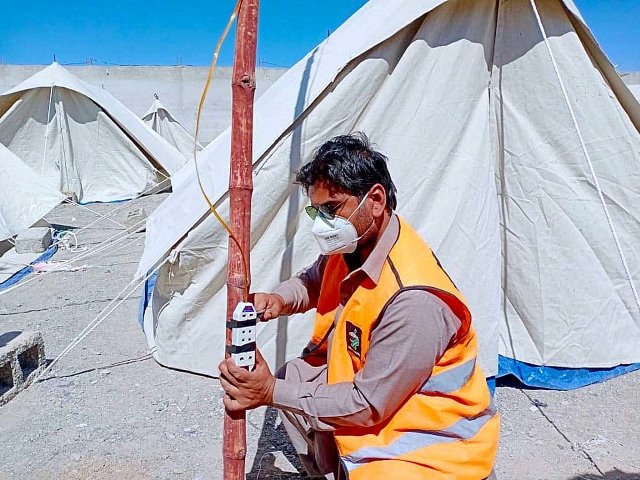 ---
Pakistan's 7th coronavirus case surfaces in Karachi
Total number of patients in Sindh alone reaches four
---
KARACHI: The de facto health minister, Dr Zafar Mirza, has confirmed that another patient has tested positive for the novel coronavirus in Karachi, sending the total number of cases to four in Sindh alone.

"This is the seventh case in Pakistan though one has already recovered and discharged, while another one is ready to be discharged," the special assistant to the prime minister on National Health Services said on his official Twitter handle on Sunday.

According to the Sindh Health Department, a 50-year-old man, who is a resident of Karachi, tested positive for the mysterious disease.

"All his contacts have been quarantined. We are looking into further details of the patient's travel history," read the official statement. Dr Mirza also confirmed the development on Twitter.


239/ A patient from Karachi, tested #COVIDー19 positive today. All contacts are quarantined. This is 7th case in 🇵🇰 though 1 has already recovered & discharged & another one is ready to be discharged. If we all act responsibly we can avoid corona virus outbreak in Pakistan.

— Zafar Mirza (@zfrmrza) March 8, 2020


"Another case has surfaced in the metropolis a day after the first COVID-19 patient fully recovered and was discharged from the hospital," according to the health department officials.

"If we all act responsibly we can avoid coronavirus outbreak in Pakistan," Mirza said in a tweet.

Pakistan's first coronavirus patient discharged from hospital after full recovery

The new case has emerged as all educational institutions in Sindh have been closed till March 13 over fears of the contagious disease's outbreak in the province.

Earlier, all the six COVID-19 cases in Pakistan – three in Karachi and as many in Gilgit-Baltistan – had a history of travel to Iran.

Separately, the special assistant visited Pakistan Institute of Medical Sciences (PIMS) to examine facilities available at coronavirus isolation room.

On the occasion, Mirza said, "All coronavirus patients in the country are stable and are being managed well."

He asked the doctors to remain vigilant on suspected patients, maintain their privacy and avoid sharing their personal details.

Coronavirus may cause $61m loss to Pakistan: ADB

"There is no need to panic as things are under control," Mirza said. "In the present situation, we need to focus on prevention and show responsibility. In case of any person with coronavirus symptoms, information should be shared immediately with the health officials, doctors or directly with the health ministry's helpline number 1166."

He said that the government has made all necessary arrangements to keep a check on suspected coronavirus patients, adding that those citizens with a travel history to Iran and China and having virus symptoms should contact medical experts.

He said effective screening mechanism has been adopted at all points of entry and personal protection equipment kits have been given to the health staff.

He said due to a better health strategy, there was no chance of an outbreak in Pakistan.

"During the last one month, the federal government has taken several steps and adopted standard operating procedures.

"Due to such steps, Pakistan is the last country in the region to report the coronavirus case at a time when cases were being reported in all neighbouring countries, including China, Iran, Afghanistan and India."

Pakistan reopens Iran border after 14 days amid coronavirus fear

He urged the media to play its positive role in providing information to the people regarding the virus. "The federal and provincial governments are on same page and implementing a unified policy to protect Pakistan from the virus."

The virus has spread to more than 30 countries, killing over 3,000 and infecting 80,000, mostly in China.

But new outbreaks in Europe, the Middle East and in Asia have fanned fears of the contagion taking hold in poor nations that lack the basic healthcare infrastructure.

There are growing fears in Pakistan — sandwiched between China and Iran, both hotspots for the disease — over how the country would deal with the outbreak.

Experts have warned that it may be hard to contain a spread of the illness in densely populated South Asia with its generally poor medical infrastructure.