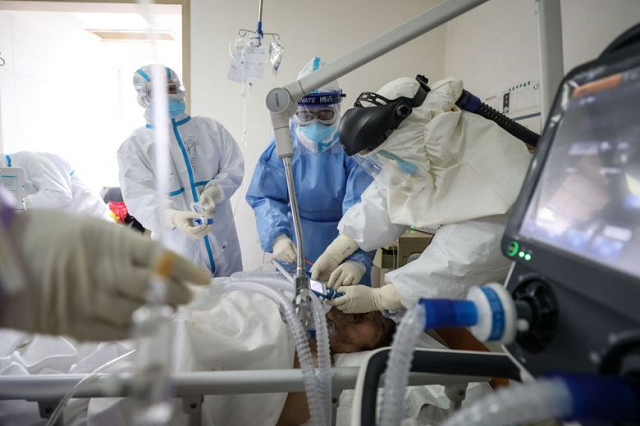 ---
Pakistan's first coronavirus patient discharged from hospital after full recovery
Patient was in isolation the past 10 days and tested negative on Saturday
---
KARACHI: The first patient of COVID-19, the mysterious viral pneumonia-like disease caused by novel coronavirus, in the country has been discharged from hospital in Karachi on Saturday, a day after he fully recovered, Sindh health officials confirmed.

"The patient was in isolation and treatment for the past 10 days and was tested three times. The third test was done this (Friday) morning and it came out negative after which he was cleared by the authorities," one official told The Express Tribune.

The young patient, who is believed to have contracted the virus in the Iranian holy city of Qum, was diagnosed on Feb 26 and subsequently shifted to the isolation ward of a private hospital. He had travelled to the Islamic Republic in a group of 28 pilgrims.

Sindh Chief Minister Murad Ali Shah, who was informed about the development in a meeting of coronavirus task force in Karachi, congratulated family of the COVID-19 patient and called it a great victory.

The family of the young patient – including his father, mother and sister – were immediately placed in quarantine, but were discharged after their lab tests for the novel coronavirus came out negative.

Pakistan's first novel coronavirus patient fully recovers

Of the remaining two coronavirus patients in Sindh, the officials said one is recovering fast, while the other is also in a stable condition. Health authorities have advised the media against identifying the patients or sharing their personal details.

The development came after the state minister for health, Dr Zafar Mirza, confirmed a sixth case of the novel coronavirus on Thursday, the mysterious virus which originated in a vet market of the central Chinese city of Wuhan and has since then spread to more than 90 countries of the world, killing over 3,400 and infecting over 100,000, mostly in China thus far.

But new outbreaks in Europe, the Middle East and in Asia have fanned fears of the contagion taking hold in poor nations that lack the healthcare infrastructure to cope.

There are growing fears in Pakistan — sandwiched between China and Iran, both hotspots for the disease — over how the country would deal with the outbreak.

Three of Pakistan's confirmed coronavirus cases were in Karachi and the rest in Gilgit-Baltistan region – and all had a travel history to Iran where they are believed to have contracted the highly infectious disease.