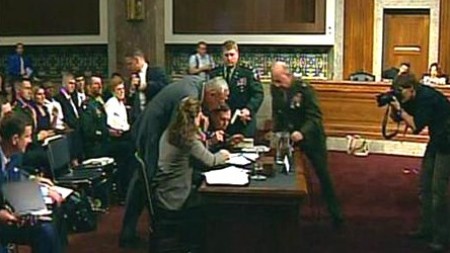 ---
Top US lawmakers voiced strong concern about the direction of President Barack Obama's war effort in Afghanistan on Tuesday at a congressional hearing abruptly halted after the key US general fainted.

General David Petraeus, a prostate cancer survivor who oversees the Afghan campaign as head of US Central Command, briefly collapsed about an hour into the hearing in the Senate Armed Services Committee.

Petraeus suddenly slumped face-forward on the large desk where he sat to give testimony. Aides rushed to his side and gently escorted him into a private room for checks by a military doctor.

Obama was quickly informed and called Petraeus from Air Force One, the White House said.

Petraeus, 57, blamed dehydration and skipping breakfast for the incident -- and joked it wasn't due to tough questioning by Senator John McCain, the panel's senior Republican.

McCain, who lost to Democrat Obama in the 2008 presidential election, called Petraeus a hero. But he also warned that the Afghan campaign could be heading toward a "crisis," reflecting growing impatience among many lawmakers over the pace of the war.

"I am deeply concerned about our campaign in Afghanistan," said McCain, who supported Obama's plan of sending 30,000 additional U.S. forces announced in December.

"Many of the key trends seem to be heading in a bad direction, perhaps even signaling a mounting crisis," he said.

McCain cited persistent insecurity in southern Afghanistan, a perceived lack of commitment by NATO allies and shortcomings of President Hamid Karzai's government.

Obama, who has overseen a near tripling of U.S. forces in Afghanistan since taking office, needs to show progress on the ground as costs and casualties rise. He told military personnel in Pensacola, Florida, "We're pressing forward in Afghanistan."

"We're working to break the momentum of the Taliban insurgency and train Afghan security forces, strengthen the capacity of the Afghan government and protect the Afghan people," he said.

Setbacks

But critics point to perceived setbacks, including stronger-than-expected Taliban resistance in the southern district of Marjah and a slower start to a long-awaited offensive in the Taliban's birthplace of Kandahar.

The planned massive military operation in Kandahar is the linchpin of Obama's campaign to turn the tide in Afghan war this year, and will weigh heavily in a White House review of war strategy scheduled for December.

Under Obama's strategy, US forces would gradually begin to withdraw starting in July 2011 as Afghan forces increasingly take the lead. US Defense Secretary Robert Gates said last week he believed some areas could be transferred to Afghan control as early as this winter.

But Senator Carl Levin, the Democrat who heads the committee, zeroed in on failings to sufficiently ramp up Afghan security forces.

"Progress toward the goal of Afghans taking the lead in operations has been unsatisfactory," Levin said.

Democratic Senator Jack Reed said he saw positive signs on the battlefield but added the key issue to be addressed at the end of the year was "whether the Afghani security forces and the Afghani government can stand up effectively."

McCain urged Obama to reconsider his July 2011 timeline to begin withdrawing US forces from Afghanistan, calling it "simply unrealistic" given the situation on the ground.

"It now seems increasingly clear that hoping for success on the arbitrary timeline set by the administration is simply unrealistic," McCain said.

"It's time for the president to state unequivocally that we will stay in Afghanistan until we succeed."

Petraeus, who has sought to manage expectations in the war effort he oversees, told the panel that "the going was likely to get harder before it got easier."

Asked if he still supported beginning a withdrawal in July 2011, Petraeus said: "I support the policy of the president."

But he said his support for the withdrawal date was qualified, telling lawmakers: "In a perfect world ... we have to be very careful with timelines."
COMMENTS
Comments are moderated and generally will be posted if they are on-topic and not abusive.
For more information, please see our Comments FAQ